8
min read
Industrial Alliance (iA) life insurance offers many customizable options with their term life insurance products, with Pick-A-Term being the most unique. It lets applicants design their own coverage term within a range of 10-to 40-year periods based on their specific individual needs and financial circumstances. Pick-A-Term lets applicants sync their life insurance coverage with the specific years they may have outstanding debts or to align it with the years of financial support their dependents may need. 
Additionally, Industrial Alliance life insurance also offers the option to choose between level and decreasing term coverages. The decreasing term life product is well suited for those that would like to benefit from lower premiums while covering a decreasing financial liability such as a mortgage. The coverage reduces annually by a pre-specified amount until it reaches a minimum of 50% of the initial life insurance coverage. The annually reducing coverage results in a lower average life insurance exposure for the insurance company. The premium benefit is passed on to the applicant in the form of lower but fixed premiums over the term. 
The Company also offers more traditional Term 10 and Term 20 products. 
All term life policies are renewable and convertible into permanent life insurance until the age of 71. 
Industrial Alliance life insurance offers single and joint applications, as well as multi-insurance coverage; up to 9 members of the same family can be covered by a single policy.
Industrial Alliance life insurance also offers Access Life, a simplified issue, non-medical life insurance product designed for those having difficulty getting coverage because of their health or lifestyle circumstances.
It is offered for 15, 20 or 25 years. The 15 and 25-year terms are unique for the simplified, non-medical product market, where most products are offered with 10 or 20-year terms. 

Applying for Access Life is easy; no medical exam is required. Applicants only have to answer a few questions about their current health condition. 

The premiums are however guaranteed with options for immediate coverage also available.
Pros
High degree of flexibility to design personalised coverage

Pick-a-term feature has few industry parallels

Both level and decreasing options

Ooptional disability rider; when used in conjunction with decreasing coverage option makes for a compelling mortgage protection product

Non medical simplified and guaranteed product

options available through Access Life

Online access to account

iA's underwriting can be more accommodating than other providers
Cons
No electronic policy – applicants will receive paper policy 

There may be less expensive alternatives available for straight term coverage

Conversion options are limited to T-100 and non participating whole life products. (Although a whole life product may be launched by iA in 2020.)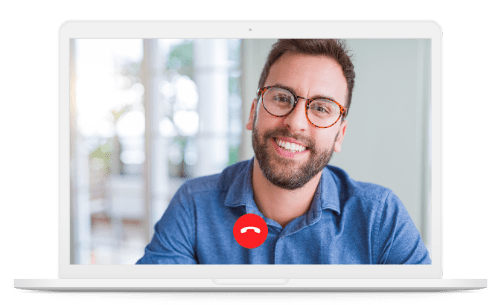 Need insurance answers now?
Call 1-888-601-9980 to speak to our licensed advisors right away, or book some time with them below.
Best Term Life Insurance for Flexibility

AM Best
financial strength rating
Industrial Alliance Term Life Insurance Pricing

Representative values, based on non-smokers in good health. $500,000 coverage, 20-year term.

| Age | Male | Female |
| --- | --- | --- |
| 30 | $33.75 | $23.85 |
| 35 | $35.55 | $26.55 |
| 40 | $52.20 | $37.80 |
| 45 | $81.90 | $57.60 |
| 50 | $136.35 | $92.70 |
| 55 | $242.55 | $171.45 |
| 60 | $437.40 | $314.55 |
| 65 | $818.65 | $489.60 |
Who is Industrial Alliance (iA)?
iA Financial Group, or Industrial Alliance, is a Quebec based insurance and wealth management company with operations across North America. It's been around since 1892 and is now the 5th largest life insurance company in Canada, with a 10% share of the individual insurance market. The company's diversified businesses span individual insurance, individual wealth management, group insurance, group savings and retirement, auto and home insurance and international operations. The company has more than 4 million clients that it services through its 25,000 representatives.  
Industrial Alliance: Quick Facts
Founded

: 1892

Headquarters

: Québec City, Québec

AM Best Rating

: A+

Better Business Bureau Accreditation and Rating

: N/A

Assets:

$58.3 billion

Annual Premiums: $8.6 billion
What term life insurance plans does Industrial Alliance life insurance offer?
iA offers several different term life insurance products.
Pick-A-Term
Designed primarily for young families with many financial commitments and who want to maximize their life insurance coverage when their family needs it most.

Offered in 10- to 40-year terms and flexible based on financial commitments.

Designed to cover loans and debts (mortgage, line of credit, credit cards, car loan)
Traditional Term
Offered in traditional 10- and 20-year terms 

Designed to cover short-term financial protection needs
Access Life
Designed for those having difficulty getting coverage due to age, health, lifestyle or citizenship circumstances.

Available in 15, 20, or 25-year terms.

Simple and easy application. No medical exam required.

Instant coverage is available

Guaranteed lifelong coverage options are available
What term life insurance amounts and coverage does Industrial Alliance life insurance offer?
Available Term Lengths

: Flexible terms between 10 and 40 years.

Available Coverage Types:

Level and decreasing coverages

Maximum Amount of Coverage

: $10,000,000

Renewability

: Yes, before age 71.

Convertibility: Yes, convertible to permanent insurance before age 71.
What other insurance coverage does Industrial Alliance offer?
iA offers a wide range of insurance products to customers, apart from term life, such as:
Critical illness

and disability insurance

Personal accident insurance

Travel Insurance

Car insurance

RV insurance

Home insurance
How much life insurance coverage do you need?
Our calculator quickly determines your insurance needs
Looking for the fastest, lowest insurance quotes?
If you know what you need, get the best quotes instantly
Is Industrial Alliance Insurance right for you?
iA offers unique life insurance coverage products that are a great fit for many Canadians consumers that value the convenience offered by non-medical products. As insurance advisors for iA's life insurance products, we can help you decide if iA products are the best fit for you.
As Canada's best online life insurance advisor, we will assist you in comparing and choosing products across all our partner companies. Speak to our licensed advisors and we will be able to assist you in finding you the best coverage for your needs.
The information above is a brief representative summary for indicative purposes only. It does not include all terms, conditions, limitations, exclusions, termination and other provisions of the policies described, some of which may be material to the policy selection. Please refer to the actual policy documents for complete details. In case of any discrepancy, the language in the actual policy documents will prevail. A.M. Best financial strength ratings displayed above are not a warranty of a company's financial strength and ability to meet its obligations to policyholders.