Reviews: Best Life Insurance Canada – Updated 2023
SUMMARY
Our life insurance reviews let you compare and shop for the best life insurance policy in Canada. Our criteria focus on factors like choice in terms, benefit amounts, no medical options, online access, options for couples and parents, smokers, and more. While we can't recommend one provider as the best life insurance company for everyone looking, we provide the research and reviews for you to make an informed choice.
Are you looking for the best life insurance in Canada? Wondering what coverage is best for you and your partner? Or trying to decide which company will get you a life insurance policy fastest? You're in luck. PolicyAdvisor is unique qualified to review Canada's life insurance companies.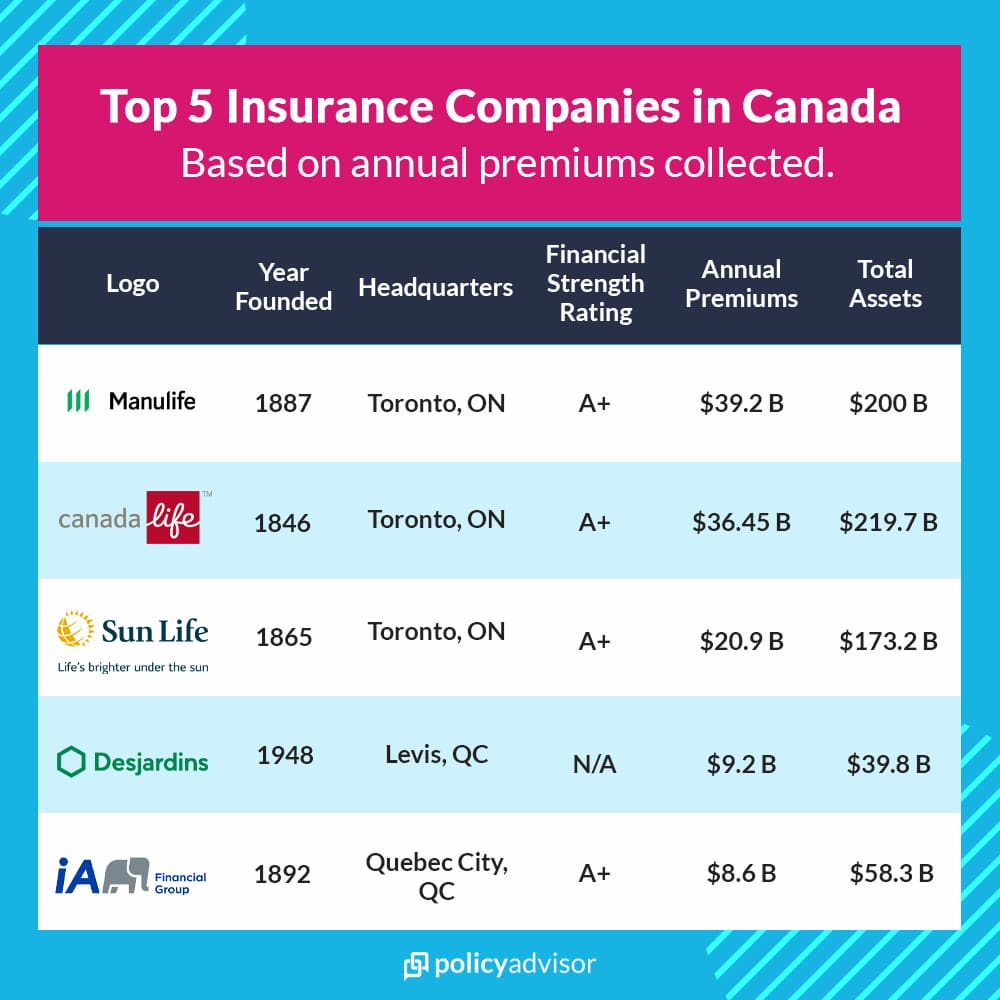 The best life insurance in Canada comes from Manulife, Sun Life, Canada Life, Desjardins, and iA (Industrial Alliance) if we base our criteria strictly on the amount of insurance premiums they take in.

But size is just one factor. When Canadians search for the best term life insurance they need an informed checklist of what to look for when choosing the right policy and coverage for their needs.
Our life insurance reviews let you compare and shop for the best insurance quotes in Canada. Read further and find out:

The best life insurance for couples and families
The best insurance company for no medical coverage
Your best options for layering or laddering your life insurance coverage
The best-priced life insurance policy in Canada
The quickest issue life insurance coverage
The different types of life insurance available
And much more
How does life insurance work?
Life insurance is an agreement between you and a life insurance company, where if you die, they will pay a death benefit: a lump sum of tax-free money to someone you choose. In exchange, you agree to periodically pay them an insurance premium: a small amount of money over time.
You both decide on the amounts of cash coming in and out and the timeframes involved, but in a super, simplified form, that's really it.
What type of life insurance do I need?
There are several different types of life insurance you can choose from in Canada. At its most simple level, you can choose between two main types of life insurance: a permanent life insurance policy (also known as whole life insurance; these sometimes have cash value) and a term life insurance policy.
Many Canadians are best served by term life insurance. This is a temporary type of life insurance coverage you apply for a set number of years, commonly a 10, 20, or 30-year life insurance term. 
The following reviews are based on the term insurance offerings of the respective life insurance companies. Term insurance is a specific kind of straightforward life insurance coverage. It still provides payment to your beneficiary in the unfortunate case of your death, but only if that were to happen within a specified length of time, or 'term'.
While this type of life insurance is typically purchased in decade-long chunks as mentioned above, you can choose smaller and more customized term lengths as well. If you prefer you can set your life insurance coverage to last until you hit specific age milestones like senior-citizen status at 65.
Learn more about the difference between term life and whole life insurance and life insurance for seniors.

Why should I get life insurance?
As we mentioned in our Honest Guide To Life Insurance  – a better question to ask yourself is do the people in your life need you to have life insurance coverage?
Life insurance's purpose is for clearing out debts (personal or business-related) and supplying an income replacement source to those who rely on you in the unfortunate circumstance that you're no longer around.