How much does life insurance cost for a 60 year old?
SUMMARY
While less prevalent, it is not uncommon for a person in their 60s to think about buying life insurance. Whether you need a term life insurance policy to cover the last years of a mortgage, a policy to support a partner, or want to replace an existing life insurance policy, the cost of life insurance as a 60-year-old can still be reasonable.
In their sixties, most Canadian seniors have their eyes towards retirement and are wrapping up their remaining working years. As a 60-year-old or older, in all likelihood their mortgage payments are coming to a close, the children have left the family home or are having children of their own, and it's time to settle into the life they've so meticulously built for themselves and their family. Regardless of your situation, and whether you are adding on to or augmenting your existing policies, or shopping for life insurance for the first time, it's good to know the basics and get a feel for how much on average term life insurance costs for a 60-year-old or older.
Assuming this is a typical Canadian family situation, it's possible they would be through the riskiest financial period of their lives and might have a limited need for life insurance in their sixties. But, many Canadians are not typical and their unique lives and needs might still require significant financial protection depending on their circumstances.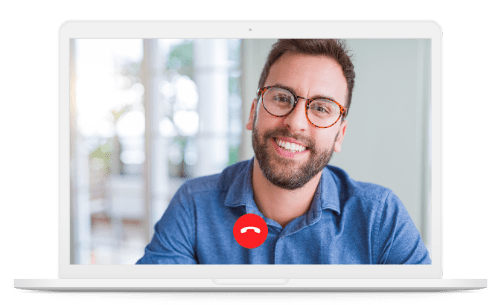 Need insurance answers now?
Call 1-888-601-9980 to speak to our licensed advisors right away, or book some time with them below.
Do I need life insurance as a senior in my 60s?
As we started off saying, your life insurance needs may not be that grand at 60 years of age or over. You may only have a few years of mortgage payments left, no dependents, and enough retirement savings to carry you through the rest of your years. However, not all Canadians fit into this idyllic scenario.
If you're a Canadian senior over the age of 60 and still counting on your income to pay down a mortgage, supporting a partner of any age, and planning on contributing to the education costs of your children or grandchildren, you may still be in need of life insurance in your sixties. In another instance, if you traditionally counted on group benefits to satisfy your life insurance needs, you'll soon lose that life insurance benefit from work if you plan on retiring. 
And, if you have already purchased life insurance earlier in life and are still paying those premiums, your needs may have evolved now that you are in your sixties. Whether that means replacing a policy that has become significantly more expensive at renewal, or adding to or replacing an inadequate policy that no longer suits your situation – there is no shortage of scenarios where a 60-year old senior needs life insurance.
Our life insurance needs calculator can shed more light on your specific insurance requirements.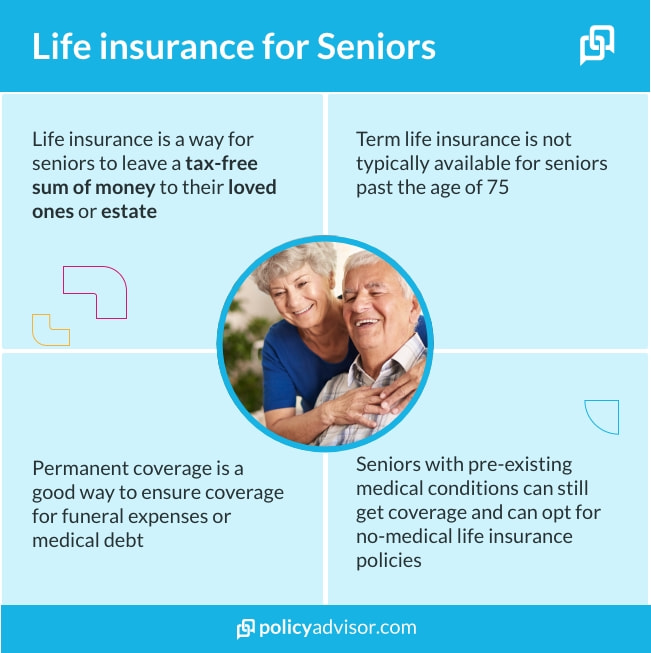 Can a 60-year-old get life insurance?
Of course! Barring any extreme health scares or conditions, it's completely possible to obtain life insurance including the traditionally underwritten type of life insurance in your sixties. It's true, you won't get the same life insurance rates as when you were a whippersnapper in your 20s and 30s, but a 60-year old and over in good health can still secure a reasonable life insurance rate. This is something you may want to take advantage of before your family doctor starts adding preventive medical care as you hit the slippery side of 60 and over. While taking a daily pill for creeping cholesterol or heart concerns is by no means a medical emergency at this age, it can still affect your ability to get your life insured at a reasonable rate.
Most Canadian life insurance companies will however no longer give you a free pass in your 60s. Applying for traditional life insurance policies will most likely require a medical exam, so insurance companies can better assess your health risks. The bad part: no one likes needles. The good part: once you clear the medical, your life insurance rates will be lower than a no-medical policy (which we'll explain further below).
What if I can't get life insurance due to a medical condition?
If you happen to develop any health concerns while covered under a previous policy, you may want to investigate if there are options available within your existing coverage, or even asking a life insurance broker to guide you through more appropriate plans you may want to purchase.
Many life insurance companies in Canada now offer alternative no-medical life insurance options for seniors (and other age groups) that are unfortunately living through a health condition. You just need to have a knowledgeable life insurance broker with access to a broad range of no-medical life insurance products that suit your unique medical needs. Luckily, we know exactly where you can find the best life insurance broker – better still, the best online life insurance broker.
What is the best life insurance for a senior at 60 years old or older?
A 60-year old in good health has access to different types of life insurance products for seniors. The best life insurance for a 60-year old depends on each person's individual needs. As a 60-year old, if you wanted coverage for temporary needs, such as covering last few years of your mortgage or had a budget to work within, then term life insurance is the best life insurance policy for seniors. But, if you wanted life insurance for permanent needs – such as allow for efficient transfer of assets to your children or use life insurance to help pay for funeral expenses – then go for whole life insurance for seniors.
How much does term life insurance cost for a 60-year-old?
As we've written before, insurance premiums are based on many factors such as your age, gender, smoking status, lifestyle, and overall health. With everything equal – we've calculated the numbers from 16 of the best Canadian life insurance companies to determine the average cost of life insurance on a 20-year term life insurance policy, divided by smoking status and gender.
For the average male non-smoker, $250,000 of term life insurance coverage starts at just over $226 per month at age sixty and rises from there with age. Smoking raises the average 20 year term life insurance premium to $471 and keeps that trend going up to age 69.
Life Insurance Premiums – Male, 20-Year Term Life Insurance
| Age | $100K | $250K | $500k |
| --- | --- | --- | --- |
| 60 | $97 | $226 | $393 |
| 61 | $110 | $252 | $468 |
| 62 | $121 | $278 | $531 |
| 63 | $134 | $308 | $593 |
| 64 | $146 | $341 | $652 |
| 65 | $164 | $376 | $716 |
| 66 | $203 | $420 | $785 |
| 67 | $220 | $459 | $857 |
| 68 | $239 | $502 | $936 |
| 69 | $260 | $548 | $1,022 |
*Representative values, based on regular health
The story is similar for women in their sixties; average term life insurance costs are lower than men's at this age ($151), and smoking continues to almost double premiums.
Life Insurance Premiums – Female, 20-Year Term Life Insurance
| Age | $100K | $250K | $500k |
| --- | --- | --- | --- |
| 60 | $64 | $151 | $284 |
| 61 | $74 | $169 | $320 |
| 62 | $83 | $188 | $358 |
| 63 | $93 | $209 | $400 |
| 64 | $100 | $233 | $446 |
| 65 | $125 | $254 | $487 |
| 66 | $137 | $282 | $533 |
| 67 | $151 | $306 | $580 |
| 68 | $163 | $333 | $630 |
| 69 | $177 | $362 | $685 |
*Representative values, based on regular health
These are average costs of a 20 year term life insurance and are based on representative data; the numbers will change depending on factors like health and medical exam results, smoking status (not just cigarettes), family medical history,  and more.
How much life insurance do I need as a 60-year-old?
When searching for insurance as a 60 year old, you may want a higher benefit amount or a shorter term depending on your financial situation, life insurance coverage needs, and all the other things that accompany life as a senior in Canada.
Only you know how much coverage you need and can afford, but the numbers above give a holistic view of what the average term life insurance policy will cost for a 60-year old.
You now have an idea of what term life insurance might cost as you approach retirement age – but everyone's situation is different. If you have 5 minutes, you can figure out your needs and get instant, custom term life insurance quotes with PolicyAdvisor's online term life insurance quoting tool. 
How do I buy the best life insurance in my 60s?
First things first – find a trusted insurance broker like we mentioned above. They have experience helping seniors, especially those  60 years old and older, get the right life insurance coverage for this stage of their lives.
And if you still need help with your coverage needs, our licensed insurance brokers are always here to chat.
Need help?
Call us at 1-888-601-9980 or book time with our licensed experts.
SCHEDULE A CALL
KEY TAKEAWAYS
Life insurance companies will typically require a medical exam for life insurance applicants over the age of 60.
If you don't qualify for traditional life insurance, there are specialized no medical life insurance options for seniors.
Working with a broker can be helpful in finding the best policy options for people over the age of 60.