How do life insurance brokers get paid? Insurance brokers explained
SUMMARY
Navigating the ins and outs of life insurance can be difficult. Working with an insurance broker can facilitate the experience. An insurance broker works on behalf of their client – the insurance applicant – to find them the best possible insurance policy. This is distinctly different from insurance agents, who work on behalf of insurance companies.
Using an insurance broker
Insurance brokers are professionals who represent the customer and search for the best possible policy according to their needs. They'll work closely with clients to research optimal coverage options, as well as go through the quoting process. Insurance agents often serve an insurer's best interests, while brokers are more focused on keeping the customer happy by identifying specific needs for their policies or helping find a policy with the lowest insurance premiums.
Seeing as brokers don't work for the insurer themselves, they don't have the power to manage your insurance claims. While they cannot manage claims, when you purchase your insurance through a broker they can give you professional advice while you search for your insurance quotes. They'll help you figure out an optimal price point, as well as consider what sort of options (like riders or deductibles) apply to your policy.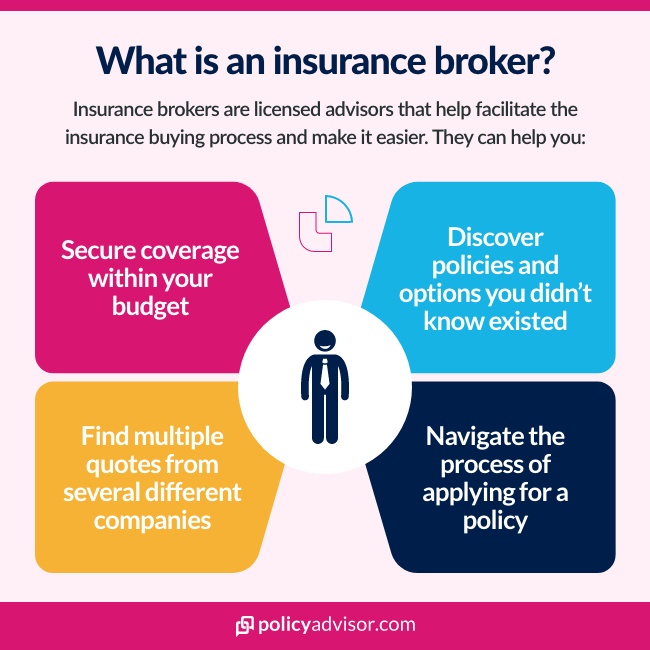 Using an insurance agent
Insurance agents sell insurance products to customers directly through an insurer. They help people select the right insurance to buy, but they are generally representatives of the insurance company they work for. Captive agents tend to represent one insurance company, while independent insurance agents often represent multiple.
Selling policies on behalf of the carrier means they have some skin in the game when it comes to you choosing their particular policy. While rare, there may be times when an insurance agent is focused on making a sale (as opposed to making sure you get the perfect insurance policy). Insurance agents don't tend to offer as many options as brokers since they are limited to the specific companies they work for (and policies those companies offer).
The importance of insurance brokers
Most insurance brokers aren't just in it for the money. When you decide to work with an insurance brokerage, you don't have to worry about feeling limited – you can purchase insurance products and get insurance quotes from multiple companies, as opposed to just one. They're going to point you in the right direction and help you find the best policy possible.
Having access to insurance brokers is advantageous for most people. Without them, not only would you be limited in regards to your policy options, but also which companies you're able to receive insurance quotes from.
Versatility is an obvious selling point for brokers, so if you're looking for a more "personal approach" to your insurance, using a broker's services is the best solution. An insurance broker will provide you with an unbiased opinion on the policy provided by any insurer, as they aren't "tied" to one carrier (like an insurance agent).
Insurance brokers are also more likely to support you when compared to an agent. If you're not satisfied with the product and want to switch your insurance company, an insurance agent will go to great lengths to persuade you from leaving their company. Whereas, in the same circumstances, an insurance broker will be able to assist you in finding a better solution with a different company's insurance offerings.
For true flexibility and the ability to see all of your options before committing to a policy, purchasing insurance products through a broker is ideal.

More choice. Lower price.
PolicyAdvisor saves you time and money when comparing Canada's top life insurance companies. Check it out!
GET STARTED
KEY TAKEAWAYS
Insurance brokers can help you navigate the process of securing coverage
Brokers can access quotes from several different companies to find you the best insurance options within your budget and help you compare options to find the best fit
Digital brokers like PolicyAdvisor offer several benefits, like more choice and flexibility when applying for coverage online
Brokers are common in life insurance, auto insurance, and business insurance