How to file a health insurance claim
SUMMARY
If you have direct bill insurance, your service provider or pharmacy will send the medical bill directly to your insurance company. However, if you don't have direct bill, you will need to pay for your medical expenses upfront and submit a claim to your insurance company to be reimbursed. To get this reimbursement you will need the receipt, doctor's note, policy number, member ID number, and other information to fill out the claims form.
Have you ever been confused about how to file a health insurance claim? It can be overwhelming to navigate the process, especially during a time when you're already dealing with medical issues. But filing a claim is crucial to ensure that you receive the coverage and benefits that you're entitled to.
Health insurance is essential in today's world, with medical costs skyrocketing every year. It's important to understand how to file a claim to avoid being stuck with a hefty bill. However, not many people know the ins and outs of the process, leading to frustration and confusion. In this blog post, we'll walk you through the steps to file a health insurance claim successfully.
Need insurance answers now?
Call 1-888-601-9980 to speak to our licensed advisors right away, or book some time with them below.
How to file a health insurance claim
To make sure you get the most out of your health insurance benefits, follow these steps to file a health insurance claim: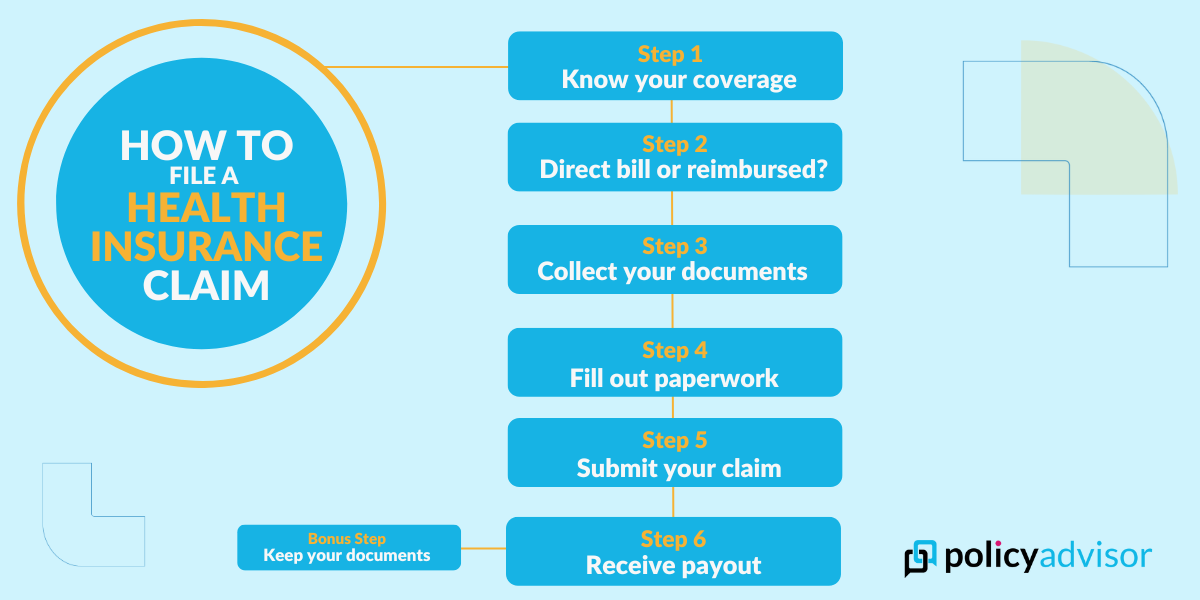 Step One: Figure out what you can claim
Before you file a claim, you need to figure out exactly what you're entitled to. You can call your insurance company or check their website to find out the specifics of your health insurance plan.
For most benefits plans, eligible claims include:
Prescription drugs 

Dental care

Vision care 

Paramedical expenses (chiropractic services, physiotherapy, massage, therapy, etc.) 

Medical equipment (blood sugar meters, crutches, CPAP machines, etc.) 

Emergency travel medical insurance
Step Two: Find out if you have direct bill or if you need to pay upfront
If you have direct bill insurance, you do not need to submit a claims form to your health insurance provider. The claim is made by the service provider directly, on your behalf. You will need to provide the service provider: 
Policyholder's name

Your name

Policy number 

Member ID number if it's a group plan
What is direct bill health insurance?
Direct bill health insurance is a type of health insurance that allows healthcare providers to bill the insurance company directly, rather than the patient having to pay upfront and then seek reimbursement. With a direct bill, you only pay for the remaining portion of the cost that the insurance company does not cover. This type of insurance usually requires a debit pre-authorization process (more on that below).
If you do not have direct bill, or you are coordinating benefits, you will need to pay the entire cost and will get reimbursed after you submit your claim.
Step Three: Collect your documents and information
Each provider will require that you submit different documents, depending on the company, the service received or product you've purchased, and who you are submitting the claim for. For every claim, you will need:
Your policy number and/or member ID number if it's a group plan 

The name of the person receiving the medical service or product (you, your spouse, your dependents, etc.)

An itemized receipt for the service or product you've received 
The other types of information you will need to provide will depend on the type of claim.
For
prescription drug claims,
you may need the following information:
RX number

Drug ID number

Name, address, and phone number of the pharmacy

Total cost of the medication

Proof of payment (it will either be the total cost or a portion if you have other health insurance that covered the first portion of the cost)
For
paramedical claims, dental claims, and vision claims
, you may need the following information:
The date of service

The address where the services were rendered

The type of service

The duration (i.e. one hour massage, teeth scaling, etc.)

The name of the practitioner and credentials

Contact details

Total cost of the service 

Proof of payment (it will either be the total cost or a portion if you have other health insurance that covered the first portion of the cost)
For
other types of medical insurance claims,
you may need: 
A referral note from your medical provider or doctor specifying you need the product, health service, or medical treatment

A diagnosis code from your doctor specifying your conditions
Step Four: Fill out the claim paperwork
Now that you have all your information together, you will need to fill out a health insurance claim form. Depending on the company, you will complete the claim forms online or you will need to submit them by mail.
Online claims
In order to submit a claim online, you will likely need to sign up for an account with the insurance provider. Once you've created an account, you can access the online claims portal. This portal will walk you through the company's claim submission process and ask you relevant questions and information about your claim. Some companies even have mobile apps for the claims process. 
Sometimes, companies won't have an online claim portal, but they will have electronic PDFs that you can fill out and email to the claims department. 
Paper claims 
If your health insurance company does not have an online claim submission process or portal, they will need you to send a paper claim. You should be able to access the many types of claims forms online to print or you can phone your insurance company and ask them to mail you the forms with a return envelope. 
Claims on paper will ask you for the same information that an online claim form does. You will provide information about the paramedical services, dental services, prescription drug costs, your healthcare provider, your policy number, etc.
Some providers may also require that you send in the original receipts with your paperwork, while others will just ask you to hold onto them. If you do have to send in proof of payment and original documents, it's always a good idea to make a copy of them, in case they get lost in the mail.
The coverage amounts and availability are all dependent on your insurance provider and what tier of coverage you select (more on that below). 
Additionally, insurance companies have a price list of what they think is a "reasonable amount" for any service, equipment, or medication within your particular province. For example, under your prescription drug coverage, your plan may feel that name-brand medication like Ozempic is overpriced, and will only approve coverage for a generic alternative with the same ingredients.
Step Five: Submit forms
Once you have everything together, you either submit the paperwork electronically or by mail. Some companies will want you to submit your original receipt with your claim form, while others will just ask that you hold onto them in case of a claim audit (more on that in step 7). 
Your claim will be reviewed by the insurance company's claims department to determine how much you are entitled to for reimbursement of your out-of-pocket expenses.
If you are submitting your claim online, your claim is reviewed by an automated service. You may receive an explanation of benefits and reimbursement right away, especially in the case of small claims. If you submitted your claim by mail, you may have to wait a few business days or weeks for a review.
Step Six: Receive a payout
Once your claim is processed, you will receive an explanation of benefits (EOB) from your insurance provider company. This will include a detailed explanation of your entire claim, the total amount that the insurance company will pay, and any remaining balance that you may be responsible for or that you can submit to your secondary plan. 
The insurance company will then send you the amount they are responsible for. They will either do this via cheque or direct deposit if you have that set up.
How to set up direct deposit for health insurance claims 
When you're setting up an online health insurance account, you may be asked if you'd like to set up direct deposit. This means that the insurance company will send any reimbursement for medical expenses directly back into your bank account. This is beneficial because it saves you from having to wait for the cheque in the mail. 
In order to set up direct deposit you will need to provide them with: 
You

r bank's institution number

(3 digits)
This number identifies the bank you use.
Your

branch's transit number

(5 digits)
This number identifies the specific branch location. 
Your

bank account number

(usually 9 digits or more)
This number identifies your specific bank account so the insurance company knows who to send the money to.
Once you have provided that information to your insurance company, they will store that information for the next time you make a claim. Each time you make a claim, you will be asked to confirm your direct deposit information.
🔒 Always exercise caution when sharing your banking information. It is okay to disclose such details to trusted sources, such as reputable financial institutions or authorized individuals with a legitimate need for the information. However, always verify the authenticity and trustworthiness of the recipient before sharing any sensitive data.
Step Seven: Hold onto your documents
Even if you didn't have to submit your original receipts and medical documents because you submitted your paperwork online or your insurance company didn't need to see it with the initial claims forms, it's important to keep a record of your medical information.
If the claim is declined or your account is audited for any reason, the insurance provider may ask for those documents again. This includes any itemized bills, detailed invoices, healthcare provider statements, and other relevant documents.
How do you submit a claim if you are coordinating benefits? 
The process of submitting a claim is the same if you are coordinating benefits. Follow steps one through seven and wait for your explanation of benefits and reimbursement with your primary health insurance provider. Then, repeat the process with your secondary health insurance provider.
On the claims form, it will ask if you are coordinating benefits or have "dual coverage." After selecting "yes", they will ask for an explanation of benefits information from the primary insurance company. They will then use that information to determine how much of the remaining cost they will cover.
What are some reasons a health insurance claim may be denied?
If your claim is denied, you can file an appeal. Insurance companies usually have this process available online or you can call the company's claims line directly to ask for an appeal. This process will require you to provide further documentation, such as confirmation from your doctor that the treatment was necessary. 
If you feel your claim was wrongfully denied and your appeal was not accepted, you have a final option to pursue legal action against the insurance company. This would only be in extreme circumstances as the legal fees usually outweigh the medical expenses being claimed.

More choice. Lower price.
PolicyAdvisor saves you time and money when comparing Canada's top health insurance companies. Check it out!
GET STARTED
Need help submitting a health insurance claim?
If you need assistance filing a health insurance claim, we can connect you with the claims departments of our partner insurance companies, depending on who you have coverage with. Our expert insurance agents can also advise you on your coverage details and help you shop around after your initial claim is taken care of, if you feel your coverage isn't sufficient. 
If you're looking to start a claim, you can find more details on our insurance partner's websites.
Health Insurance Claims
Frequently Asked Questions
What if my health insurance doesn't cover all of the expenses?
If you have dual coverage, you can submit the remaining cost to your secondary health insurance provider. If you do not coordinate your benefits in this way, you'll have to cover the remaining balance yourself. If you feel that your current coverage isn't meeting your coverage needs, you can always shop around for better coverage by contacting our insurance experts at PolicyAdvisor.
How long does it take for a health insurance claim to be processed?
If you submit your claim online, you may have your claim processed instantly, within 24 hours, or within a week. This depends on the provider—some use automated claims portals for small and usual claims. For mailed-in claims, you can expect to wait longer to get your explanation of benefits and reimbursement simply due to the time it takes to process physical documents (uploading, manual reviewing, mailing times, etc.). If your claim is large or is flagged for whatever reason, you may wait even longer to receive your reimbursement.
Is there a time limit to submit a health insurance claim?
The time limit for submitting claims varies from company to company—generally, it is from 9 – 12 months from the point of service. Even if your policy is no longer in force, as long as you got the service during the active policy period, you can still make a claim. 
What is a health insurance claim quote?
If you want to find out whether your health insurance provider will cover your service before you actually go ahead with it, the service provider can ask your health insurance company for a quote for the claim. This quote will estimate how much the insurance will cover and how much you will have to pay out of pocket (or what your secondary insurance will also cover). Then you can decide if you want to proceed or make adjustments to the service.
Where can I find my health insurance policy number?
Your health insurance policy number can be found on your health insurance member ID card, on your policy documents, or in the online portal (if your insurance company has one). If you have misplaced your policy number or member number, you can call the claims helpline for the respective insurance company. See the above contact list for phone numbers and the websites for claims assistance.
Connect with a licensed insurance advisor
Looking for a better health insurance plan? Schedule a call with one of our expert insurance advisors for one-on-one advice. The conversation has no obligations to buy—let's just start with a conversation about your insurance needs. Our health and dental insurance agents will ask you a few questions, then shop Canada's best insurance companies to get you the best price on health insurance.
KEY TAKEAWAYS
Some providers direct bill, meaning the service provider submits the claim directly to the insurance company and you only have to pay the remaining balance
If you don't have direct bill, you will have to file a health insurance claim to be reimbursed
You will need your member id number, your policy number, the receipt for the service or medical item you paid for, as well as any other documentation about the injury or illness
Some claims can be made online using a claims portal, while others will have to be mailed to the insurance company
If your claim is denied, you can ask for a reassessment