Is critical illness insurance worth it?
SUMMARY
Critical illness insurance provides a one-time tax-free lump sum if the policyholder is diagnosed with a critical illness. Critical illness insurance is worth it to cover medical expenses and support your quality of life and recovery if you are ever diagnosed with a critical illness. It can provide financial support by covering your family's financial needs or preventing you from having to work while ill.
Critical illness insurance policies are not discussed as much as other types of insurance like life insurance or disability insurance. However, a critical illness policy could be what stands between the insured and the possibility of financial hardship in the case of a big health emergency.
This could include many common ailments, such as a heart attack, stroke, or cancer. Even if you are covered by a group health insurance policy, the cost of treatment for these illnesses could go beyond the scale of the coverage you have.
You may think the chance of such health events happening to you is negligible and wonder if critical illness insurance is worth purchasing. But, unfortunately, nearly 50% of Canadians are prone to develop some form of cancer in their lifetime.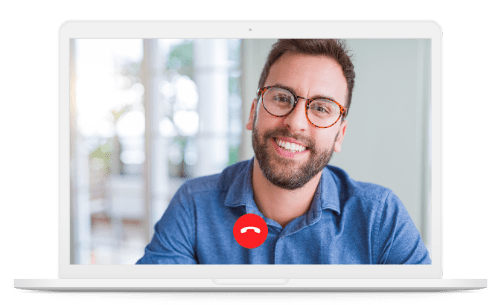 Need insurance answers now?
Call 1-888-601-9980 to speak to our licensed advisors right away, or book some time with them below.
More than 80 percent of working Canadians have either suffered from a critical illness themselves or know someone who has a critical illness.
This entire spectrum of health expenses for treatment of medical conditions and aftercare that comes after a critical illness requires more than what a standard group policy covers.
Who needs critical illness insurance?
First, let's define critical illness insurance. A critical illness insurance policy is an agreement struck between the insurance company and the person insured, whereby the company agrees to pay a tax-free lump sum if the insured develops a life-threatening covered illness during the term of their coverage. (This is different from disability insurance, which would generally provide a modest monthly benefit until you recover and are able to work again).
Both the parties mutually decide upon the term length at the time of purchasing the policy. Another important aspect of a critical illness insurance policy is the payout of the sum is not contingent on the death of the person insured. Once the policyholder successfully provides evidence of their illness to their insurance provider, the company disburses the sum.
For example, say you have a critical illness insurance policy with a coverage amount of $250,000. Once you become diagnosed with a life-threatening illness or covered condition that matches the requirements mentioned in your policy, you will be eligible to receive this amount.
Once you submit for the payout, you need to wait for a pre-decided survival period. The average survival period for these types of policies lasts for 30 days. Once you live through this survival period, your entire coverage amount would be disbursed. Although 30 days is the standard survival period for many companies, some do offer a zero-day survival period.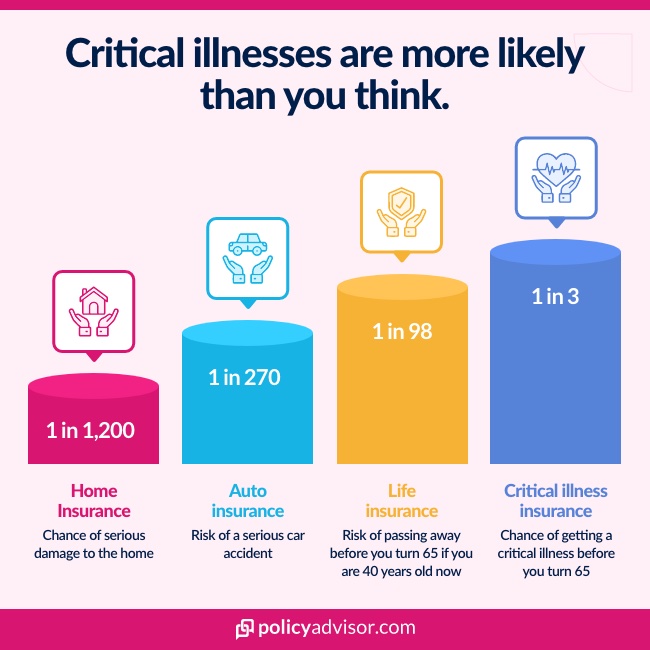 So who exactly needs critical illness coverage? This lump sum payout works as a safety net for all working people who are faced with an imminent financial fallout from a critical illness. For instance, those diagnosed with a life-threatening disease like cancer tend to take a more than average amount of time off to focus on treatment and recovery.
For many Canadians, such a long abstinence from work could mean a reduced income for their family. Often people need to stop working completely for an extended period when recovering from a major illness. These are the situations where critical illness coverage comes in handy.
Critical illness insurance also offers protection to those who suffer physically debilitating illnesses. victims of cardiac arrest or stroke often need to incur expenses related to the enhancement of their home. This can include installing ramps, handrails, and mobile devices in their home. Existing group medical insurance policies can fall short when covering these expenses.
Provincial health plans' benefits vary according to age and income level when it comes to out-of-hospital expenses. Employee drug benefit plans do not always provide full coverage for the cost of prescription medicines. Life-threatening illnesses often need following up with alternative therapies and further out of pocket expenses. These are all situations where critical illness insurance is needed if one wants to cover all the financial bumps in the road a serious health condition could incur.
Why critical illness insurance coverage is worth it
Critical illness insurance provides a different type of peace-of-mind than other insurance categories like term life or whole life insurance. If you worry about your quality of life after a health scare, how a sickness could affect your family's financial well-being, or having to work through an illness thus delaying or hampering your recovery, then critical illness can definitely be considered worth it.
What to look for in a critical illness insurance policy
Here's what you should look for in a critical illness insurance policy:
Check if the policy has simplified issue options. Many insurance providers offer online options to purchase policies with quick, easy, and instant approval.
Flexibility in premiums. Options such as limited pay and return of premium change the way pay for premiums or lessen the financial impact of those premiums.
Eligible illnesses. Many of the providers in Canada offer enhanced coverage for 25+ illnesses. However, there are a few companies that offer basic coverage only (16 or even sometimes 4 illnesses). Some even have policies that cover only 1 type of illness, like heart-related events or cancer.
Coverage amounts. Canadian insurance companies offer critical illness insurance coverage from $10,000 to millions of dollars, but each provider has different minimum and maximum coverage amounts.
Survival period. As we have already discussed, insurance providers in Canada generally instill a 30-day survival period (which is also known as a waiting period).
Coverage for children. Many policies offer optional riders for coverage for children.
Partial payouts. Some policies have options that cover partial conditions and thus disburse partial benefit payouts.
Several Canadian insurance providers offer different types of critical insurance policies. Each of these policies has its own merits and drawbacks. PolicyAdvisor has reviewed all the major critical illness insurance offerings in Canada. In doing so, we come up with a list of features, details, and options Canadians should look for when shopping for their own critical illness coverage.
It may be the case that every feature is available in one policy, but with the help of an experienced insurance broker, you can find the coverage that is best for you.

Still looking for the best critical illness insurance rates?
PolicyAdvisor saves you time and money when comparing Canada's top life insurance companies. Check it out!
GET STARTED
Final thoughts
To summarize, critical illness insurance policies cover a wide spectrum of circumstances and are worth it for many Canadians. The coverage starts from as low as $10,000 and may go up to as high as $2.5 million. The number of conditions covered under the policy may start from one specific condition and go up to more than 25. Some policies allow a zero-day survival period, while most critical illness insurance policies require a 30 day survival period. Policies may cover a 10-year term or last for a lifetime.
In Canada, the average life expectancy is 83 years. Healthcare is world-class. Apart from healthcare facilities, there are renowned lab and research facilities. Despite having all this, one can not deny the toll that lengthy treatment takes on one's financial condition. Recovery from life-threatening diseases is also often about care and facilities being made available for a longer than normal period. Critical illness insurance is worth its money in cases like these where one does not need to put the concern about receding income as a hurdle on the way to recovery.
Those seeking coverage should consider this carefully and choose the policy (or critical illness insurance rider) that suits them best, considering both their coverage requirements and their budget. Better yet, get in touch with one of our experienced advisors to help educate you on your options.
Need help?
Call us at 1-888-601-9980 or book time with our licensed experts.
SCHEDULE A CALL
KEY TAKEAWAYS
Critical illness insurance widely covers many illnesses and circumstances for Canadians that provincial health plans or employee medical benefits may not.
Critical illness insurance is worth it as such illnesses are quite common in Canada
The coverage can soften the financial blow that accompanies a major medical event