What is visitors to Canada insurance?
SUMMARY
Visitors to Canada insurance refers to travel insurance that helps protect people when they come to visit Canada. Think of it as a safety net in case something unexpected happens during their trip. This insurance can help pay for things like going to the doctor or staying in the hospital if they get sick, or paying for extra hotel nights if their flight home gets cancelled.
Visitors to Canada have different options for insurance coverage to protect them from unexpected expenses that may come up during their trip. Whether you need to see a doctor or buy medication, a sudden turn of events means you have to go home early, or cancelled flights leave you stranded.
As a visitor, you have different travel insurance options to keep you covered no matter what happens. This article will answer all your questions about visitors to Canada insurance.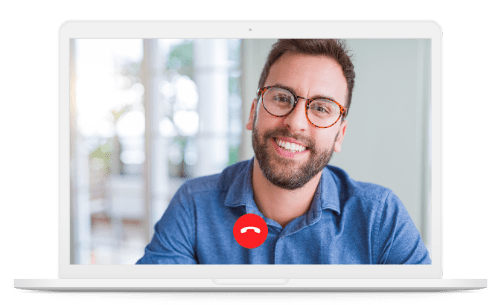 Need insurance answers now?
Call 1-888-601-9980 to speak to our licensed advisors right away, or book some time with them below.
What is visitors insurance?
Visitors insurance can refer to different types of travel insurance coverage that can protect you during a trip to Canada. It will help reimburse or pay for unexpected out-of-pocket expenses or other non-refundable expenses related to your trip.
Depending on the kind of plan you get, visitors insurance can cover costs related to:
Trip-related incidents
Covers additional expenses if your flight is delayed or cancelled, you have to end your trip early or stay longer than expected, the airline loses your baggage, and more.
Medical needs
Covers things like medical emergencies, health care costs if you have to visit the hospital or ER, you need prescription drugs, and more.
Canadian super visa
Covers people who have a Canadian super visa. This program lets the parents and grandparents of Canadian citizens and residents stay for years at a time.
What does visitor insurance cover?
Depending on what type of plan you get, Canadian visitor insurance can cover:
| | |
| --- | --- |
| Unforeseen medical expenses | Emergency hospitalization |
| Prescribed medication | Emergency dental treatment |
| Cost of crutches, wheelchairs, braces, or other medical equipment | Ambulance transportation |
| Emergency air transportation home | Repatriation of remains |
| Pre-existing conditions (in some cases) | Air accident |
| Non-refundable costs | Trip cancellation |
| Multiple trips | Cost of accommodation due to cancelled/delayed flights |
| Lost or stolen luggage | Cost of meals due to cancelled/delayed flights |
| Roadside assistance services | and more! |
You should check your travel insurance policy for details about what you're covered for. Or schedule a call with one of our advisors to make sure you have the coverage you need.
Check out our review of the Best Visitors Insurance in Canada
Do I need travel insurance to visit Canada?
Visitors insurance is not mandatory for your trip to Canada. But we strongly recommend it. Your trip to Canada is meant to be an experience. Unexpected events can throw a wrench in those plans if you don't have some kind of coverage to help. A good travel plan gives you convenient protection against that outcome.
Let's say you eat some spoiled poutine and get food poisoning so bad you need to go to the hospital. We hope this doesn't happen, but this kind of unexpected incident can cost you thousands in medical bills that aren't covered by Canada's public healthcare system. Travel insurance would help cover those costs.
Knowing you have this protection gives you peace of mind during your stay.
Who needs Canadian visitors insurance?
Travel insurance can benefit anyone coming to or travelling within Canada, including:
⭐ Tourists and temporary visitors
Anyone who may be going on a vacation to Canada should get travel insurance. Even if you only have a single trip planned. At the very least, an emergency medical plan will help make sure they're covered if they need medical assistance. And a comprehensive travel insurance plan for tourists will help cover trip interruptions, other unexpected costs too.
⭐ Students
When students come from other countries to study in Canada, they might need extra insurance called travel medical insurance. This is because the health insurance provided by their school might only work during the school term and may not cover everything they need. So, having a Canadian medical insurance for visitors helps students when their school insurance doesn't cover them.
Read more about travel insurance for students.
⭐ Foreign workers and work permit holders
Some people who come to Canada to perform work for a short period of time will not be able to get a government health insurance plan. They may not need a comprehensive travel insurance that covers everything. But they can make sure they're protected in case of emergencies by getting their own travel medical insurance plan.
Read more about travel insurance for foreign workers in Canada.
⭐ Athletes
When athletes come to Canada for competitions or practice, travel insurance can help safeguard their equipment and help pay for medical costs if they get hurt. The same is true for people who come to Canada for adventure or extreme sports like snowboarding or skiing.
Read more about travel insurance for athletes and adventure sports. 
⭐ Canadian residents who spend a long time outside of the country
Some Canadians spend months outside of the country (like snowbirds, for instance). But their Canadian government health insurance plan can lapse if they aren't living in Canada for more than 6 months. And they may have to wait another 6 months to get that health coverage back once they return to the country. A travel health insurance plan can cover them while they wait.

Secure your journey up north
Stay safe and cozy in Canada with affordable health insurance for visitors!
GET YOUR FREE QUOTE
How much does visitor travel insurance cost?
The cost of Canadian visitor insurance depends on factors like:
Age
Destination
Type of coverage (emergency medical, trip interruption/cancellation, baggage loss, etc.)
Trip length
Medical history
Amount of coverage
Deductible
Pre-existing medical conditions
How much does travel insurance cost? 
| Age | Cost for 7 days | Cost for 30 days |
| --- | --- | --- |
| 25 | $18 | $59 |
| 35 | $20 | $72 |
| 45 | $20 | $91 |
| 55 | $21 | $91 |
| 65 | $25 | $131 |
| 75 | $45 | $223 |
*A single-trip travel insurance policy with emergency medical coverage, $100,000 in coverage and a $1,000 deductible.
Visitors insurance is not mandatory for your trip to Canada, but we strongly recommend it.
- Jiten Puri, CEO, PolicyAdvisor.com
What is the deductible for visitors insurance?
Travel insurance policies have something called a deductible. It's the amount of cash you choose to pay out of pocket before your insurance coverage kicks in.
You can choose different deductible options based on your insurance company. Some deductibles start at zero dollars, which means you don't have to pay anything. Others can be really high — even thousands of dollars. It just depends on what works for you.
Each deductible option helps you save a different amount of money on the price you pay for insurance.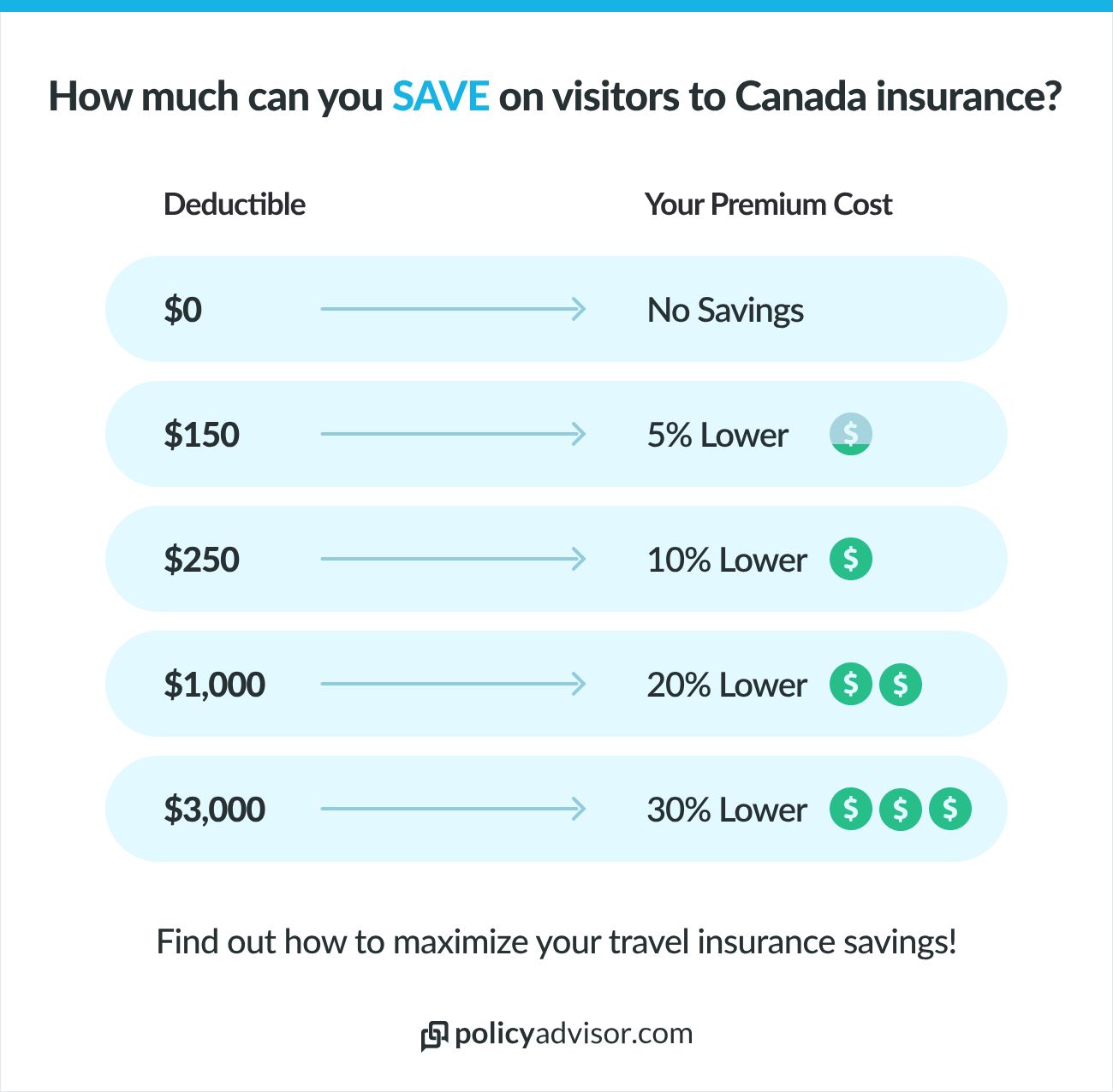 The good thing about choosing a higher deductible is that it means you pay less premiums for your visitors insurance. A higher deductible means you are choosing to pay upfront for unexpected costs, no matter what it is. If you choose a zero-dollar deductible, you'll pay more for your travel insurance plan. But you wouldn't have to pay any upfront costs at all.
A lot of people choose a higher deductible to lower their premium, and then just pay for small expenses (like one-time prescription drugs) as needed.
Where can I get visitors insurance for a trip to Canada?
There are 4 main ways you can get travel insurance for an upcoming trip to Canada:
1. Insurance broker


✅

 Recommended

An insurance broker (like PolicyAdvisor.com) can give you several different options for visitors insurance policies, providers, and premiums. This helps you choose the plan that would best suit your trip and budget. Travel insurance experts like ours can also give you insight about how claims work, and help you know which company would be the best option for a single trip or multiple trips to Canada.
2. Travel agent


❌

Not recommended 
If you booked your trip through a travel agent, they may have access to travel insurance plans. The downside is most travel agents deal with a single insurance provider, so they may not have the best options available.
3. Work benefits
❌ Not recommended
Sometimes you can get travel insurance coverage through your work or another group plan. Or, if you're part of a group membership like a union, you may be able to buy travel insurance with a certain provider at a discount. But, again, one downside to this is that you may not have as much choice of your provider or coverage options as you would have with an insurance broker.
4. Credit card
❌ Not recommended

If you booked your trip on your credit card, you may get some insurance coverage as part of the benefits. Be very careful to check the details of your policy, though. Credit card travel insurance usually has a lot of limitations and fine print. And you normally don't have the option to buy extra coverage if you need it or customize what you're covered for.
Travellers should buy visitors insurance before their trip starts and before they enter the country.
- Jiten Puri, CEO, PolicyAdvisor.com
Get one-on-one help
If you're looking for visitors insurance and not sure where to start, contact us! Our team of expert travel insurance advisors would be happy to go over the unique needs for your trip and give you personalized advice for what kind of travel insurance policy would be best for you. Schedule a call or start comparing customized quotes right away by clicking the button below.
Frequently Asked Questions
Do I have to be in Canada to get travel insurance?
No, you do not have to physically be in Canada to buy travel insurance. In fact, you should buy visitors insurance before your trip starts, while you're still outside of the country. Your policy should then be in force for the duration of your stay.
Can I buy visitors insurance for someone else? 
Yes, you can buy travel insurance for someone else. Many people do this when they want to get super visa insurance for their parents, grandparents, or other family members who will be coming to Canada.
If you want to buy Canadian health insurance for your parents who will be visiting Canada, for instance, you can do so! Contact us or click the button below to take a look at some quotes to get started.
Can I get a refund for Canadian visitors insurance?
You can get a refund for visitors insurance, but only in some cases. Some providers, like Allianz, have a 10-day free look period where you can cancel your policy within 10 days to get a refund. Others will issue a refund if you cancel it before the policy is supposed to start.
But we don't recommend cancelling your travel plan if you're still going on your trip. Travel insurance will protect you against unprotected costs, which can add up if something goes wrong. If you're coming to Canada and you don't already have coverage through your job, a credit card, or anything else, it's generally not a good idea to cancel your plan.
Reasons you might need to cancel your visitors insurance:
✅ You got a Canadian government health insurance plan
✅ Your trip was cancelled
✅ Your Canadian visitors visa was denied
✅ You got alternative travel coverage (such as through an employer or credit card, etc.)
Do I need travel insurance if I have credit card coverage?
We recommend that you get your own travel insurance even if you have credit card coverage. While credit card travel insurance is a great add-on, it often has a lot of limitations, like:
Only covers trips bought using that credit card
Coverage stops once you turn 65
Low amount of coverage
Only basic coverage
No options for add-ons
Doesn't cover COVID-related matters
Getting your own plan is the best way to make sure you have full coverage. No matter what you decide, you should still read the policy details to find out exactly what (and who) is covered under your credit card travel insurance. That will help you decide whether you need a separate plan to supplement coverage.
Do travel advisories affect my visitors insurance?
Yes, travel advisories will affect your visitors insurance. If, for some reason, a travel advisory has been issued warning you not to travel to Canada, then your trip to Canada would not be covered. But it's highly unlikely that you would run into this issue.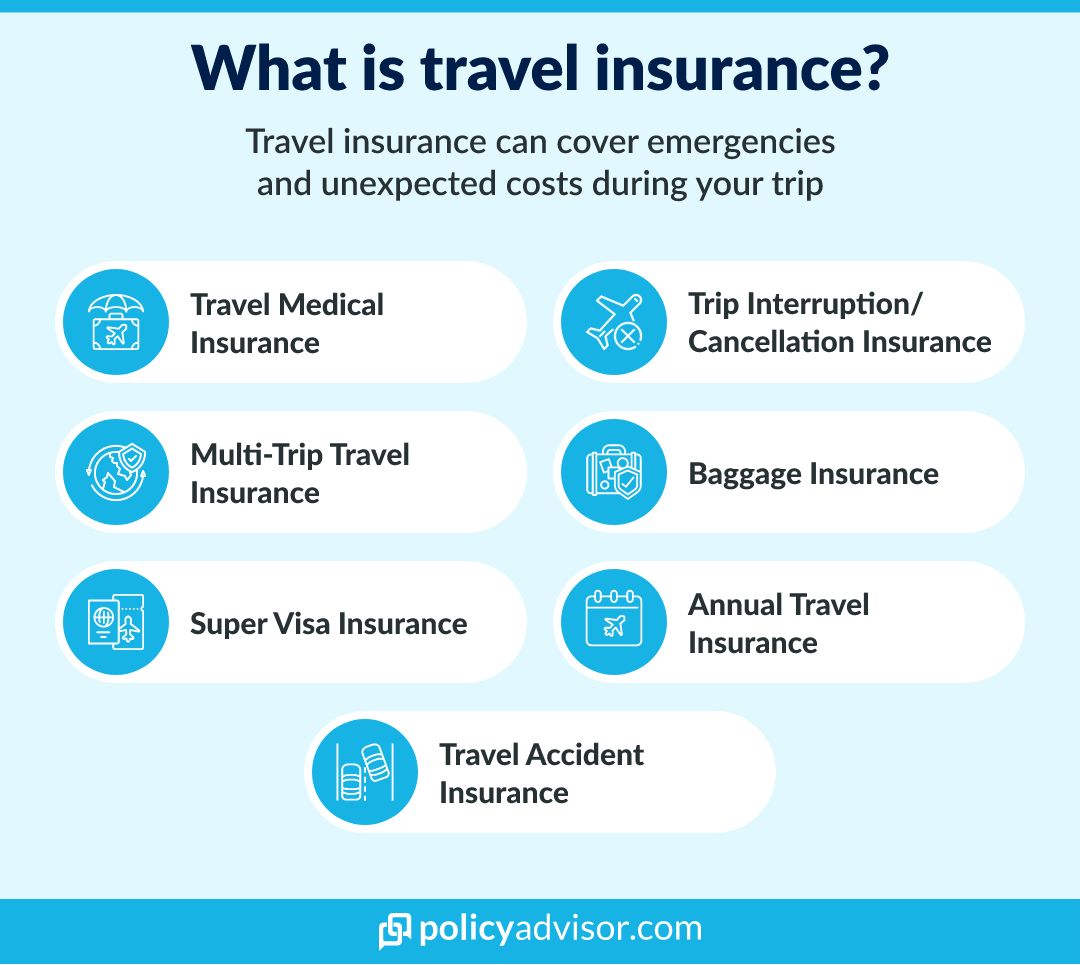 Which providers offer travel insurance for visitors to Canada?
Some of the best travel insurance companies in Canada offer visitors insurance, including:
Manulife
Tugo
Group Medical Services (GMS)
Allianz Global Assistance
21st Century Travel Insurance Limited
Destination Canada
and more!
We work with 30 of the best providers to help visitors to Canada get different types of travel insurance, depending on their needs and budget. Browse quotes online or contact us today to get started and enjoy safe travels to the Great White North!
The information above is intended for informational purposes only and is based on PolicyAdvisor's own views, which are subject to change without notice. This content is not intended and should not be construed to constitute financial or legal advice. PolicyAdvisor accepts no responsibility for the outcome of people choosing to act on the information contained on this website. PolicyAdvisor makes every effort to include updated, accurate information. The above content may not include all terms, conditions, limitations, exclusions, termination, and other provisions of the policies described, some of which may be material to the policy selection. Please refer to the actual policy documents for complete details. In case of any discrepancy, the language in the actual policy documents will prevail. All rights reserved.
If something in this article needs to be corrected, updated, or removed, let us know. Email content@policyadvisor.com.
KEY TAKEAWAYS
Canadian visitors insurance refers to different types of travel insurance coverage
Visitors insurance can cover unexpected and non-refundable costs for your trip to Canada
The cost of your plan depends on factors like age, trip length, and deductible