Should you use your credit card's travel insurance or buy your own?
SUMMARY
The main difference between credit card travel insurance and your own separately-purchased travel insurance policy is the level of coverage provided. Which option is better for you depends on your own needs and factors like: what kind of trip you are taking, how long your trip is, and if you need any specialized coverage.
If you've ever shopped around for a credit card, chances are you've seen this before: a shiny new card offering travel benefits like insurance coverage in case your trip goes awry. But is it really comparable to a policy you could buy on your own?
There are key differences between travel insurance coverage offered through your credit card company and what a separate insurance policy you own offers. The question of which is better comes down to your own needs and the kind of trip(s) you're taking.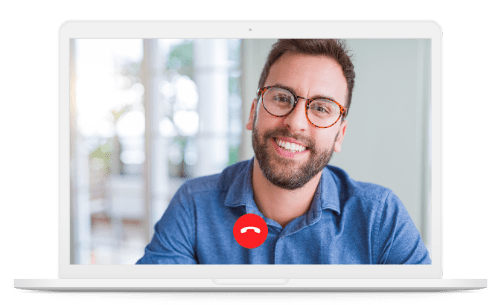 Need insurance answers now?
Call 1-888-601-9980 to speak to our licensed advisors right away, or book some time with them below.
What is credit card travel insurance?
Credit card travel insurance is a type of coverage included as a benefit with certain types of credit cards. Similar to standard travel insurance policies purchased from an insurance company (or through a brokerage like PolicyAdvisor), a travel plan provided through your credit card is meant to cover you in the event of an emergency either before or during your trip away from home.
Travel insurance in general can help with unexpected expenses that may arise along your journey, and the coverage provided through your credit card is no exception.
What kind of travel insurance can I get through my credit card?
Credit card providers can offer several different types of insurance, although they are almost exclusively for purchases made through that specific credit card. Of those many different credit card insurance options, the most common ones related to travel can include:
Trip delay, cancellation, and interruption
Provides coverage for some prepaid and non-refundable expenses. For example, if you have to unexpectedly cancel your trip before you leave Canada, or if an emergency happens and you have to cut your trip short. It also covers you if you encounter travel delays. Most often this means flight delays or cancellations where you miss a connecting flight, extra bills for unexpected hotel nights and meals, or any additional costs that arise.
Baggage and personal effects
Covers you if your bags or other personal belongings are lost, stolen, or damaged somewhere along your journey.
Travel accident
Travel accident insurance acts similarly to accidental death & dismemberment (AD&D) insurance. It provides a lump sum payment in case the insured (usually the cardholder) has an accident resulting in death or a severe physical injury like loss of limbs, paralysis, etc.
Emergency medical
One of the most common forms of travel insurance, emergency medical covers unexpected health costs. This usually includes medical care, hospitalization, ambulance services, evacuation, prescription medication, and a host of similar costs.
Rental car
Provides coverage if you rent a car during your trip and that car is damaged or stolen. Some plans also extend coverage to your personal belongings that may have been inside the rental car and stolen.
Emergency roadside assistance
This can help if your car (rental or otherwise) breaks down during your trip, gets a flat tire, or otherwise runs into issues leaving you stranded. It's particularly useful for road trips.
Hotel burglary
Covers you if your personal belongings are stolen out of your hotel room while you're checked in. This coverage may extend to other accommodations like motels and Airbnbs as well, but it's best to speak with an insurance advisor to find out for certain.
However, keep in mind that while these are possibilities, not all credit cards will include all of these coverage options. And you often don't have much flexibility to pick and choose your coverage like you would with a separate travel insurance plan.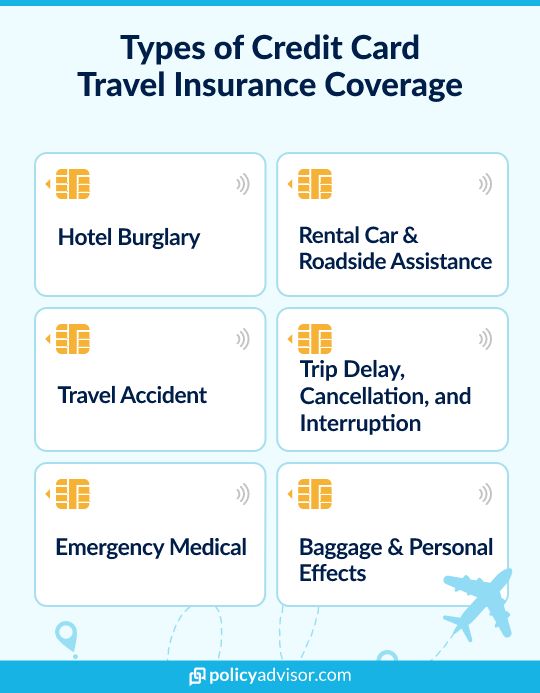 How does credit card travel insurance work?
Card benefits usually come with a suite of complimentary travel benefits as part of the card's package, including some travel insurance coverage. This is especially the case for cards that offer other premium rewards and cost an annual fee. These credit card benefits are basically the company's way of trying to entice you to sign up for their services.
Because of these advertised travel benefits, credit card travel insurance can be extremely appealing to people who travel frequently, such as on short business trips.
In some cases, travel insurance is not automatically included. But in those cases, cardholders may be able to purchase plans like emergency medical coverage or trip cancellation/interruption insurance through their card provider at an extra cost.
While credit card coverage is often the easy, go-to option for Canadians fortunate enough to have it included, those plans can vary significantly depending on the provider and the level of coverage you opt for. Further, credit card travel insurance is notorious for including restrictions in the fine print.
You should be cautious when deciding whether to rely on your credit card travel insurance coverage. Be careful not to go on a trip thinking you have coverage only to find out that your plan doesn't actually cover everything! It's important to find out exactly what you're covered for ahead of time, or speak with one of our experts for more guidance.
Requirements for credit card travel coverage
Every credit card issuer will have specific eligibility requirements for the coverage options they offer. In most cases, the main condition is that you must purchase the entire trip on your card.
Companies may also require you to have an annual income above a certain amount to be eligible for a card with travel benefits.
Age is another consideration. Many credit card providers will end travel insurance coverage for anyone over the age of 65. But there are some exceptions that offer premium credit cards with optional add-on coverage for those above that age.
What are the limitations of credit card travel insurance?
Credit card travel insurance is often billed as a convenient option, it has many limitations you should be aware of before deciding to use it.
To start with, there may be limits on the amount of coverage you can receive through your card provider. For example, you might only be covered for $500 in lost baggage if your total trip cost is under $5,000.
Credit card coverage likewise usually only covers you for a limited number of days, depending on your travel insurance package. Some plans also cap the number of trips you would be covered for within a year. This means that those who travel for longer periods multiple times a year are likely better served by getting their own travel insurance. Learn more about annual multi-trip travel insurance. 
There are also limitations on exactly what circumstances will be covered by your card's travel coverage. For instance, while it may offer trip cancellation insurance, this may only apply if the trip is cancelled for a highly specific reason. Those reasons can vary between card providers. But this means most providers do not offer a "cancel for any reason" clause like travel insurance through actual insurance companies can.
It also means that cancelling your trip due to contracting COVID-19, for example, might not be covered. And these specific limitations also tend to spill over into your medical coverage. Depending on the company, not every medical emergency may be covered.
Additionally, a pre-existing medical condition is likely to be excluded from this kind of coverage. Unlike with an independent travel plan where there may be some coverage for stable pre-existing conditions, credit card issuers rarely cover pre-existing health issues — if at all. This is critical because pre-existing conditions can be illnesses as common as high blood pressure, cancer, or diabetes.
In most cases, you also don't have the flexibility to customize your travel coverage or decide how to pay with card coverage. Insurance plans are usually preset with the card you own. And, as mentioned, in most cases you will only receive the benefit of coverage if you purchase the entire trip on that specific card.
It's also important to note that this kind of insurance is usually secondary coverage. This means that it only covers costs after your primary insurance, like your individual travel health insurance policy or a government health insurance plan, has paid out.
Another item to look out for is whether your credit card covers just you, the cardholder, or if it also extends to those you are travelling with. In this case, your family members or travel companions would still have to go out and buy their own separate travel insurance plans for coverage. Travel insurance companies, on the other hand, can offer family travel plans that are a bit cheaper than everyone purchasing their own policy.
This is why it bears repeating that you absolutely should read through your policy, check with your provider, or speak with qualified insurance advisors (like PolicyAdvisor) about your travel coverage.
What is individually-owned travel insurance?
Individually-owned travel insurance is a policy that you purchase directly from an insurance company or broker like PolicyAdvisor. It is separate from the travel insurance coverage offered through your card issuer.
There is a wide range of travel insurance options to choose from, and coverage can overlap with your credit card travel insurance benefits. But individual travel insurance often provides more coverage and higher coverage limits.
It is also primary coverage, which means that it will pay out first if you make a claim.
What does travel insurance normally cover?
As with a credit card provider, insurance companies also offer several different types of travel insurance coverage. For the most part, plans are some variation or extension of the major two:
Travel medical insurance
Covers emergency health-related costs, including medical care for emergencies, ambulance transportation (including air ambulance), emergency evacuation or repatriation of remains to Canada, prescription medication, hospitalization (including due to COVID-19), and other emergency medical services.
Trip interruption/cancellation insurance
Covers prepaid, non-refundable costs related to your trip. It also covers unexpected costs if you have to cancel your trip before leaving or if you have to end your trip early (including for COVID-19-related reasons).
Read more about travel insurance coverage for COVID-19.
What does travel insurance not cover?
Of course, no insurance policy is a free-for-all. While individually-owned travel insurance does generally provide more coverage than credit card travel insurance, there are some things even those plans would not cover.
The major exclusion is travel to destinations with active travel advisories, or travel when Canada's government advises citizens to avoid non-essential travel. In these instances, an insurance provider may decline to provide travel coverage.
Further, most travel insurance plans, no matter where they are purchased from, will not cover certain sports that are considered to have a high risk of injury. These include skydiving, bungee jumping, parachuting, hang gliding, motorbike or car racing, mountain climbing, and similar sporting activities.
What are some differences between credit card coverage and owned coverage?
| Credit Card | Individual |
| --- | --- |
| Some plans come at no cost with the card | Higher coverage limits |
| Can cover rental vehicles and hotel burglary | More coverage options for specific circumstances (like extreme sports) |
| Lower coverage limits | Higher coverage limits |
| Shorter coverage periods | Can provide coverage for longer trips |
| Usually does not cover pre-existing medical conditions | Can cover stable pre-existing medical conditions |
| Coverage generally stops at age 65 | Generally does not have an age limit |
| Limited COVID-19 coverage, if any | More coverage for COVID-19-related expenses (emergency quarantine, trip cancellation, etc.) |
| May limit the number of trips covered in one year | Can provide coverage for an unlimited number of trips in one year |
Cost differences
In particular, the difference in cost between individual travel insurance and credit card travel insurance may surprise you. Although many card plans include free travel coverage, some plans might actually cost more than individually-owned travel policies, depending on the kind of coverage purchased.
Some credit cards with travel plans can cost you anywhere from $200 to upwards of $600 in annual fees. Conversely, individually-owned travel insurance can be as low as around $25 per trip. That's not quite as low as $0, but it's certainly a fair amount considering the extent of coverage you could be getting. At the same time, some individually-owned annual travel insurance plans can cost upwards of $100 per year, again depending on several factors.
In terms of which option of the two provides the best overall value, that answer necessarily depends on your unique needs.
Here are some major factors that would determine which is the best option for you:
What kind of travel insurance plan you buy
How much coverage you need
How many travellers need to be covered under the plan
Any extra coverage needed (like for extreme sports)
Pre-existing health issues
How often you plan on travelling

Find the perfect plan
Make sure you get the best travel insurance for your needs and budget with PolicyAdvisor.
GET QUOTES
Frequently Asked Questions
Do I need travel insurance if my credit card already has it?
There is no one-size-fits-all answer to this question. Credit card coverage may be perfectly adequate for the type of traveller who is going on a short, casual trip and does not have any additional needs.
On the other hand, travellers who may be embarking on more specialized trips will likely need to purchase supplementary travel insurance that provides more comprehensive coverage.
For instance, some travellers who would need a more comprehensive travel insurance plan than what a credit card issuer would provide could be:
Athletes travelling abroad to participate in competitions
Snowbirds travelling overseas for months on end
Travellers planning to do "adventurous" activities like bungee jumping
Visitors to Canada on years-long super visas
Foreign workers or work permit holders in Canada
The complete details of your travel insurance policy would indicate exactly what is covered and what isn't, and thereby give you a better idea of what kind of plan you need.
Is it worth it to get travel insurance?
Having insurance coverage for medical emergencies or unexpected expenses during your travel can come in handy, whether it's provided for free as part of your credit card package or provided through an insurance company. And there are dozens of affordable travel insurance options to choose from.
There's nothing like expecting to take a quick vacation but ending up having to book extra hotel nights due to cancelled flights. Or having to go to the hospital in another country and finding yourself out of pocket for those extra costs.
When deciding which option to go for, compare your policy's details of coverage with your needs for the trip(s) you have planned.
If you're unsure, you can always speak with your provider directly, or speak with one of our expert advisors for personalized advice on which type of policy would be best for you.
Where can I get my own travel insurance?
If you decide to opt for your own travel insurance separate from your credit card issuer, you have a few options for where to look.
If you booked through a travel agent, they will normally be able to offer you some travel insurance options at the same time.
But, depending on your employment status, you should also double-check your employee benefits. Sometimes group insurance packages offered through your employer will provide some level of travel insurance, especially if business trips are common.
Of course, one of the most direct ways to get travel insurance is by speaking with an insurance broker like PolicyAdvisor. We work with more than 30 of the best insurance companies in Canada, so our advisors can help you find the absolute best travel coverage for your needs and help you shop around if you're looking to travel on a budget.
Need help?
Call us at 1-888-601-9980 or book time with our licensed experts.
SCHEDULE A CALL
The information above is intended for informational purposes only and is based on PolicyAdvisor's own views, which are subject to change without notice. This content is not intended and should not be construed to constitute financial or legal advice. PolicyAdvisor accepts no responsibility for the outcome of people choosing to act on the information contained on this website. PolicyAdvisor makes every effort to include updated, accurate information. The above content may not include all terms, conditions, limitations, exclusions, termination, and other provisions of the policies described, some of which may be material to the policy selection. Please refer to the actual policy documents for complete details. In case of any discrepancy, the language in the actual policy documents will prevail. All rights reserved.
If something in this article needs to be corrected, updated, or removed, let us know. Email editorial@policyadvisor.com.
KEY TAKEAWAYS
Credit card travel insurance can cover the same kinds of travel-related emergencies your own individually-owned travel insurance does
But credit card travel coverage often has many limitation that standard travel insurance does not
Individually-owned travel insurance can offer more coverage and has higher coverage limits