Can visitors to Canada get health insurance?
SUMMARY
Visitors to Canada can get travel medical insurance if they need emergency healthcare while they're in Canada. This isn't the same as health insurance, which usually only covers you in your home country. Emergency travel medical can cover things like doctor's visits and other urgent health care needs for people visiting Canada.
When people think of Canada, they usually think of three things: maple syrup, hockey, and "free" healthcare. Visitors to Canada can enjoy two of these, but free government healthcare coverage is not one of them. Instead, travellers will need to explore other options, such as travel insurance, that will cover their healthcare needs while in Canada.
In this article, we'll answer all of your questions about what kind of insurance visitors to Canada can get, and what they can be covered for.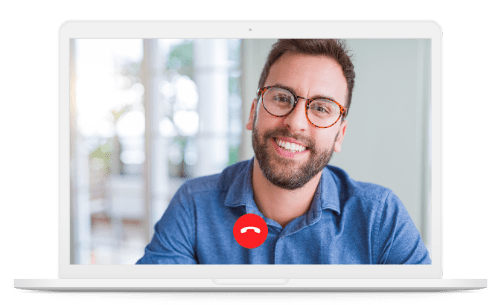 Need insurance answers now?
Call 1-888-601-9980 to speak to our licensed advisors right away, or book some time with them below.
Can visitors to Canada get medical insurance?
If you come to visit Canada, you cannot use the Canadian government health insurance plan or buy Canadian health insurance plan coverage for yourself.
Instead, a travel insurance plan that covers medical costs is the best options for tourists, visitors, and non-residents to Canada. Travel medical insurance for visitors to Canada can help pay for emergency care if something happens while you're here.
What is travel insurance?
Travel insurance is a type of insurance that helps to cover the cost of medical care if you become sick or injured while travelling. It can also protect you from financial loss if you have to cancel or interrupt your trip. Different types of travel insurance can cover unexpected costs related to:
| | | |
| --- | --- | --- |
| Medical emergencies | Trip cancellation or delay | Lost/stolen baggage |
| Dental emergencies | Trip interruption | Car rentals |
| Emergency evacuation | Non-refundable costs | Roadside assistance |
| Return of remains | Cost of accommodation | 24/7 assistance services |
| Air transportation | Extra meal expenses | Air accident |
Read our review of the Best Visitors Insurance in Canada
Is there a special type of tourist insurance in Canada?
Most tourists in Canada stay for less than six months, so they can be covered under regular travel insurance for people on a visitor visa. The only exception is super visa insurance, which is for a special type of Canadian visitor. Super visas are only for the parents and/or grandparents of a Canadian citizen or permanent resident.
If you need to cover more than one person at a time, you can get a family policy that will include everyone.
- Ripenjeet Sandhu, Travel Insurance Expert
What does travel medical insurance cover for visitors to Canada?
Most travel medical plans will cover:
Emergency medical treatment for illness or injury
Prescription medications
Emergency dental services
Essential medical equipment (crutches, wheelchairs, slings, braces, etc.)
X-rays and other diagnostic laboratory procedures (bloodwork, ultrasounds, etc)
Required ground, air or sea ambulance services
Follow-up post-medical appointments
Medical evacuation
Ambulance travel to the nearest hospital
Keep in mind that what's covered depends on your insurance company and what plan you sign up for. Some insurance policies cover certain things, while others may not.
Does visitors health insurance cover pre-existing medical conditions?
No, most visitor visa insurance plans won't pay for a health problem that you already had before you got the insurance. This health problem is considered a "pre-existing condition."
Some common pre-existing conditions include:
Cancer
Heart disease
Diabetes
High blood pressure
Sleep apnea
Anxiety and/or depression
Bipolar disorder
Other mental health conditions
However, if your medical condition is stable, then some insurance companies will cover related complications at an additional cost. The table below shows the criteria for a condition to be considered stable.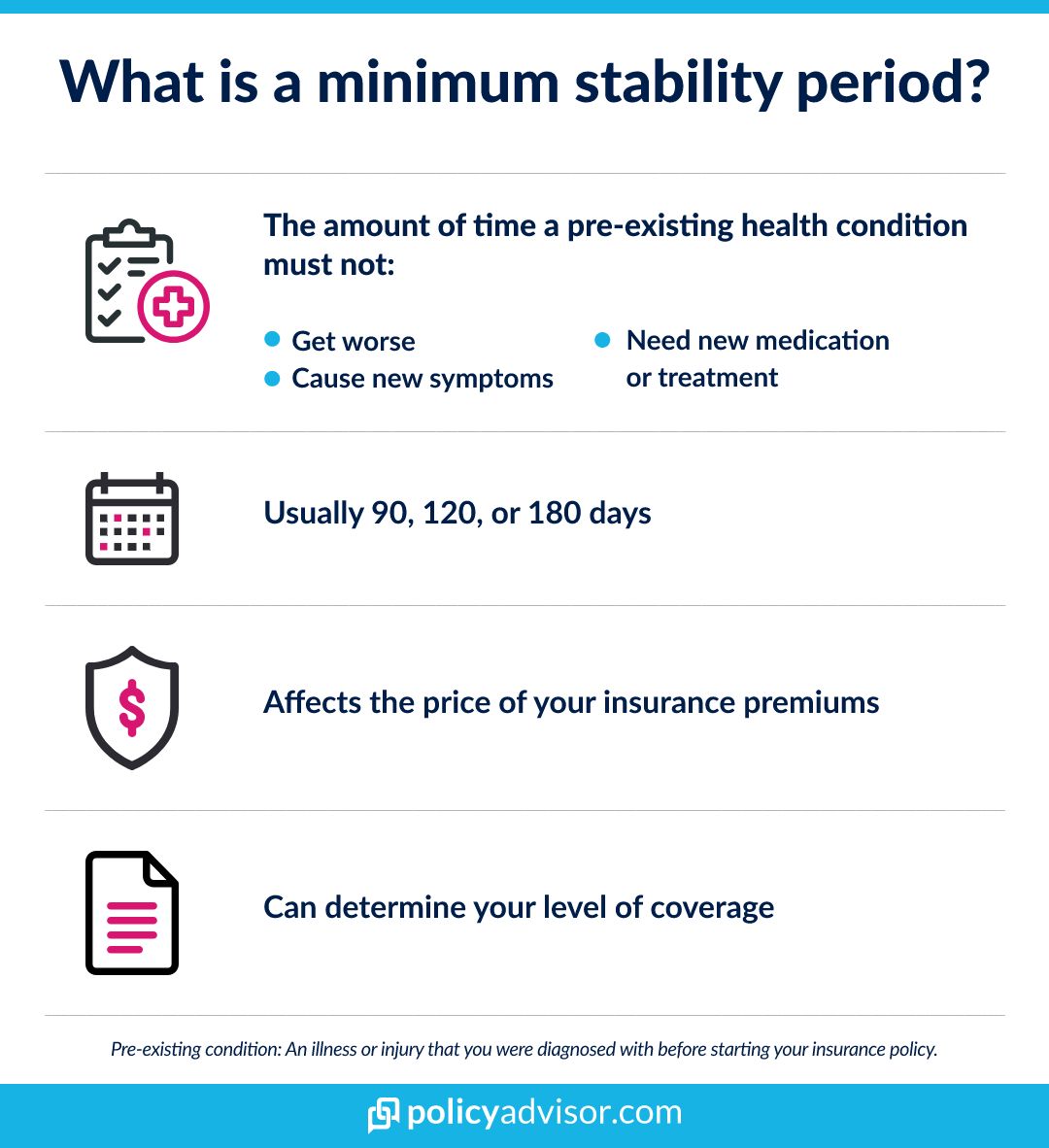 Does travel medical insurance cover families visiting Canada?
Yes, visitors health insurance can cover a family visiting Canada. If you need to cover more than one person at a time, you can get a family policy that will include everyone. But note that there are rules about who can be included in that policy.
Generally, anyone travelling with you will fall under one of two categories:
1. Dependents
Canadian insurance companies usually include your family members as dependents. This includes:
✅ Your spouse
✅ Your minor children
✅ Anyone legally or financially dependent on you
Anyone who falls into one of these categories can be included in your travel insurance plan.
⚠️ NOTE: Pregnancy while travelling will require special attention to your policy wording. Unborn babies aren't treated the same as dependent children. If someone visiting Canada gives birth, their baby will not be covered under their travel insurance plan. Although, some companies (like our partner Tugo Travel) may let you add a newborn baby to your insurance starting from as early as 15 days of age.
2. Non-dependents
If you want to get visitors insurance for a family member who is not a dependent, you will have to buy them a separate policy.
This means that if you want to buy Canadian health insurance for your parents visiting Canada, they would not be included in your family plan. They would need to get their own separate visitors insurance, although you could buy that policy for them.
How much does Canadian medical insurance for visitors cost? 
The price of Canadian medical insurance for visitors changes depending on things like how long your trip is, how much you're covered for, if you have any health concerns, and more.
The chart below shows some sample costs for $100K of travel medical insurance coverage, covering covers a seven-day trip to Canada, with a $1,000 deductible.
| Age | Cost |
| --- | --- |
| 25 | $18 |
| 35 | $20 |
| 45 | $20 |
| 55 | $21 |
| 65 | $25 |
| 75 | $45 |
*A single-trip, 7-day day travel medical insurance policy with $100,000 in coverage and a $1,000 deductible.
What is a travel insurance deductible?
Most travel insurance policies have something called a deductible. It's the amount of cash you choose to pay out of pocket before your insurance coverage kicks in and covers the rest of the medical bill.
Deductible options also change how much you pay for your policy. The higher the deductible, the cheaper the policy.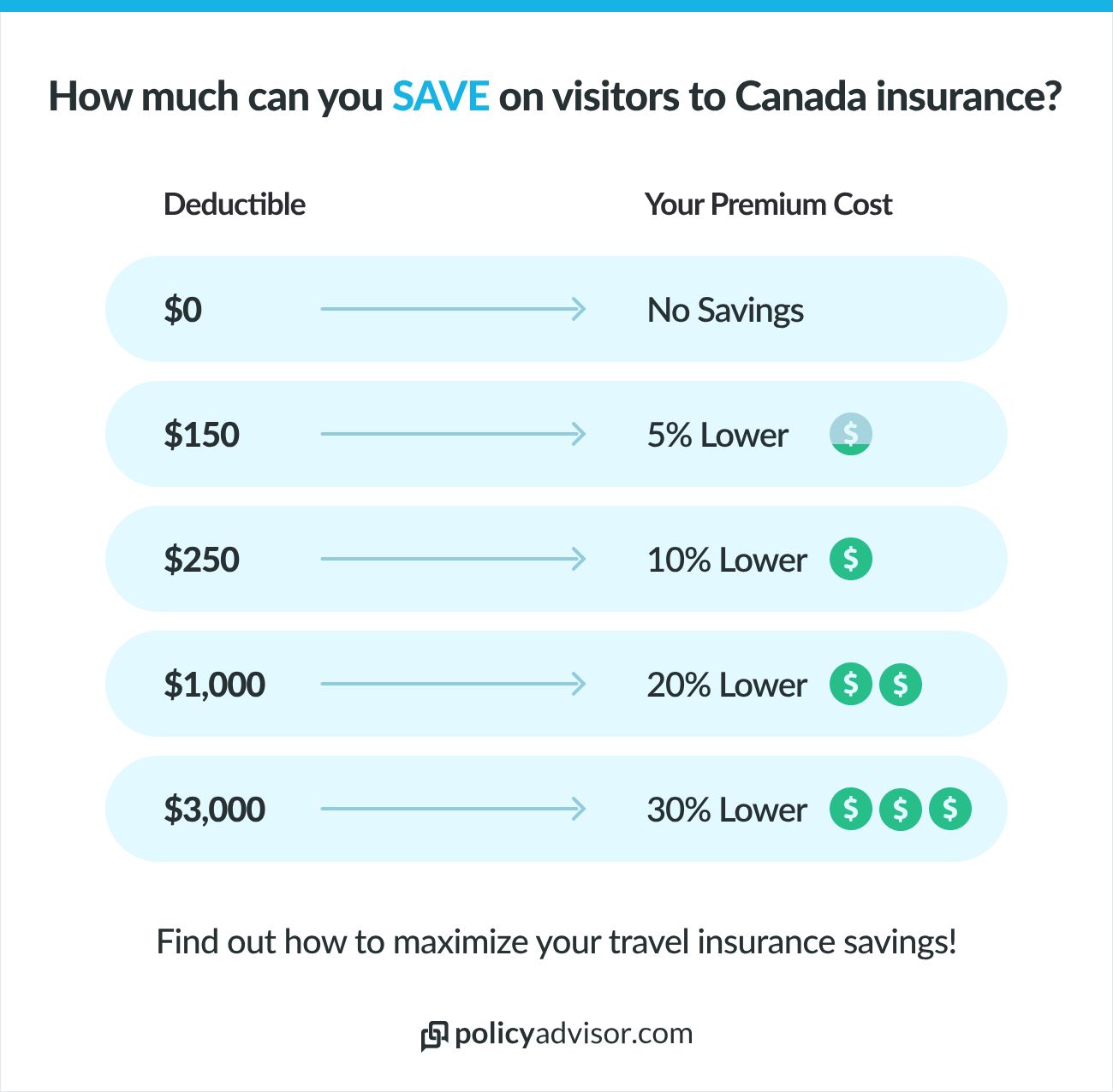 Some deductibles start at zero, meaning you don't have to pay anything upfront when you have a medical bill—the insurance covers the cost right away. But lower deductible options mean you pay more for your insurance premiums.
Deductibles can also be as high as thousands of dollars, meaning you pay those thousands before insurance helps with the rest. But higher deductible amounts also mean you pay less for your insurance policy.

Travel with confidence
SAVE on the best travel coverage when you compare plans online!
Get your FREE quote
How much health insurance coverage can visitors to Canada get?
Tourists and other visitors in Canada can get coverage amounts of $10,000 to $1 million in health insurance coverage for their trip. Most Canadian visitors choose $100K in coverage.
Insurance companies will cover up to a certain dollar amount in unexpected medical costs. How much they cover depends on what kind of medical procedure it is.
The chart below gives you an idea of how much is usually covered for some common healthcare.
A typical travel medical insurance policy for a visitor could cover:
| Medical event | Amount covered |
| --- | --- |
| Accidental death & dismemberment | Up to the full amount |
| Emergency hospitalization | Up to the full amount |
| Emergency medical (including follow-up visits) | Up to the full amount |
| Emergency transportation expenses | Up to the full amount |
| Return of deceased | Up to $10,000 |
| Accidental dental | Up to $4,000 |
| Emergency return home (repatriation) | Up to $3,000 |
| Transportation of family/friend (to be with you in hospital) | Up to $3,000 |
| Out-of-pocket expenses | Up to $1,500 |
| Attendant or personal support | Up to $500 |
| Chiropractor, osteopath, chiropodist/podiatrist, physiotherapist or acupuncturist | Up to $500 per profession |
| Dental emergency | Up to $500 |
Keep in mind that what's covered depends on your insurance company and what plan you sign up for. Some insurance policies cover certain things, while others may not.
- Ripenjeet Sandhu, Travel Insurance Expert
Why should you buy travel health insurance when visiting Canada?
Travel health insurance can help protect tourists against enormous fees if they need to see a doctor or get medical care during their trip to Canada.
Everyone wants to kick back and have a great time on vacation. But a sudden emergency can cost you thousands of dollars per day in medical expenses. Remember, visitors aren't covered by Canada's healthcare. And your home country's health insurance won't cover you in foreign countries either.
Visitors medical coverage can help pay some of those costs and give you peace of mind knowing you're financially covered if anything happens.

How to get the best medical insurance for visitors to Canada?
The best way to get health insurance for your trip to Canada is to shop around and compare deals. And you can easily do that right here on PolicyAdvisor.com.
We work with dozens of Canada's most trusted insurance companies to scan the market for you and find the best prices and coverage based on your needs. Compare your options for free online with our quoting tool. Or take advantage of a free phone consultation with one of our travel insurance specialists who can review coverage options and help you figure out what plan would work best for you and your family.
Which Canadian providers offer emergency medical insurance for visitors to Canada?
You can get visitors health insurance from top Canadian providers like:
21st Century
Allianz Global Assistance
Destination Canada
GMS (Group Medical Services)
Manulife
Tugo
We work with all of these travel insurance providers and more to bring you the best visitors insurance options. Save time and find the lowest rates in minutes by comparing them on PolicyAdvisor.com. Click the button below to get started.
There are tons of benefits to non-residents getting Canadian health insurance, whether they are tourists or long-term visitors on a super visa. Now that you know how it works, get started on securing your trip today.
Frequently asked questions
Can I buy Canadian medical insurance for parents visiting Canada? 
Yes, you absolutely can buy medical insurance for parents visiting Canada. In fact, this is very common! Many Canadians started out as immigrants to the country, so they may have parents and other family come to visit them sometimes.
There are generally two options for insurance coverage for visiting parents:
Most Canadian visitors can stay in the country up to six months. But there is a program called a super visa that lets the parents and grandparents of Canadian residents and citizens stay for up to five years, with the option to extend. The super visa has special requirements for visitors medical insurance. If your parents have super visas, they will need this kind of travel insurance plan in order to get their visa approved.
To buy medical insurance for your visiting parents, or anyone else coming to visit you, you'll need their:

✅ Personal details (name, age, gender, address, etc.)

✅ Travel details (destination, travel length, travel dates, etc.)

✅ Medical history (pre-existing conditions)
Can I get a refund for Canadian visitors medical insurance?
Yes, you can get a refund for visitors insurance, but only in cases such as:
Your trip was cancelled
Your Canadian visitors visa was denied
You got a Canadian government health insurance plan
You shouldn't cancel your travel insurance if you're still coming to Canada and do not have coverage. Travel insurance can save you from having to spend thousands out-of-pocket in an emergency. It's well worth the low cost!
If you're not sure about who can be included in your visitors health insurance plan coverage, check your policy wording or speak with one of our travel insurance specialists to find out.
What are emergency transportation expenses?
In this article, we referred to emergency transportation expenses. This includes health care costs while you are either living or deceased.
Ambulance services
Ground or air ambulance service to the nearest hospital or medical facility.
Repatriation
Returning you to your country of residence when you are injured or ill so that you can recover in your home country.
Return of the deceased
Returning a deceased person's remains to the country they lived in. Some policies will also cover the cost of cremation or burial at the place of death.
Need help?
Call us at 1-888-601-9980 or book time with our licensed experts.
SCHEDULE A CALL
The information above is intended for informational purposes only and is based on PolicyAdvisor's own views, which are subject to change without notice. This content is not intended and should not be construed to constitute financial or legal advice. PolicyAdvisor accepts no responsibility for the outcome of people choosing to act on the information contained on this website. PolicyAdvisor makes every effort to include updated, accurate information. The above content may not include all terms, conditions, limitations, exclusions, termination, and other provisions of the policies described, some of which may be material to the policy selection. Please refer to the actual policy documents for complete details. In case of any discrepancy, the language in the actual policy documents will prevail.  All rights reserved.
If something in this article needs to be corrected, updated, or removed, let us know. Email content@policyadvisor.com.
KEY TAKEAWAYS
Visitors to Canada can get health insurance coverage through a travel medical insurance plan
Travel medical insurance can cover doctor's visits, hospital stays, emergency transportation, and prescription medication
Visitors health insurance can cover an individual or a family