What are the different types of life insurance in Canada? Term, permanent, and more.
SUMMARY
There are 2 different types of life insurance plans in Canada: term life insurance and permanent life insurance. Within those two types are several sub-types of life insurance such as universal life insurance, limited pay whole life insurance, and term-to-100 insurance. There is no one type of life insurance that is best for anyone, each has its benefits and drawbacks. Your life insurance needs are determined by a variety of factors such as the age and number of your dependents, household income, marital status, debt profile, and mortgage loan and amortization schedule.
Most people assume there are two types of life insurance in Canada, it comes down to term life insurance versus whole life insurance. But, there's more to the different types of insurance than that. If you need life insurance, how do you tell them apart?
When you decide to purchase something, choices are usually a good thing. However, choosing from the different types of life insurance in Canada isn't like deciding what flavour of ice cream to try for dessert. Each different type of life insurance offers different benefits AND drawbacks. And we regret to inform you there are no pistachio flavoured life insurance policies available when planning your financial security.
We list the different types of life insurance policies in Canada and compare them so you are a little more prepared to make a big decision.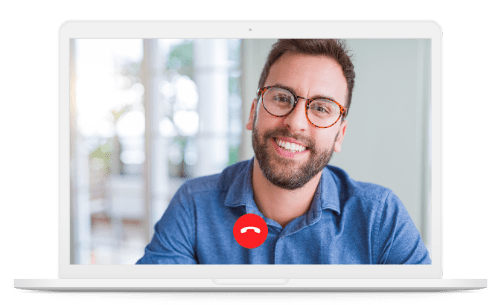 Need insurance answers now?
Call 1-888-601-9980 to speak to our licensed advisors right away, or book some time with them below.
What are the two main types of life insurance?
The two main types of policies are term life insurance and permanent life insurance (aka whole life insurance). While we often spend more time showing the difference between term and whole life insurance, you can find succinct definitions below. While term policies are fairly straightforward, permanent insurance policies have many different types and subsets. While many describe universal life insurance as it's own type of coverage, it also falls under permanent life insurance.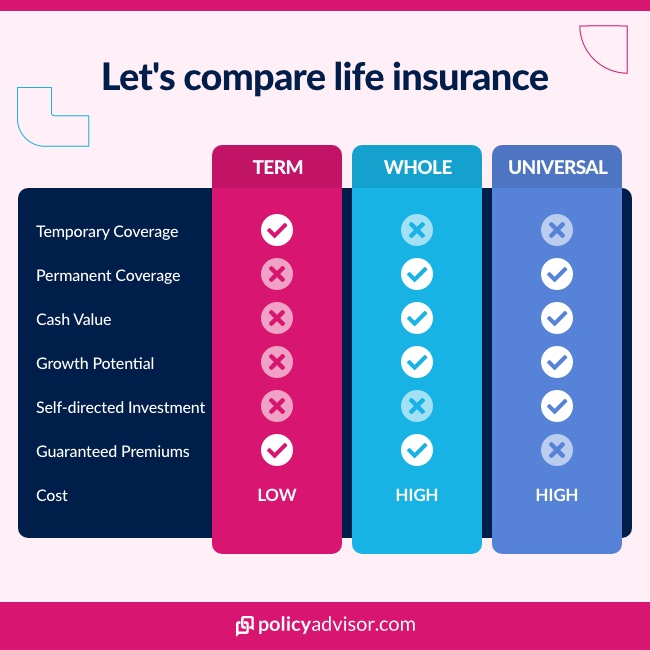 What is term life insurance?
Term life insurance is a type of life insurance product that covers you for a specific length of time, called a term, and pays a tax-free, lump-sum payment to your beneficiaries if you die, within the term.
There are different life insurance term lengths available. 10 or 20 years are the most popular choices, but 25 or 30 years or coverage up to age 65 are also possible.
Some life insurance companies in Canada (such as RBC life insurance or Industrial Alliance Life Insurance) allow you to pick your own term for coverage. You can pick a discrete number of years that you want the term life insurance coverage to last. Such products are called "pick-a-term" products.
What is the benefit of covering you for a specific period of time? Your life insurance death benefit is able to cover most of your life insurance needs that are temporary in length. This could include financial situations like your mortgage, any outstanding debt you may have, coverage for your children's education, or living expenses for your loved ones so they maintain the same standard of living – even if you pass away.
Because of the shorter life insurance term, a life insurance company will generally provide less expensive premiums for term life insurance.
When you buy a term policy, you choose your coverage amount and coverage term. Your insurance company determines your premiums based on that amount and coverage term; those premiums stay level through the coverage term.
At the end of the original coverage term, you may have the option to renew your term life policy, although at a higher cost. Alternatively, you can let your term insurance coverage expire.
Term life insurance is a cost-effective and flexible way to protect your family and can even serve as a less expensive alternative to mortgage life insurance.
Read more about term life insurance.
What is permanent life insurance?
Permanent life insurance (also known as whole life insurance) covers you for your entire life. Sometimes there is an investment or cash value component associated with your policy and its lump sum, tax-free payment.
As the name suggests, permanent life insurance is best suited to protect 'permanent' or 'lifelong' needs such as estate tax liabilities, care for a disabled child or dependent, liquidity for closely-held businesses and even funeral expenses.
As you pay into your permanent policy over time, it can build investment value.
You can cash out the value of your permanent insurance policy to supplement your
retirement income
or help pay expenses. In some cases, you can borrow against the cash value component of your permanent life insurance policy.
Or, you can simply leave the life insurance benefit to your loved ones as the beneficiaries, the same as any other type of life insurance.
Permanent life insurance plans usually have a higher premium, since you are covered for your entire lifetime.
Read below about the different types of permanent life insurance policies available, like participating, non-participating, term-to-100, limited-pay, and universal life insurance.
What is non-participating whole life insurance?
Non-participating whole life insurance is permanent insurance in its most basic form. It provides a tax-free death benefit with lifetime coverage that is guaranteed as long as you are paying the premiums. They have a level premium, it can't increase if your health changes once your coverage is in force.
A non-participating policy also accumulates cash value. You can borrow against the cash value of the policy to help fund expenses during your lifetime in the form of a policy loan. The cash value is the sum of money that builds inside the policy. Cash surrender value refers to the amount of money paid to a policyholder if they terminate the policy minus any surrender fees. Typically, the cash value gains grow year after year and are accessible starting in a specific year of the policy (such as after 10 years).
Read more about whole life insurance.
What is participating whole life insurance?
Participating life insurance is a type of whole life insurance policy that—in addition to the guaranteed death benefit—can generate and pay out money over the course of the policy in the form of dividends. These dividends, which are determined by the insurance company's performance and profits, are typically issued to the policyholder annually. The general idea is that the policyholder can share in the insurance company's profits while they are living.
The dividends come from earnings generated by the premiums that the policyholder pays to the insurance company. Participating policy premiums are pooled and invested by the insurer. The investment income is then used by the insurance company to pay out benefits and other expenses.
The dividends, therefore, come from any surplus profits from the participating investment fund. It should also be noted that dividends are not guaranteed (in contrast to the death benefit) and can fluctuate depending on investment performance.
Read more about participating life insurance.
What is term-to-100 insurance or term life insurance to age 100?
Term-to-100 insurance plans are a whole life insurance policy that doesn't have a cash-out option. Term-to-100 policies only pay upon your death (making it a little cheaper). It offers a bridge between term and whole life insurance. Plus, if you make it to 100 years, you are no longer required to pay premiums and still retain the coverage. Many choose a term-to-100 policy to cover funeral costs (or as a de facto final expense insurance).
Read more about term-to-100 life insurance.
What is limited-pay whole life insurance?
Limited pay whole life insurance is a form of permanent insurance with a unique payment scheme. In this case, the life insurance company specifies a shortened payment term, perhaps for 20 or 30 years. Once you pay premiums for the specified time, your life insurance policy is guaranteed without paying additional premiums. This policy typically has the highest insurance costs since premiums are front-loaded.
What is universal life insurance?
Universal life insurance is similar to whole life insurance, except there is a self-directed long-term investment component. Your insurer gives you options for investing the cash value of your policy so it can be considered a way to save for retirement. If you are a savvy investor or mindful of estate planning, you may find that universal life insurance is a more appealing option. That said, universal life insurance plans require more hands-on activity than other life insurance coverage options, and may not boast the same rate of return as other investment options.
Read more about whole vs. universal life insurance.
What is the best type of life insurance for me?
Finding the perfect life insurance plan can be a challenge and the answer isn't always straightforward. Check out our life insurance needs calculator to see what sort of coverage you need to protect your family and loved ones. You can start researching term life insurance policies that best fit your lifestyle, financial plans, and budget. Some insurance policies are available without a medical exam, including simplified issue life insurance and guaranteed issue life insurance.
Read more about simplified vs guaranteed life insurance.
Once you figure out your coverage needs, you can start comparing life insurance quotes online and choose your preferred life insurance company and life insurance plan.
How do I get life insurance?
You can get an individual life insurance policy by clicking on any of our tools mentioned above or booking some time with our life insurance experts.
They can help you determine how much life insurance you need (if any!) to protect your family or other financial interests. Reach out and get a quote!
Need help?
Call us at 1-888-601-9980 or book time with our licensed experts.
SCHEDULE A CALL
The information above is intended for informational purposes only and is based on PolicyAdvisor's own views, which are subject to change without notice. This content is not intended and should not be construed to constitute financial or legal advice. PolicyAdvisor accepts no responsibility for the outcome of people choosing to act on the information contained on this website. PolicyAdvisor makes every effort to include updated, accurate information. The above content may not include all terms, conditions, limitations, exclusions, termination, and other provisions of the policies described, some of which may be material to the policy selection. Please refer to the actual policy documents for complete details. In case of any discrepancy, the language in the actual policy documents will prevail. All rights reserved.
If something in this article needs to be corrected, updated, or removed, let us know. Email editorial@policyadvisor.com.