The ultimate guide to snowbird travel insurance
SUMMARY
Snowbird travel insurance is a type of insurance specifically designed for Canadians who travel outside of their home province or territory for extended periods of time. It's usually aimed at seniors since they are the major demographic of snowbirds.
Every year, thousands of Canadians say goodbye to the Great White North as they embark on months-long trips abroad to escape the cold winter. But, like many travellers, the topic of insurance may not cross these snowbirds' minds until they're on the plane. By then it may be too late.
Travel insurance can provide adequate coverage for emergency expenses on shorter trips. But, what do Canadians rely on for peace of mind when they're spending months abroad? This article will go into detail about how snowbirds can make sure they're covered in case they run into unpleasant emergencies while away from home.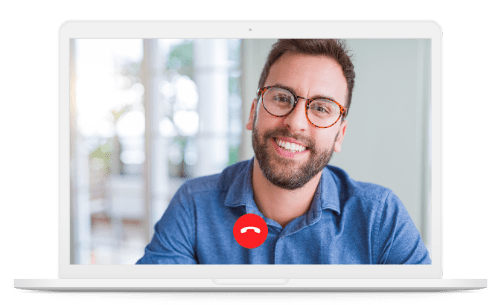 Need insurance answers now?
Call 1-888-601-9980 to speak to our licensed advisors right away, or book some time with them below.
What is a snowbird?
A snowbird is a Canadian who travels south for the winter, usually to warmer climates like Florida, California, Costa Rica, Mexico, or the Caribbean. In most cases, snowbirds are retired Canadian seniors.
They typically spend several months out of the year in their destination of choice (like super visa insurance), or "hop" to a few different places, before returning back home to Canada once the weather's warmer. They're called "snowbirds" after the actual birds that migrate south every winter in a similar fashion.
What is snowbird travel insurance?
Snowbird travel insurance is a type of insurance specifically designed for Canadians who travel outside of their home province or territory for extended periods of time. It's usually aimed at seniors since they are the major demographic of snowbirds.
One of the major differences between regular travel insurance policies and snowbird travel insurance policies is the length of time for coverage. Regular travel insurance coverage can be for up to 21 days of travel away from home, while snowbird travel insurance policies can offer coverage for up to 212 days.
Additionally, there are different coverage options snowbirds can choose from:
Single-Trip Plan: Covers one specific trip
Multi-Trip Plan: Covers several trips within the span of a year
Top-Up Plan: Extends the period of coverage if the trip is extended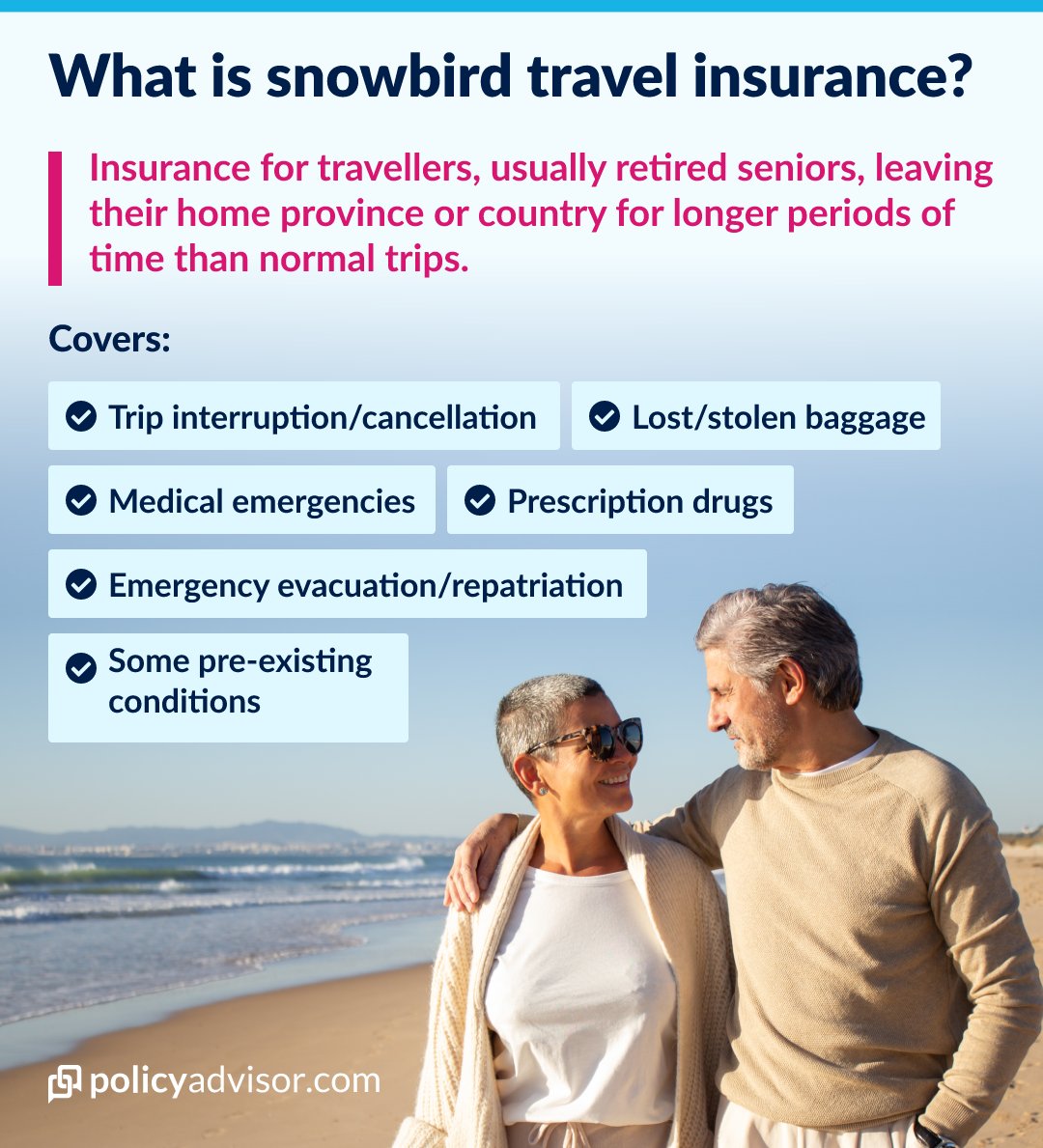 Why do snowbirds need travel insurance?
Snowbird insurance policies can help cover any unexpected costs that may arise on their journey south as well as over the winter months while they're enjoying the warm weather abroad.
Even for just a short trip to a neighbouring province, costs can quickly — and dramatically — pile up when emergencies happen. Now picture if something goes wrong on a much larger-scale trip: think of the difference between spending a few days in Montreal versus spending four months in Miami.
In particular, with most snowbirds being seniors, they should ensure they have travel medical coverage as they are more likely to be susceptible to health issues that would need attention.
In the United States and overseas, medical costs can get expensive, but having travel health insurance in case you do need emergency medical care during those long months away can make a huge difference. And 212 days, roughly seven months, is a long time to be without adequate insurance coverage.
Learn more about how travelling impacts your life insurance. 
Does OHIP cover snowbirds?
The Ontario Health Insurance Plan (OHIP) or other forms of provincial health insurance only cover a limited amount of costs for medical emergencies outside of the country, including in the United States.
For this reason, the Canadian government recommends travellers, including snowbirds, purchase separate travel medical insurance plans so they don't wind up with enormous medical bills if they have an emergency while away from home.
How does snowbird travel insurance work?
As with most insurance plans, Canadian snowbirds must provide key information before applying for travel insurance in order to determine whether they can get coverage.
One major requirement insurance companies will have is a "minimum stability period" for any pre-existing conditions.
The "minimum stability period" just means that the certain medical condition you had before you applied for or purchased travel insurance coverage is "stable" for a specific amount of time before you can be insured.
This is basically for the insurance company to make sure this medical condition isn't likely to cause you any issues while you're away for a long period of time.
Read more about pre-existing conditions.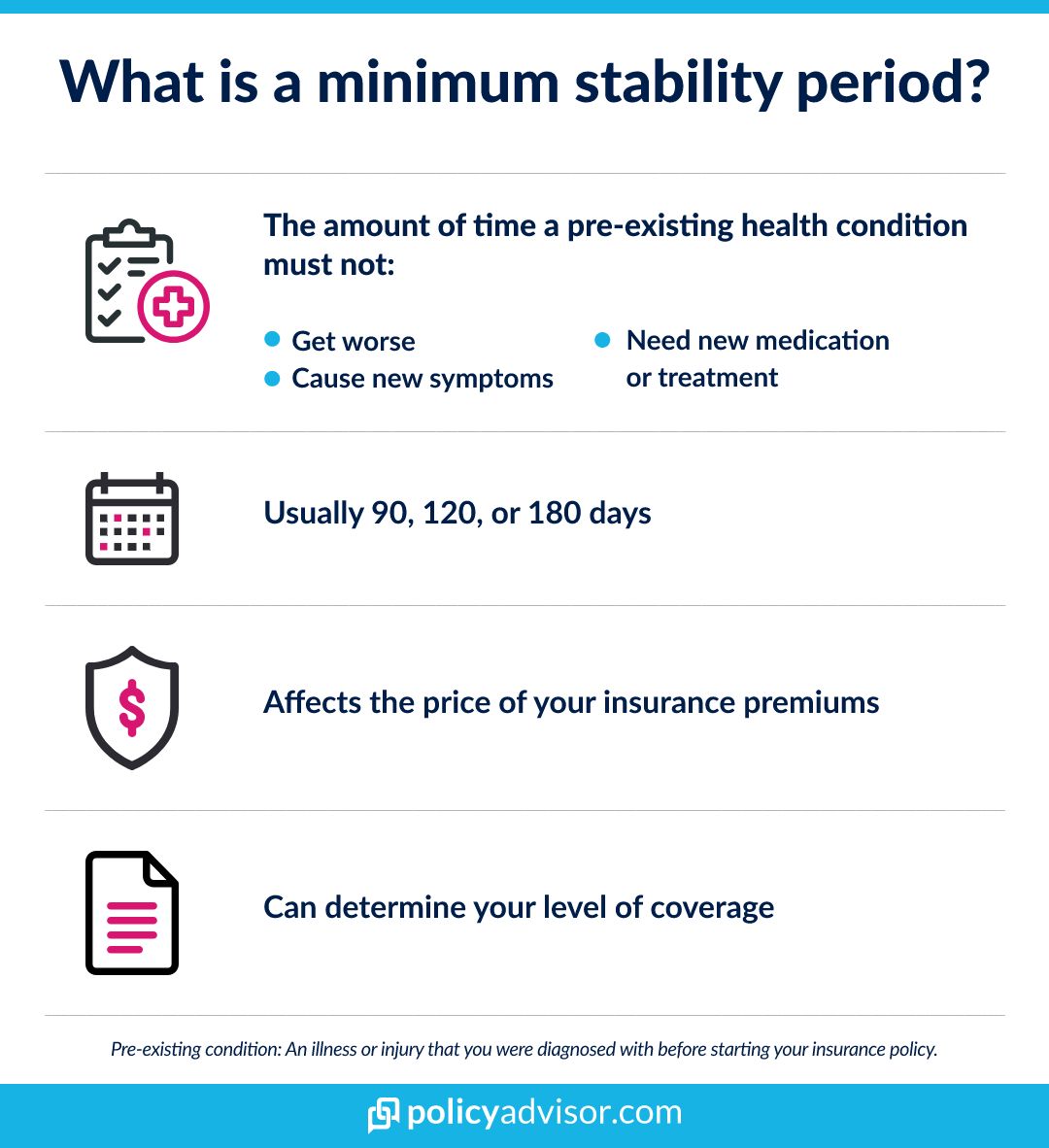 Can snowbirds purchase travel insurance after leaving Canada?
Canadian snowbirds should purchase travel insurance before leaving the country, so it's good to sort out your travel plans well ahead of the official start of snowbird season.
In some limited cases, it is possible to purchase travel coverage after you've already left Canada for your trip. But this is not recommended because the insurance company would place restrictions on your plan that you would not otherwise have had. For instance, your coverage may not start until at least 48 hours after purchase, and you would be out of pocket for any emergencies that happen in that time frame.
When is it too late to buy travel insurance?
Generally speaking, it's too late to buy travel insurance if you're already abroad and an emergency is happening. So, you absolutely do not want to get to that point! Speak with one of our advisors to get a travel insurance quote and make arrangements ahead of time.
What does snowbird travel insurance cover?
Different plans provide different travel coverage, but can include:
Trip cancellation
Lost or stolen baggage
Medical emergency coverage, including hospitalization, ambulance fees, and related treatment
Prescription drugs
Emergency evacuation
Repatriation of remains (in the unfortunate event of death abroad)
24-hour travel assistance services
Pre-existing medical conditions coverage
What does snowbird travel insurance not cover?
Elective medical procedures
Routine checkups
Cosmetic surgery
Dental work (except in the case of an accident)
Do travel advisories affect snowbird insurance coverage? 
If a travel advisory has been issued for a certain destination, it can impact what insurance companies will cover.
Snowbirds should pay particular attention to whether there are any travel warnings related to their chosen destination, or whether the government is advising Canadians to avoid non-essential travel, as this could mean their insurance provider will not cover emergency travel costs.
Is COVID-19 covered under snowbird travel insurance plans? 
It depends on the policy terms. Of course, the COVID-19 pandemic has changed and continues to change the way we travel, given its unexpected nature. Travel advisories can be instated at a moment's notice, including when snowbirds are already months into their trip.
But there is good news. Unexpected costs related to COVID-19, like quarantine or medical treatments, are currently covered under many standard travel insurance packages. Speak with your insurance broker to see exactly how your policy treats incidents related to COVID-19.
Read more about COVID-19 and travel insurance.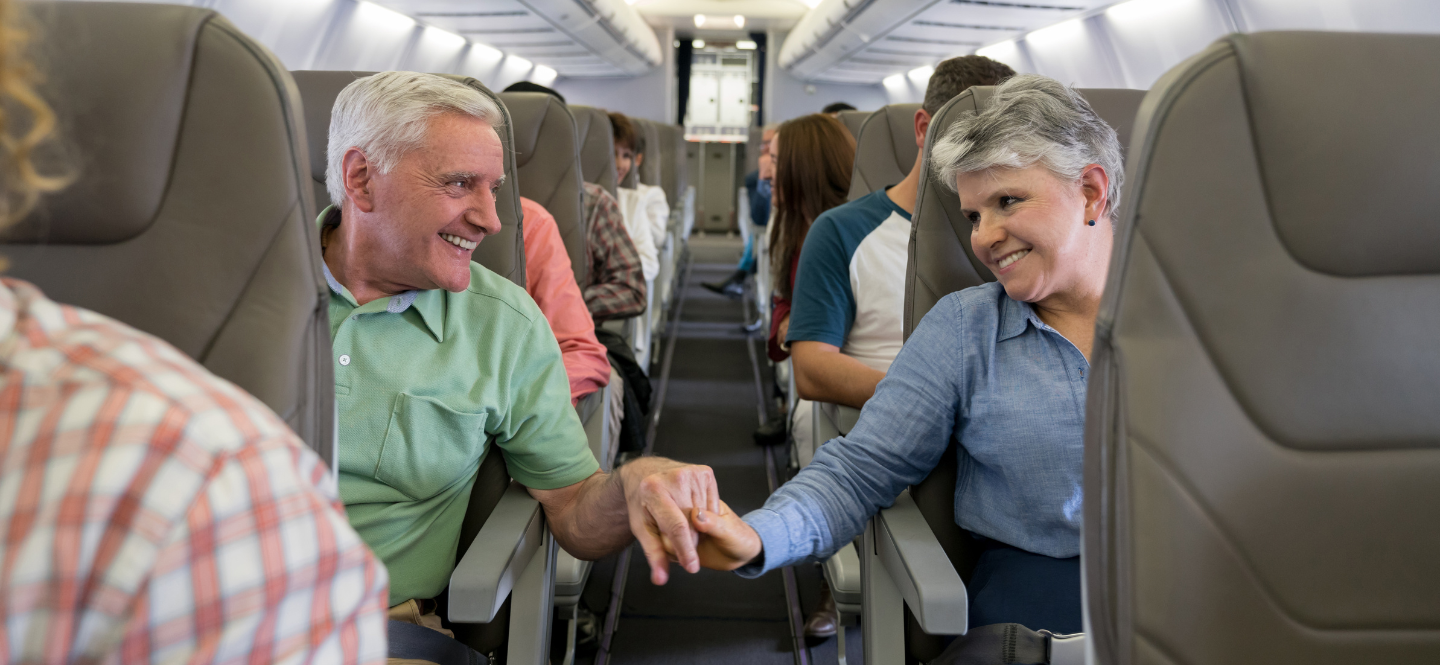 What are the requirements for snowbirds to qualify for travel insurance?
Typically, the most basic requirements for snowbirds to qualify for travel insurance are:
They must be at least 55 years old
A Canadian citizen or permanent resident
Travelling outside of their home province or territory for between 90 to 212 consecutive days
Be aware that different plan types may have differing stipulations.
For instance, if you purchase multi-trip coverage, there may be requirements about the maximum number of days you can travel and be covered for each trip. In this case, some insurance companies specify that you will only be covered for between 30 and 90 days per trip. Learn more about annual multi-trip travel insurance. 
It's always good to find out the exact details of any insurance plan you're interested in and this is no exception. If you have an existing plan, speak with your insurance provider to find out exactly what stipulations are involved, or you can always speak with one of our travel insurance specialists for expert advice.
How much does a snowbird travel insurance plan cost?
The cost depends on several factors, including age, trip length, level of coverage, and pre-existing health conditions. Prices can range anywhere from $500 and upwards, depending on these factors.
However, some companies also offer discounts of up to 50% to snowbirds who purchase insurance coverage for travel within Canada.
You can easily request a travel insurance quote through PolicyAdvisor.com.

Get travel insurance quotes
Easily get the best rates for long or short trips through PolicyAdvisor today!
GET STARTED
Which Canadian insurance companies offer snowbird travel insurance?
Many of Canada's larger insurance companies offer travel insurance options that may not be tailored to snowbirds but that might still fit their needs. For instance, Manulife, Allianz, Tugo, 21st Century, and more all have standard travel insurance plans that could work for snowbirds.
Here are some companies that offer travel insurance packages specifically tailored for snowbirds:
Blue Cross
Up to $5 million in emergency healthcare coverage
Coverage for emergency dental, accommodation and meals for trip delays due to medical emergency, vehicle transportation, and more
Covers some pre-existing conditions
24/7 travel assistance
Desjardins
Up to $5 million in emergency healthcare coverage
24/7 travel assistance
Read our review of Desjardins' Life Insurance. 
Group Medical Services (GMS)
Up to $5 million in emergency healthcare coverage
Covers emergency medical expenses for pre-existing conditions that have been stable for at least 180 days before travel
Option to extend coverage on a daily basis if needed
24/7 travel assistance
Medipac
Up to $5 million in emergency healthcare coverage
Covers stable pre-existing conditions
24/7 travel assistance
Can snowbirds get travel insurance through their credit cards? 
Credit card travel insurance is not an advisable option for Canadian snowbirds who plan to be out of the country for months on end. For sure, many credit card companies offer some form of travel insurance. But they usually have coverage limits that would be restrictive for snowbirds.
One of the biggest factors to consider is that credit cards with travel insurance usually only cover a limited number of days of travel. This is why it would not be best for snowbirds or those travelling for long periods of time.
Additionally, this kind of coverage usually has restrictions including:
Only provides coverage for the cardholder
Only covers specific circumstances
Only covers up to age 65
For these reasons, we would recommend snowbirds and other travellers who need more travel insurance coverage than standard not rely solely on credit card travel coverage. Instead, you should consider buying your own coverage to make sure your unique needs are met.
Learn more about credit card travel insurance and its limitations.
What is the best snowbird travel insurance?
The best snowbird travel insurance policy is the one that meets your specific needs and budget. There are a lot of different factors to consider when choosing a plan, so it's important to do your research and compare or speak with one of our expert advisors who can help find the plan that works best for you.
Need help?
Call us at 1-888-601-9980 or book time with our licensed experts.
SCHEDULE A CALL
The information above is intended for informational purposes only and is based on PolicyAdvisor's own views, which are subject to change without notice. This content is not intended and should not be construed to constitute financial or legal advice. PolicyAdvisor accepts no responsibility for the outcome of people choosing to act on the information contained on this website. PolicyAdvisor makes every effort to include updated, accurate information. The above content may not include all terms, conditions, limitations, exclusions, termination, and other provisions of the policies described, some of which may be material to the policy selection. Please refer to the actual policy documents for complete details. In case of any discrepancy, the language in the actual policy documents will prevail. All rights reserved.
If something in this article needs to be corrected, updated, or removed, let us know. Email editorial@policyadvisor.com.
KEY TAKEAWAYS
Snowbird travel insurance provides emergency healthcare coverage for seniors leaving Canada for long periods of time
Canadian provincial health insurance provides very limited coverage for medical emergencies out of country, including in the U.S.
Snowbird travel insurance is often offered as either single-trip, multi-trip, or top-up plans