Life insurance for newcomers to Canada
SUMMARY
If you've recently moved to Canada to work, study, or live, you can get life insurance from a Canadian company. The kind of policy you can get depends on your legal status in Canada. You will need to show proof of your status. And you may be asked to do a medical test. But getting insured in Canada is much easier than you probably think.
Newcomers to Canada have a lot to think about when they're settling in. Luckily, we're here to make the life insurance part of it easy for you!
In this article, we answer all your life insurance questions. Like what you're eligible for, how to apply, and where you can get the best deals. Read on to learn all about getting life insurance if you've just recently moved to Canada to work, study, live, or seek refuge.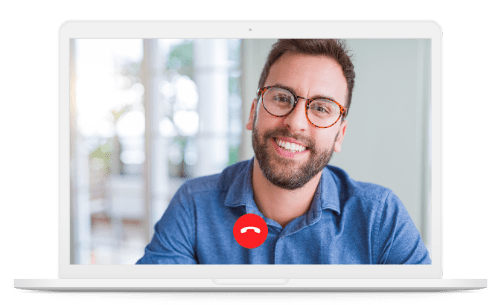 Need insurance answers now?
Call 1-888-601-9980 to speak to our licensed advisors right away, or book some time with them below.
Can newcomers get life insurance in Canada?
Yes, newcomers can get life insurance in Canada. The kind of insurance plan you can get depends on your legal status. A newcomer can be:
✅ A new immigrant who just became a permanent resident
✅ A temporary resident like a student, worker, or refugee who will be living in Canada for a limited number of years
✅ A non-resident like a businessperson who lives outside of Canada during the regular tax year
You may see these terms used interchangeably or together when people talk about newcomers to Canada. It's usually about people who just arrived in Canada within the last 5 years.
We'll show you exactly what kind of life insurance each newcomer can get in this article.
What kind of life insurance is available in Canada?
In general, there are two types of life insurance that you can get in Canada: term and permanent.
1. Term life insurance
Term life insurance provides coverage for a set period of time (called a term). Terms can be anywhere between 1-30 years. Or another customized number of years you choose.
This type of insurance is the most affordable. It's very popular among young Canadian families.
2. Permanent life insurance
Permanent life insurance lasts for your entire life. Some plans also give you savings and let you invest. This kind of insurance is more expensive than term life insurance because you can get money out of it.
The most common types of permanent life insurance are:
Most people pick whole life insurance out of these three.
What kind of life insurance can newcomers to Canada get?
The kind of life insurance policy a newcomer can get depends on their immigration status in Canada. Let's look at some of the most common ones.
➡️

Life insurance for permanent residents in Canada
If you have permanent resident status, you can get any kind of life insurance in Canada — either term or whole. Your application will be treated the same as a Canadian citizen's would be.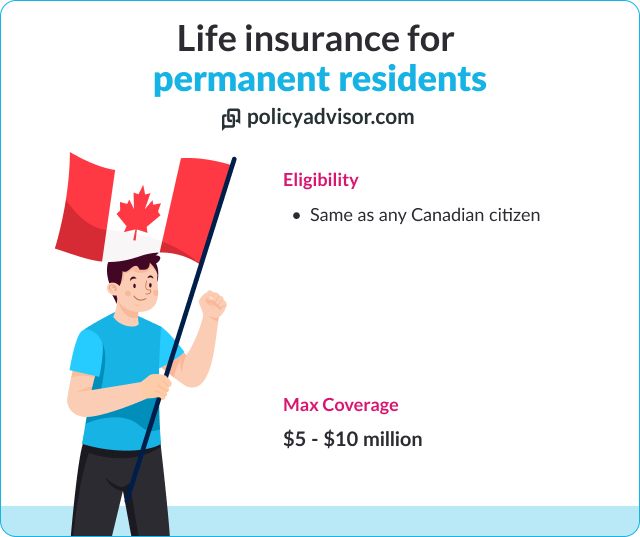 ➡️

Life insurance for work permit holders and foreign workers in Canada
If you have a Canadian work permit, you can get up to $500,000 in term life insurance.
You may have a waiting period, though. Some insurance providers may not give you a policy until 3-6 months after you've arrived in Canada.
You may also be unable to get some life insurance riders. These are optional insurance products you can add onto a life policy to get more coverage for other things, like illness or children.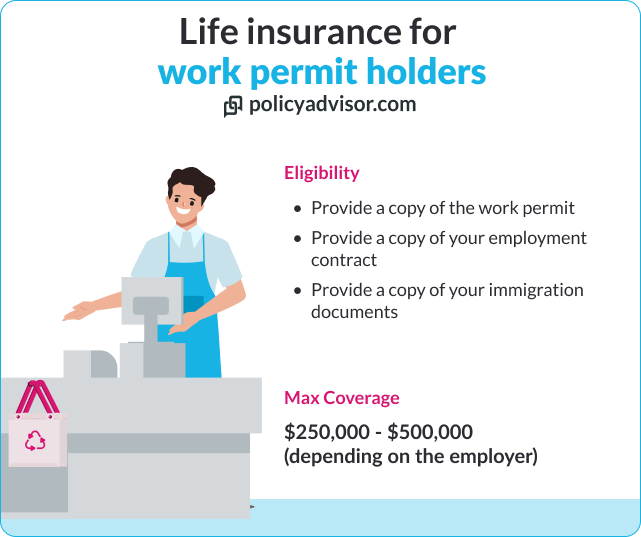 ➡️

Life insurance for international students
International students in Canada can get up to $300,000 in term life insurance.
Most times, you have to be a full-time student to qualify. That means you have to take at least 3-5 courses per semester.
Some insurance providers may also not give you a policy until 6 months or more after you've arrived in Canada.
And, you may not be able to get some types of life insurance riders.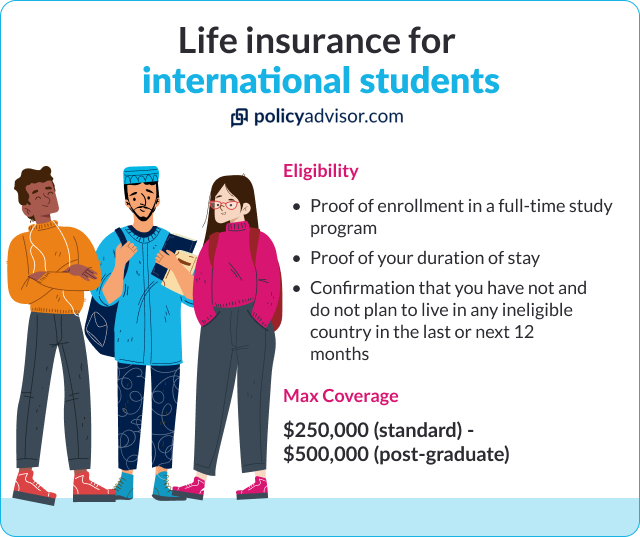 ➡️

Life insurance for refugees
If you have Convention Refugee Status, you can get up to $250,000 in term life insurance in Canada.
You may have to prove that you have a stable living environment and a job. And, there may be a 6-month to 2-year waiting period for a policy.
You may also not be able to get some types of life insurance riders.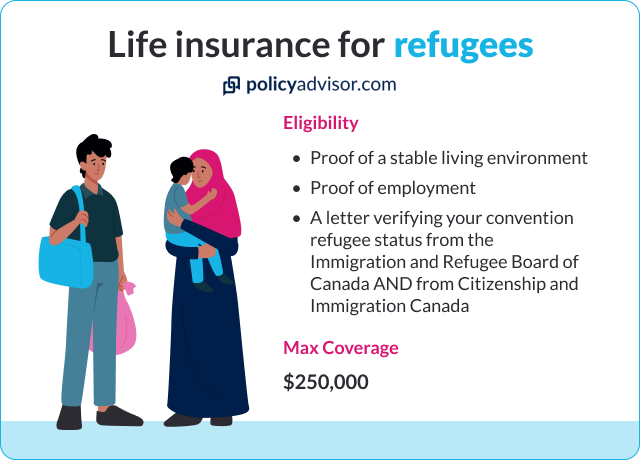 Most choice. Lower price.
PolicyAdvisor saves you time and money when comparing Canada's top insurance companies.
Get started
How much life insurance can newcomers get?
The highest amount of life insurance you buy as a newcomer to Canada varies. It depends on your status, which company you buy from, and even your job.
Most non-residents can get around $250K to $300K in coverage. This includes international students, work visa holders, and refugees. Some work visa holders may be able to get as much as $500K, depending on their salary.
Permanent residents can get a lot more coverage, though. They can usually get up to $5 million in life insurance if they need it.
How much does life insurance in Canada cost for newcomers?
Newcomers pay the same life insurance rates that Canadians do. Whether you're a non-resident, temporary resident, permanent resident, citizen, etc. — insurance companies don't judge price based on your status!
A lot of people tend to think life insurance is expensive. But that's not really true. Term policies are very affordable for non-residents in Canada.
Life insurance is billed either yearly or annually. The amount you pay is called a premium. Only two main things affect how much your life insurance premiums will be: personal factors and policy details.
Personal factors that affect life insurance cost
Age
Gender
Health
Family history
Occupation
Lifestyle
Policy details that affect life insurance cost
Policy term length
Coverage amount
Learn more about life insurance costs
The chart below gives you an idea of how much a term insurance policy could cost for a non-resident to Canada, based on age and gender. This will help give you an idea of what the prices would be like.
Sample quotes: Life insurance for newcomers to Canada
| Age | Male | Female |
| --- | --- | --- |
| 20 | $29/month | $20/month |
| 30 | $30/month | $22/month |
| 40 | $45/month | $34/month |
| 50 | $124/month | $83/month |
| 60 | $403/month | $281/month |
 *Quotes for $500,000 in coverage for a 20-year term life insurance policy. Prices based on a non-smoker in regular health.
These prices are just based on average amounts of the leading life insurance companies in Canada. You can get your own quote based on your details using our free quoting tool. It will tell you exactly how much you would be paying for life insurance. And you can compare different options to get the best deal too.
You can also speak with an advisor if you want a professional to help walk you through it. They can give you customized advice that's best for you.
Where can newcomers get the best insurance quotes?
You can get the best insurance quotes for newcomers to Canada on PolicyAdvisor.com. We work with more than 30 of the biggest insurance providers to get the best deals. And we make those same quotes available to you for FREE on our website.
It's easy to quickly compare insurance options and see which providers are offering the best quotes for permanent residents or non-residents. If you've just immigrated to Canada and you're looking to get insured, you should start here! Financial peace of mind is just a click away.
Life insurance discounts and promotions 2023
Did you know? Some of the top Canadian life insurance providers offer limited-time promotional pricing on some of their insurance products from time to time.
Which Canadian companies offer insurance to non-residents?
Non-residents can get term life insurance products from some of the best Canadian companies, like:
Experienced advisors like ours know that different providers can offer newcomers different benefits. Connect with us today to let us figure out which one would be the ideal match for your family!
How do I apply for life insurance as a newcomer to Canada?
There are several ways you can apply for life insurance when you're moving to Canada for the first time:
We recommend that you apply for life insurance online. It's easy, reliable, and quick. As a newcomer, you already have a lot to deal with. Applying online helps to keep things simple for you.
💡How to apply online:
Step One: Get a quote
Use PolicyAdvisor's free quoting tool to get quotes based on your personal details. You can compare multiple quotes at once and try out different options to find the lowest price.
Step Two: Complete your application
Once you pick a quote you like, you can submit your application online. One of our expert advisors will contact you to personally review it. This is to make sure that:
✅ You're getting the best deal
✅ You entered everything just right
✅ You have all the required documents and records
✅ You picked the provider and plan that best matches your needs
Don't worry, you'll have the chance to schedule the call for when it's most convenient for you.
Our agent will also keep you updated on the status of your application. Once it's approved, we'll let you know. If any complications come up along the way, we'll take care of it and work with you one-on-one to correct it.
The best part is that this service is free! You don't have to pay us anything. We're really ideal for newcomers because we handle the Canadian expertise for you while you're still getting familiar with your new home.
What do non-residents need to get life insurance in Canada?
Newcomers to Canada need to show proof of their legal status in order to get life insurance in Canada. This means you'll need to show a copy of your official immigration documents.
Depending on your status, these documents can be:
Permanent resident card or confirmation of permanent residence (CoPR)
Valid study visa
Valid open work permit or valid closed work permit
Valid letter of refugee status
Proof of residency
Work permit holders and refugees may also have to prove that they have a job. This is called proof of employment. It's usually a letter from your employer.
We recommend that you apply for life insurance online. It's easy, reliable, and quick. Applying online keeps things simple.
- Ripenjeet Sandhu, Insurance Advisor, PolicyAdvisor.com
Do non-residents need to do a life insurance medical exam?
Newcomers to Canada are often asked to do a medical exam to get an insurance policy. This is just because you probably don't have a lot of medical history in Canada yet. So, insurance companies aren't sure what your health might be like. They'll want a Canadian doctor to confirm what your health status is.
But, it's not always the case. These days, a lot of insurance companies won't ask you to do a medical if you're getting under a certain amount of coverage. That amount depends on the provider.
⚠️ Tip: 
Don't worry. If the insurance company wants you to do a medical exam, our agents will arrange it for you. We can have someone come to your home to do the test. Or we can arrange another location if you would prefer. We'll also walk you through what the process will entail. You're in good hands with PolicyAdvisor!
What's the age limit for life insurance in Canada?
Usually, people in Canada who are up to 75 years old can get life insurance. But different life insurance companies have different rules about this.
Also, you shouldn't wait that long to get covered if possible. Life insurance is more expensive the older you get. So, your insurance premiums would be very expensive by the time you reach 75.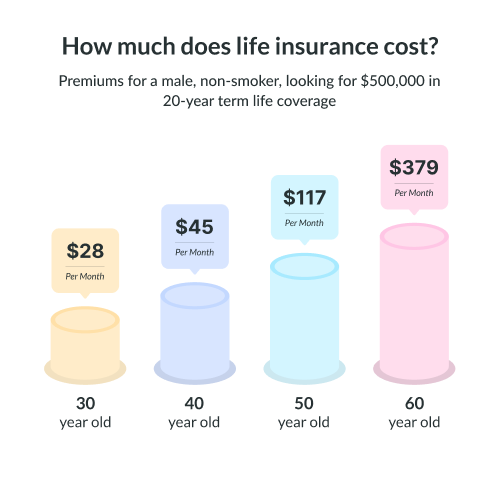 Ready to get started?
Getting financial security in Canada is easier than you think! When you're a newly-landed immigrant, a lot can be overwhelming. This doesn't have to be one of them.
Schedule a call with our advisors today and let our expert advisors guide you through step by step. We're happy to help you make an informed decision to safeguard your family's financial future!
What other types of insurance should a newcomer to Canada get?
In addition to life insurance, new immigrants in Canada should consider getting:
KEY TAKEAWAYS
Newcomers to Canada are eligible for life insurance products
The kind of policy and how much coverage a newcomer can get depends on your status
To apply for life insurance as a non-resident of Canada, contact a PolicyAdvisor expert to check the requirements