How to save money on mortgage insurance
SUMMARY
Buying a home can quickly become expensive, so we've laid out how you can save money on mortgage insurance. Tools such as the federal government's First Time Home Buyer Incentive, online forums to shop for the best rates, or purchasing mortgage protection through term life insurance are all ways in which you can save money on your mortgage insurance.
If you are looking at houses, then you must also be looking how to save money on mortgage insurance. This is especially true when there are fees and costs, like mortgage default insurance, that are unavoidable depending on your down payment.
For instance, many potential homeowner are wondering if they qualify for the federal government's new First Time Home Buyer Incentive. Through this program, they can potentially get a top up on the downpayment for their new home. Unfortunately, that new home will also have to include CMHC insurance rolled into the mortgage loan costs. Something you hope to avoid, if possible.
However, those looking to save some bucks do have options. As pointed out in a recent CBC News piece, some lenders say mortgages through Canada's "Big 6" banks are costing homebuyers more than those from alternative lenders.
Forums, like RedFlagDeals and PersonalFinanceCanada are filled with people looking for ways to save money by getting a better rate. These sites are usually frequented by mortgage brokers willing to speak candidly about rates and mortgage features you didn't even know existed.
Comparison shopping comes second nature to mortgage rates — why not extend it to mortgage insurance?
If choosing your mortgage rate and lender was an agonizing, week-long or month-long process, you may as well spend a few additional minutes to find the better – and cheaper – option for your mortgage insurance. Does saving money interest you? We thought so; read on!
How to save money on mortgage insurance right now
As this BetterDwelling article shows, big banks and lenders are already taking a disproportionate amount of your hard earned dollars. Do you want to give them even more for an insurance product when there are better and less expensive options available?
If you read our guide – like all discerning readers should – you know mortgage protection is much better served through term life insurance. Having this choice sounds great – we know – but what does it look like in real life?
Let's look at an example. We want to insure a mortgage in the amount of $500,000 (the principal) over a term of 25 years. The chart below shows the cost of doing so through your favourite bank's mortgage insurance versus choosing life insurance for 30- and 40-year old applicants.
Mortgage protection through term life insurance vs lender-provided mortgage insurance*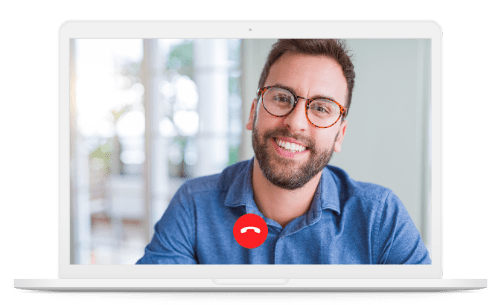 Need insurance answers now?
Call 1-888-601-9980 to speak to our licensed advisors right away, or book some time with them below.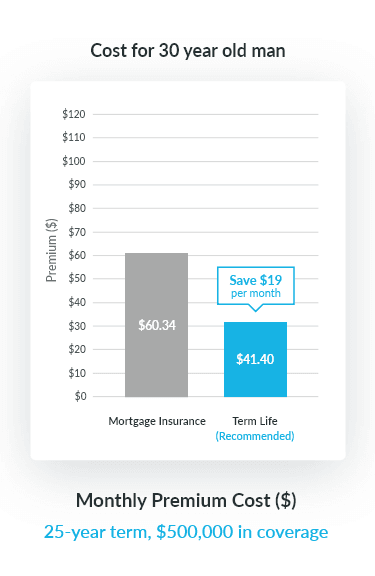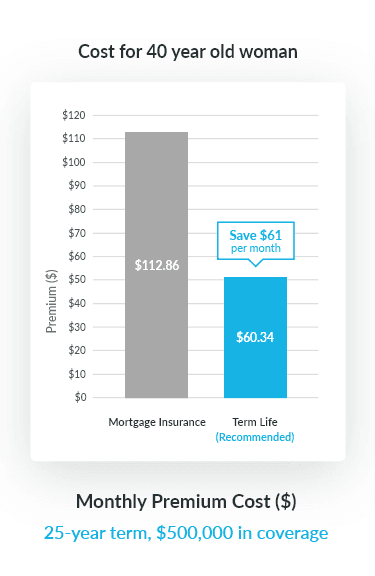 More choice. Lower price.
PolicyAdvisor saves you time and money when comparing Canada's top life insurance companies. Check it out!
GET STARTED
Wow. By shopping around instead of going with the product offered by your bank, you can save a ton of cash over 25 years, better spent on renos, furniture, and creating memories in your new home.
For the amateur mathematicians out there, if you were the 30-year old man, who decided to go for term life insurance, you would save $5,700 over the 25-year term, just in monthly cash outflow. And wait for it – if you were the 40-year old woman making the right insurance choice, you would save a whopping $18,400 by going with term life insurance over that 25-year term.
You could save tens of thousands of dollars by choosing mortgage protection through term life insurance.
Oh boy! We haven't even factored in the cost of mortgage insurance premiums going up over time as you renew your mortgage rates. Or even still, that you could get even lower term life insurance rates if you were in good health, or that you could invest your monthly cash savings. You know where we could go with this!
Just like with mortgage rates, it pays to shop around for your mortgage insurance. Luckily we know of a place you can do that online, and within minutes. You shouldn't need Scully and Mulder to find out the truth about mortgage protection. The lenders and banks have nowhere to hide.
*Bank mortgage premium reflects average of 4 major bank lenders with published rates.
Need help?
Call us at 1-888-601-9980 or book time with our licensed experts.
SCHEDULE A CALL
The information above is intended for informational purposes only and is based on PolicyAdvisor's own views, which are subject to change without notice. This content is not intended and should not be construed to constitute financial or legal advice. PolicyAdvisor accepts no responsibility for the outcome of people choosing to act on the information contained on this website. PolicyAdvisor makes every effort to include updated, accurate information. The above content may not include all terms, conditions, limitations, exclusions, termination, and other provisions of the policies described, some of which may be material to the policy selection. Please refer to the actual policy documents for complete details. In case of any discrepancy, the language in the actual policy documents will prevail.  All rights reserved.
If something in this article needs to be corrected, updated, or removed, let us know. Email editorial@policyadvisor.com.
KEY TAKEAWAYS
Canada's First Time Home Buyer Incentive can save you money through a top up on your down payment, but includes CMHC insurance rolled into the mortgage loan cost.
Online forums can help you better understand mortgage features and rates that are not as commonly known or discussed
A term life insurance policy could save you more than $10,000 over the course of your mortgage