How does smoking affect life insurance?
SUMMARY
A major factor that influences your insurance premiums is tobacco use. Tobacco consumption is verified through your insurance application where you are asked if you are a smoker. In some circumstances, you are required to take a medical exam that collects both urine and blood samples. You are classified as a smoker if you consume tobacco in any form in the past 12 months. Smoking can increase your insurance premiums from 50-100% more than those for non-smokers.
Can I get life insurance if I smoke?
Yes, of course, you can get life insurance if you smoke or consume tobacco. That smokers don't qualify for life insurance is and incorrect assumption. This assumption stems from the fact that coverage for term life insurance is much more expensive for those who smoke than those who do not.
How does smoking affect my life insurance?
The stress that cigarette smoking inflicts on one's body has lasting detrimental health effects. Tobacco consumers are much likelier to have a health condition later in life like cancer, heart disease, and stroke. While there are many more repercussions to smoking, it is these deadly medical conditions that make a smoker's life riskier to insure. Thus, life insurance for smokers, especially those past the age of 40, is more expensive than that for non-smokers due to these health risks.
How much more will it cost to insure me if I smoke?
Canadian insurance companies offer rates on most of their term life insurance products specifically for smokers. These rates may have a smaller difference between those for smokers and non-smokers at early ages, but the difference is substantial as applicants age. Depending on the age of the applicant and the amount of coverage applied for, the cost of life insurance for smokers can be higher by 50 to 100% compared to those for non-smokers.
The following chart shows representative monthly premiums for a 20-year term life insurance policy with a death benefit of $500,000. The model assumes the applicant is in good health.
Life Insurance Premium Prices: Smokers vs Non-Smokers
| Age | Smoker | Non-Smoker |
| --- | --- | --- |
| 30 | $58.41 | $30.60 |
| 35 | $80.86 | $32.85 |
| 40 | $126.45 | $47.58 |
| 45 | $205.09 | $74.35 |
| 50 | $323.95 | $123.29 |
| 55 | $535.24 | $222.98 |
| 60 | $832.22 | $392.76 |
| 65 | $1,347.30 | $681.75 |
Looking for more specific life insurance rates? You can always get an online life insurance quote from PolicyAdvisor for the most accurate estimated premiums in Canada.
What counts as smoking by life insurance providers?
Unfortunately, there is no sliding scale for what is considered smoking. Life insurance companies do not believe in an occasional smoker. If you have had a single cigarette in the past 12 months, you are considered a smoker in the eyes of any potential insurance provider.
There are also other tobacco and nicotine products that will affect your life insurance premiums. The use of cigars, cigarillos, chewing tobacco, nicotine gum, and a nicotine patch can all be considered the same as smoking by some Canadian insurance companies.
There is some leeway for a tobacco user that smokes cigars or cigarillos. The classification depends on how many you consume. An occasional cigar or cigarillo may be classified as a non-smoker as long as it averages out to one a month or less. As advisors, we have observed more flexibility on cigar usage by insurance providers than any other form of tobacco consumption when it comes to determining smoking status. So if you enjoy the rare stogie, you can still get affordable life insurance.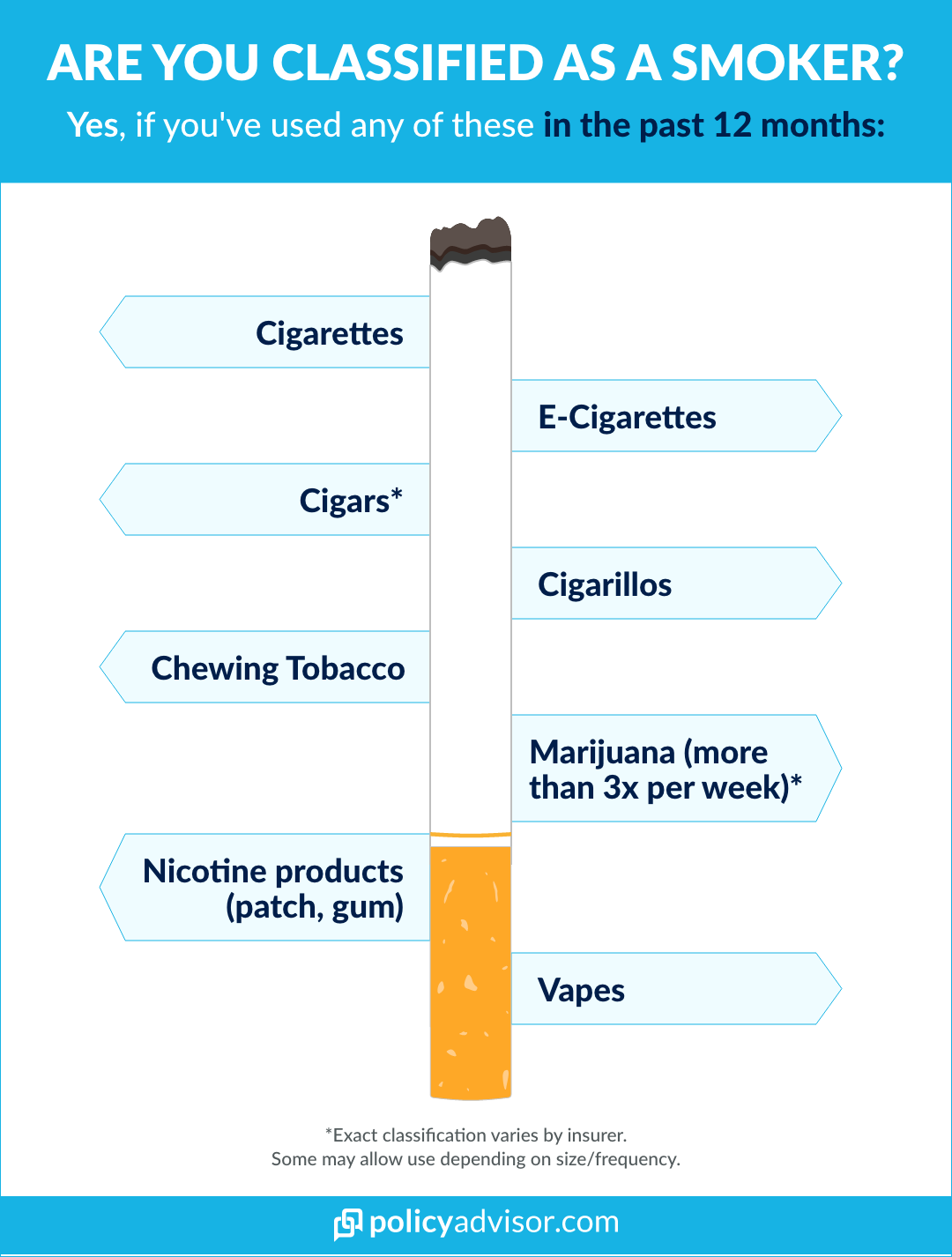 Will I have to take a medical exam to test for tobacco or nicotine?
In your application for life insurance, you will be asked if you smoke. You must answer this honestly. Depending on your age and the amount of insurance you are seeking, insurance companies may require you take a medical exam (that requires urine and blood testing). Among other things, the blood test will also help them determine your smoking habits.
Even without a medical exam, it is extremely important that you do not lie in your life insurance application. Insurance policies have a "contestability period." This is basically a two-year period in which a provider can rescind your life insurance policy and refund the premiums if there is a material misrepresentation during the application process.
This period begins from the time your policy goes into effect. If you die within this period and the insurance company finds out that you lied about your tobacco usage, they have the right to rescind the policy and/or deny the death benefit to your beneficiary. 
Even after the 2 year incontestability period, insurance companies have the right to deny a claim. If they can establish that you had not correctly classified yourself as a smoker at the time of the application and paid a non-smoker rate, your claim could also be denied.
Can I quit smoking to lower my life insurance premium?
Yes, you can, but it's not as simple as flipping a light switch. If you decide to quit smoking  there is no immediate effect on the price of your life insurance premium.
How long do you have to quit smoking to be considered a non-smoker for life insurance?
You would have to verify you have not smoked cigarettes or consumed any other tobacco products for 12 months. First have to sign a declaration stating that you have not consumed tobacco products in that time period. Then you would need to confirm your status through medical underwriting. This underwriting  would most likely include providing a urine sample to ensure there is no trace of nicotine or cotinine (a nicotine byproduct) in your system. At that time, the insurance company would also need confirmation of no adverse change in your health. Then you may be eligible for a non-smoker rate.

More choice. Lower price.
PolicyAdvisor saves you time and money when comparing Canada's top life insurance companies. Check it out!
GET STARTED
KEY TAKEAWAYS
Smoking and tobacco consumption has a significant impact on life insurance premiums
Consumption of any form of tobacco, even a single cigarette or e-cigarette, in the last 12 months classifies you as a smoker, for life insurance purposes
Some companies are more flexible with occasional cigar usage
Life insurance premiums for smokers can cost as much as 50 to 100% more than those for non-smokers
If you have quit smoking and not used tobacco for 12 months, you can apply to have your rates reduced to non-smoker status