How much does life insurance cost for a 40 year old?
SUMMARY
Whether you are looking for coverage after changing jobs or are ready for your first life insurance policy, there are many life insurance options with different costs for 40-year-olds. Term life insurance is a good option if you are looking for coverage to last until your mortgage is paid or you retire. Whole life insurance also has benefits, including lifelong coverage and a cash value component.
Wondering how much life insurance costs for a 40-year old? If you are in your 40s and contemplating life insurance, or looking to update your existing policies, there is no time like the present. As we have pointed out countless times, there is no better or less expensive time to buy life insurance than today. 
Like most Canadians your age, changes in lifestyle have you contemplating protection – and perhaps not the same protection you were contemplating in your twenties.
The protection we specialize in is life insurance, so let's get back on track. Read on to find out what term life insurance costs for someone in their 40s, and why you should contemplate getting it or making a change.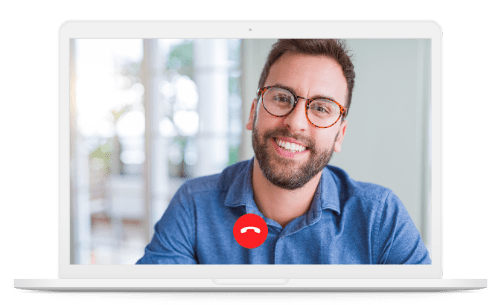 Need insurance answers now?
Call 1-888-601-9980 to speak to our licensed advisors right away, or book some time with them below.
Why should I get life insurance in my 40s?
There are several reasons to get life insurance in your forties. You are still relatively young in middle age and can secure a good rate for life insurance. Your still in the period before the risk of health afflictions affecting you or your relatives raises your premiums. These are just a couple of factors that affect pricing.
You may have coverage through a group plan at your work, but at this age career changes and promotions are more and more likely – you could find yourself with a gap in coverage or no coverage at all depending on that next role. Sound likely? Find out why group plans can be lacking in life insurance coverage.
Lastly, you may already have life insurance you purchased when you were younger, but the plan, benefits, and options may no longer be conducive to your current lifestyle. As you take the escalator up in your career and glide towards your peak earning potential, your growing nest egg will need more protection. Be it marriage, children, mortgages, or pets, your financial and protection needs can change drastically in 5 to 10 years. Your forties may, therefore, be a good time to revisit your existing coverage.
Do I need life insurance in my 40s?
There are some clear signs of whether you need life insurance in your forties:
You and your partner plan on spending the rest of your life together

You have children of any age

You  have a mortgage, or plan on buying or upgrading your home soon

You have other forms of debt such as credit card debt or a line of credit

You are the main earner for your family, with dependents like your children, partner, or parents

You are continuing to accumulate assets that will someday be transferred to your beneficiaries
Whether for full coverage or to augment your current insurance plans – term life insurance is a simple and flexible life insurance product that could suit any of these needs.
Our life insurance needs calculator can shed more light on your specific insurance requirements.
How much life insurance does a 40-year old need?
Before finding out how much life insurance costs at 40 years old and beyond, you need to know how much life insurance you should buy. Obviously, the amount of life insurance you need at 40 years depends entirely on your own personal situation – as we alluded to above.
It's not inconceivable that a Canadian in their forties, with a mortgage, children, and a partner who earns an income would need at least $500,000 in coverage. That amount would cover their house payments and child-care expenses, cost of living, and children's education costs in the next 20 years. However, this isn't one-size-fits-all. To check your coverage needs, try out our easy-to-use life insurance calculator.
All that said, let's take a look at what 20 year term life insurance costs for a 40-year old.
How much life insurance costs for a 40-year, on average
As we've explained before, insurance premiums depend on various factors such as your age, gender, smoking status, lifestyle, and overall health. Everything equal – we've crunched the numbers from 16 different Canadian insurance companies to give you the average cost of life insurance on a 20-year term, divided by gender and smoking status.
For a male non-smoker, $500,000 worth of coverage starts at under $50 at age forty and rises modestly from there. Smoking more than doubles (and almost triples) your life insurance rates in your early forties, and keeps that trend going by age 49.
Life Insurance Premiums – Male, 20-Year Term
| Age | $250K | $500K | $1MM |
| --- | --- | --- | --- |
| 40 | $29 | $48 | $88 |
| 41 | $32 | $53 | $98 |
| 42 | $34 | $59 | $109 |
| 43 | $38 | $64 | $119 |
| 44 | $41 | $69 | $130 |
| 45 | $45 | $75 | $141 |
| 46 | $50 | $84 | $159 |
| 47 | $55 | $93 | $176 |
| 48 | $60 | $102 | $195 |
| 49 | $66 | $112 | $213 |
*Representative values, based on regular health
The story is similar for women, initial rates are lower than men's at this age, and smoking continues to have a meaningful impact on premiums.
Life Insurance Premiums – Female, 20-Year Term
| Age | $250K | $500K | $1MM |
| --- | --- | --- | --- |
| 40 | $22 | $36 | $65 |
| 41 | $24 | $39 | $72 |
| 42 | $26 | $42 | $78 |
| 43 | $28 | $46 | $86 |
| 44 | $30 | $50 | $93 |
| 45 | $32 | $54 | $100 |
| 46 | $36 | $59 | $113 |
| 47 | $39 | $65 | $123 |
| 48 | $43 | $72 | $135 |
| 49 | $47 | $79 | $149 |
*Representative values, based on regular health
Now, these are estimated prices based on representative data and will still vary depending on factors like one's health and medical exam results, smoking status, location, and more. You may also feel you need a higher death benefit or a longer year term depending on your financial situation, life insurance coverage needs, and all the other life stuff that accompanies your forties.
Only you know how much coverage you need, but this gives an over-arching view of what an average 40-year old might pay for such coverage.
How do I buy life insurance in my 40s?
You now have an idea of what term life insurance might cost during mid-life – but everyone's situation is different. If you have 5 minutes, you can get customized term life insurance quotes in minutes through  PolicyAdvisor's online tool.
Still not quite sure how much coverage you need? We're always here to chat.
Need help?
Call us at 1-888-601-9980 or book time with our licensed experts.
SCHEDULE A CALL
The information above is intended for informational purposes only and is based on PolicyAdvisor's own views, which are subject to change without notice. This content is not intended and should not be construed to constitute financial or legal advice. PolicyAdvisor accepts no responsibility for the outcome of people choosing to act on the information contained on this website. PolicyAdvisor makes every effort to include updated, accurate information. The above content may not include all terms, conditions, limitations, exclusions, termination, and other provisions of the policies described, some of which may be material to the policy selection. Please refer to the actual policy documents for complete details. In case of any discrepancy, the language in the actual policy documents will prevail.  All rights reserved.
If something in this article needs to be corrected, updated, or removed, let us know. Email editorial@policyadvisor.com.
KEY TAKEAWAYS
A healthy person in their 40s has many policy and rate options when it comes to life insurance.
If you bought life insurance in your 20s or 30s, you might need to reevaluate your coverage in your 40s depending on your situation or renewal date.
The average cost for a $500,000 life insurance policy for a 40-year-old male non-smoker starts at roughly $50/month for a 20-year term.