Comparing life insurance quotes in Canada is no easy task. Some of the biggest insurance companies in the world call Canada home. The process for getting a quote can be daunting, time-consuming, and frustrating. This is especially true if you don't get your insurance quotes online.
But, getting the best quotes for your desired life insurance coverage and financial protection is easier than you think. Skip a lengthy life insurance process; use our online tool to get instant online insurance quotes for different types of life insurance plans. Or, read more about the quick and simple process of getting online insurance quotes.
The easiest way to get life insurance quotes online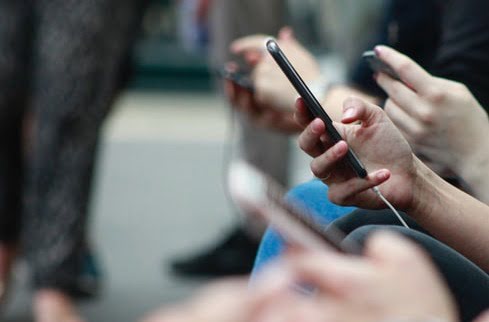 Some online insurance brokers simply collect your contact information and have a representative call you to start the same old process to get a life insurance quote. We're different.
Provide basic details




Give us some quick details about your age, sex, and smoking status and we can get started.

Choose your coverage




Enter the term and amount of insurance you're looking for, or simply use a slider to get to the correct number.

Get a quote and customize it




Choose a quote from 30 Canadian insurance companies. Change the term, amounts, and more to suit your needs.
How do I find the best quotes?
The secret to finding the best life insurance quotes online is to get started sooner rather than later. No, seriously!
Once you get a life insurance quote, that rate is locked in if you purchase the policy. So, no matter what happens in the future, you'll be guaranteed that same rate!
On the other hand, insurance usually costs more the older you get. Getting an affordable life insurance quote today will always be your best bet to finding the lowest rates and locking them in!
Getting insurance quotes online is also your best course of action. And if you can get multiple life insurance quotes in one place, all the better! This saves you from having to spend hours calling around to different companies. Or having to deal with pushy salespeople who are more interested in making a buck than giving you genuine advice.
Save your time and skip the stress by shopping the best life insurance quotes all in one place today at PolicyAdvisor.com.
How can I lower my insurance quotes?
You can get even lower quotes by switching up some of the features of your policy.
Life insurance premium rates can change based on a wide range of personal details, like gender, age, and health history. But it can also change based on the type of life insurance plan (term or permanent), term length, coverage amount, deductible, and payment options, among other factors.
Take a look at the chart below to get an idea of how changing the amount of coverage can change your life insurance quote over different age ranges.
Remember, with PolicyAdvisor, your quotes are no-obligation. Try out different options and see which quote works best for you!
| Age | $100K | $250K | $500k |
| --- | --- | --- | --- |
| 20 | $10 | $18 | $30 |
| 25 | $10 | $18 | $31 |
| 30 | $19 | $31 | $58 |
| 40 | $29 | $48 | $88 |
| 50 | $72 | $124 | $235 |
| 60 | $97 | $226 | $393 |
*Representative values, based on a male in regular health.
How much life insurance do I need?

Not sure of exactly how much insurance you need? No worries!

Our life insurance calculator takes the guesswork out of determining your coverage, whether you want term or permanent insurance. Answer a few quick questions about your family and financial situation and our calculator does the rest. It will show how much coverage it would take to ensure you get the right financial protection for you and your loved ones. And we get you started with instant life insurance quotes online.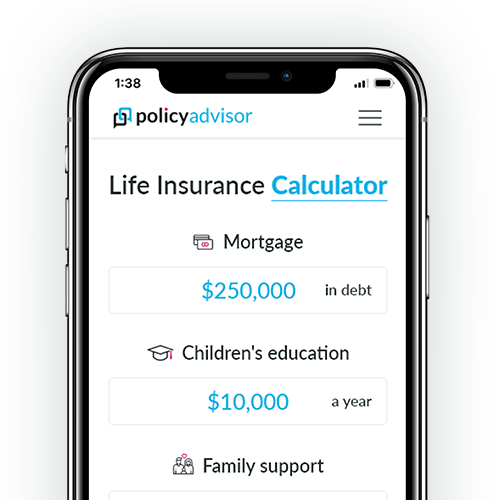 Still not sure where to start with your insurance quote? Check out this video and let our licensed advisors help give you an idea!
Benefits of getting life insurance quotes online
Besides the points we mentioned earlier, there are many other reasons to get online life insurance quotes in Canada.
Comparing online insurance quotes offers all the advantages of traditional brokers with none of the downsides. You can find out the cost of life insurance coverage on any device you own, from anywhere, at any time with our online tools.
When you compare insurance rates online, you save money on your premiums. It increases your chances of finding the best, most affordable option for your financial safety.
Plus, the time it normally takes to compare just 2 or 3 different life insurance providers on your own can be discouraging. PolicyAdvisor.com helps you save time with an easy online search that takes just minutes. You can browse term insurance or permanent insurance quotes, and compare the two at the click of a button.
Once you find the right quote, you can compare Canada's top insurance companies without the sales pressure of an in-person brokerage experience. We also give you the benefit of curated advice from licensed advisors who are only a chat message or phone call away.
The entire life insurance application process is done online, so you never have to worry about even getting out of bed.
Your time is better spent with those you're protecting! Save time and money with an online insurance quote right now – just click the button below.

Which company provides your insurance quotes?
We show you quotes from the best life insurance companies in Canada. This includes some of the most trusted insurance providers, such as:
We also offer no medical or simplified insurance quotes (for those with medical issues) from Canadian life insurance companies like:
Canada Protection Plan
iA
Humania
Other insurance providers with unique plans for your specific protection needs
By showing you quotes from the most reliable life insurance companies, we ensure you can pick the best policy to protect your finances and loved ones.

The best quotes at your fingertips.
PolicyAdvisor saves you time and money when comparing Canada's top life insurance companies. Check it out!
GET QUOTES
Who has the best life insurance rates?
There really is no one-size-fits-all answer here. Some Canadian insurance companies may generally have lower prices than others. But each provider ultimately assesses risks differently. Thus, one life insurance provider may have lower rates for 30-year-olds but higher for 50-year-olds, or vice versa. Not to mention, other factors like health conditions and family medical history can affect your insurance quotes too.
Your best chance to find significant savings is to compare the best insurance quotes using PolicyAdvisor's easy online tools. Or, you can simply talk to one of our licensed insurance agents. We can help assess your unique situation and find the best-priced insurance policy.
Get online life insurance quotes from
Canada's most trusted insurance companies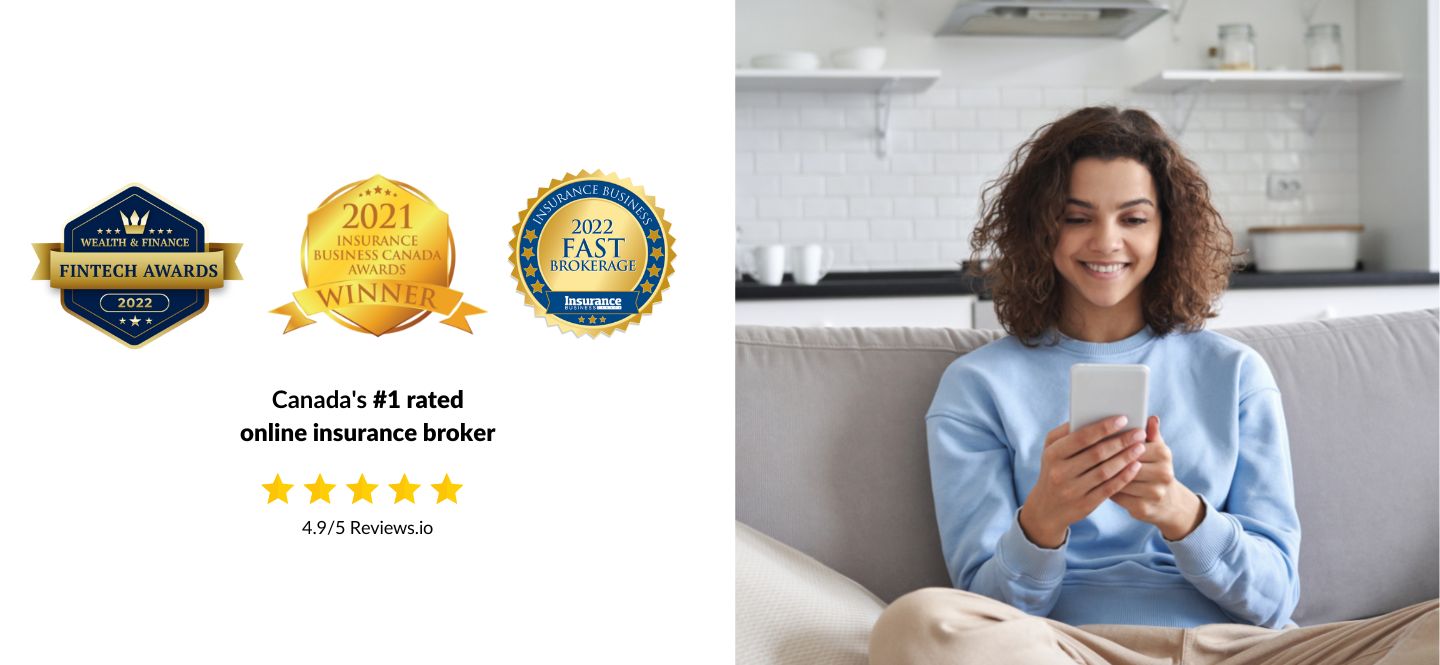 When you get insurance quotes online, you maximize your options. Instead of weighing just 2 or 3 insurance providers, PolicyAdvisor.com provides you with the most choice in online insurance quotes in Canada. Not only do you save time and money – you get to choose coverage for your unique needs and personal situation. Plus, you can compare insurance quotes and policies from the best providers in Canada: all in one convenient place.
How much does life insurance cost at my age?
Wondering what kind of life insurance quotes someone your age should expect? No worries, we've got you covered! Click any of the ages to the right to get an idea of how much life insurance costs for someone in their 30s, 40s, 50s, or 60s. This can give you a better idea of what kind of quotes you might see online.
But keep in mind that other key details play a major role in determining insurance quotes and premium payments too.
For example, a 35-year-old female non-smoker in excellent health will likely have lower life insurance quotes than a 50-year-old male smoker with health issues.
What is the average life insurance cost per month?
There is such a wide variety of variables when it comes to insurance premiums that it's tricky to provide an average life insurance premium for everyone. Take a look at the chart on the right to see the kinds of factors that can affect your life insurance quote.
Term life insurance coverage is typically the most affordable type of life policy. The length of the term determines your yearly or monthly cost. Term coverage over a longer period of time has higher premium rates, but also usually a bigger death benefit if you die during the term.
Term life policies have many options and can be customized to fit most budgets. It's a huge draw for those looking for the cheapest life insurance.
Permanent policies (like whole or universal life insurance) tend to be the more expensive type of insurance plan because many of them include an investment component.
Frequently Asked Questions
Can I get a whole life insurance quote online?
Yes, PolicyAdvisor.com provides quotes for whole life policies. We also provide quotes for term life insurance policies. Basically, we want to give you expert advice and the most comprehensive choices for financial protection.
Read our review of the best whole life insurance companies in Canada.
Can I compare quotes for term and whole life products online?
Most definitely you can compare term life insurance products and whole life products on our website, and consider which may be better for you.
But here's a cheat sheet if you're not sure which type of policy you need: the product you should get really depends on why you want to purchase insurance.
Many young Canadians opt for 30 or 20-year term life insurance products to cover their mortgage or provide for dependents. Term plans still pay out a death benefit to your beneficiary in the unfortunate case of your death. But only if that were to happen within a specified length of time or "term".
In contrast, older Canadians tend to go for a permanent life insurance policy as a part of their estate planning. Permanent life insurance, like whole life, lasts for your entire lifetime. They're great for covering end-of-life expenses like funeral costs, and for ensuring the financial security of loved ones left behind.
You can easily look at different options while comparing quotes online between these two. But if you're still unsure, you can always speak with our expert advisors for some guidance!
Read more about term life vs. whole life.
Do you provide non-medical life insurance quotes online?
Yes! If you have pre-existing conditions, you can get a no-medical life insurance quote from PolicyAdvisor.com. This is a great insurance for smokers or for those who just want to avoid getting a medical exam.
You can start by using our easy online quoting tool! Our licensed insurance agents will tell you which insurance options have medical questions, and which ones you can sign up for without a medical.
No lab work, urine sample, or blood pressure tests required! You can get the best life insurance quotes online no matter what your current situation is. We promise!
Do you provide mortgage protection quotes online?
Yes! We recommend a term policy for peace of mind when it comes to mortgage insurance. You can get quotes through our life insurance needs calculator. Or, you can choose the calculator option in our quoting tool and we can easily include mortgage protection in your online quote.
Mortgage protection insurance covers your mortgage payments if you, unfortunately, pass away. But we actually recommend getting term coverage since it can cover your mortgage AND anything else your family needs. Compare quotes for both mortgage and term insurance policies (or permanent policies, if you'd prefer) right here on PolicyAdvisor.com in minutes!
Read our review of the best mortgage insurance companies in Canada.
Do you have online quotes for other types of insurance?
Absolutely! You can get quotes, all in one place, for a range of products:
Where can I get the best life insurance quotes?
You can compare insurance quotes right here! Our online tools make it easy to compare quotes for different types of policies in less than the time it takes to brew a cup of coffee. Whether it's term insurance with a tax-free death benefit, or permanent life insurance with a cash value component, or anything in between. We provide you with the best quotes for the most affordable coverage no matter what stage of life you're at.
Need more help? Just reach out to our friendly, licensed Canadian brokers. We can help with all your insurance needs!
What happens after I get an online quote?
After you use our easy online tools to browse the top insurance providers in Canada for your preferred policy type, amount of coverage, and other customization options, your quote will be saved in our online system for free.
From there, you submit an online application and our licensed advisors guide you through the entire process from start to finish. If there's a medical questionnaire or the unlikely medical exam needed, we arrange that for you too.
Don't worry, we'll do all the talking with the insurance company during the underwriting process. We'll also tell you when you can expect to hear back (usually around 2 weeks) and let you know once you're approved.
Did we mention that you never have to pay us anything? We take you from online quote to approved policy without you having to reach for your wallet.
It's literally that easy, and it's right in the palm of your hands too!
Do I really need life insurance?
As we mentioned in our Honest Guide – a better question to ask yourself is: Do the people in your life need you to have this type of coverage?
Life coverage has three major purposes:
Clear outstanding debt
Cover end-of-life costs like funeral expenses
Provide an income replacement source to those who rely on you in the unfortunate circumstance that you're no longer around
Life policies can help ensure your loved ones aren't left with unexpected financial burdens once you pass away. And, most people want to use their death benefit to leave something behind so their children or other dependents can uphold their same standard of living.
Don't put it off until it's too late! Compare online life insurance quotes from reliable life insurance companies, apply for your perfect plan, and start protecting your financial future today!