The PolicyAdvisor process
SUMMARY
At PolicyAdvisor, our mission is to help you find the right life insurance policy for your needs and budget. With our accessible online tools and team of experts, we help you assess your insurance needs, find the right coverage amount, compare quotes and policies from different life insurance providers, and, ultimately, submit your application. We're here to help!
We get it. Shopping for life insurance sucks; and that's if you already know what you're looking for. There's a lot of similar companies selling basically the same insurance product for different prices. It can be frustrating.
If you're new to life insurance, it can be even worse. Learning about the industry can be a little frightening (we're talking about death here), overwhelming (so many numbers!) and even just, plain boring (SO many numbers!)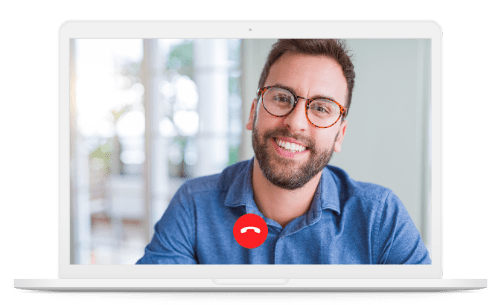 Need insurance answers now?
Call 1-888-601-9980 to speak to our licensed advisors right away, or book some time with them below.
But buying life insurance doesn't have to be an unpleasant experience.
At the end of the day, whether you're renewing a policy for the third time or if you don't even know what a policy is, everybody is really looking for the same thing: A good deal for a great product they actually need.
At PolicyAdvisor, that's exactly what we deliver. Our simple, smart and supportive tools walk you through the process of choosing and applying for a personalized life insurance policy in a matter of minutes. We recommend only the coverage you need and at the best available price because we like you and we want to prove that you don't have to completely exhaust yourself to buy life insurance.
Assessing your needs
Why pay for something you don't need? Unlike many insurance brokers, we don't earn commission for selling bigger, more elaborate (read: unnecessary) insurance policies. So we don't push our customers to purchase coverage that isn't necessary.
Instead, we use our insurance check-up tool to advise of any areas in your life where you might be uninsured. Based on your answers, we paint an honest picture of the risks you might be exposed to and give you pat on the back for the areas you've got covered.
If you need help finding a provider for insurance we don't offer, schedule a call and we can help you find one. If you need life or critical illness insurance, well, we can get started right away.
Choosing coverage
Deciding on a coverage amount can be tricky because it's usually an emotional decision. We'd all love to leave a fortune for our family, should we die, but that's how people end up with expensive policies they can't afford.
Our life insurance coverage calculator takes the tears out of the process by recommending you a specific number based entirely on your personal financial situation and family needs. By answering just a handful of questions for us, we're able to crunch numbers and compare figures so we can tell you exactly the amount of coverage you and your family require and not a dollar more (well, we might round up a bit, but you get what we're saying right?)
If you disagree with our recommendation or just don't like the look of the numbers, our feelings won't be hurt. You can adjust your coverage amount and term length to whatever you see fit.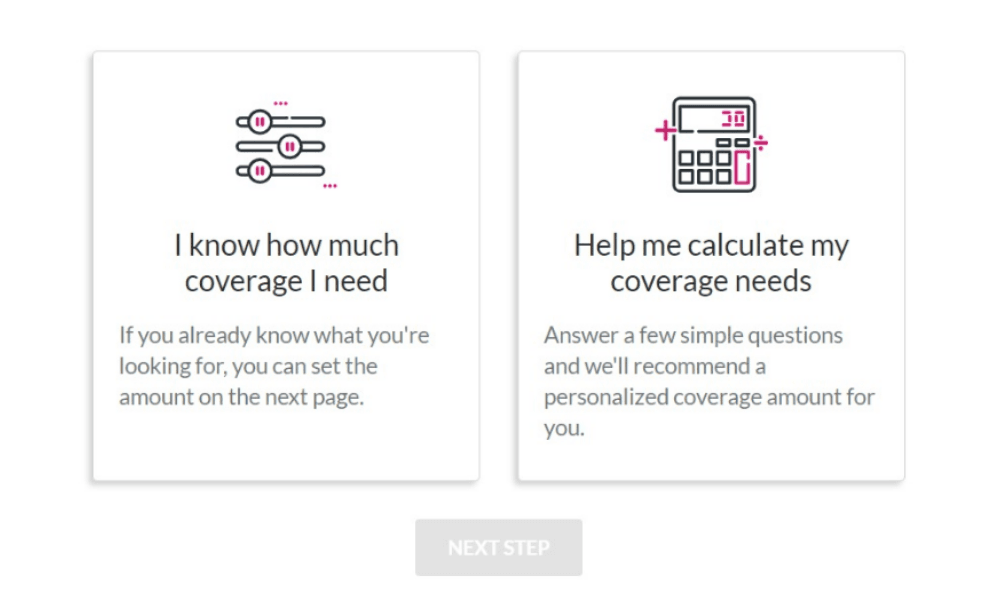 Customizing your quote
Once you're confident that your family's needs will be covered by the term length and coverage amount you've chosen we move onto trying to get you the lowest life insurance quotes available. By answering a few more questions, we are able to build an insurability profile and instantly find you qualifying insurance policies. Our algorithm allows us to search through hundreds of insurance products from Canada's most trusted insurers and find those offered at the lowest premiums that best match your profile.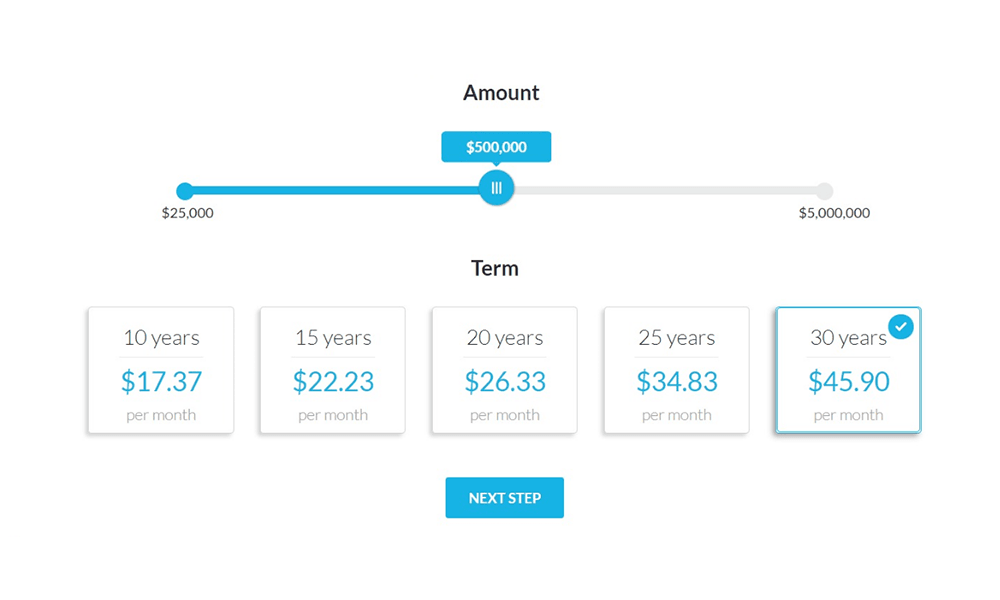 Comparison shopping
If you don't have a favourite insurance provider (does anyone really?) picking from a long list of similar quotes can be a bit daunting. The cheapest option, though tempting, is not always the best option (although we stand behind any of the companies offering policies on our site.) We've tried to make picking a provider a little easier by offering a quick comparison tool.
You can select any two insurers in your list of quotes and bring up information about the companies and the specifics of the policies they are offering.
We've done our homework so you don't have to. We share notes from the company's history and scale through the various riders and optional extras offered with their life insurance coverage. If you want someone to bounce ideas off and ask questions, give us a call or open up our chat. We're happy to talk insurance, no matter what time of night it is.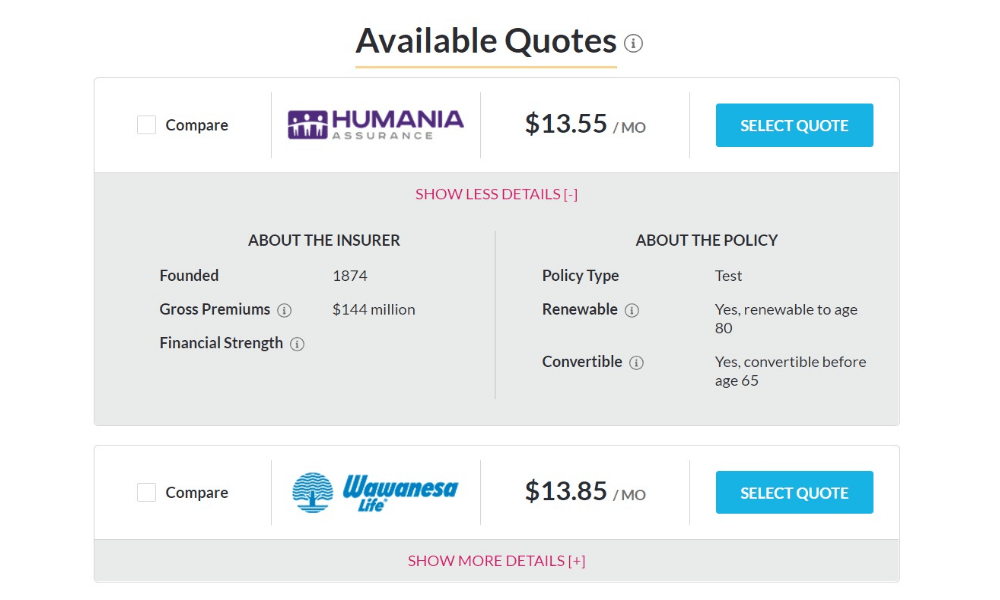 Off to the races
After you select a policy, we gather a little bit more personal information to save you from having to fill it out in the future. Then you're done. Your application is sent to our secure database where our team of brokers review it. If everything looks good, we'll reach out to you to schedule a quick call. We'll double-check all your information together and get your consent to submit to the insurance company on your behalf. From there, barring the need for any medical exams, it's just a matter of waiting for the underwriters to approve your application and begin your coverage.
If at any time you have questions or concerns, reach out to us and we'll lend a hand wherever we can. Once approved, we'll help you set up your payment schedule with the insurer and make sure you're 100% happy with your choice before we part ways. Down the road, if you miss us, or need help with a new or existing policy, we'll be here.
The PolicyAdvisor way
Now, that doesn't sound so bad, does it? All said and done, by applying for a life insurance policy through our website, we'll have cut your application time from 1-4 months to 1-4 weeks, rescued you from countless unnecessary face-to-face meetings, and hopefully saved you a bit of money.
Not to mention, we'll have done it all without asking you to leave your browser. Oh, and did we mention, we do this all for free? PolicyAdvisor, we've got you covered.

Need help?
Call us at 1-888-601-9980 or book time with our licensed experts.
SCHEDULE A CALL
KEY TAKEAWAYS
Our easy-to-use online tools guide you through the process of finding and applying for a personalized life insurance policy.
The PolicyAdvisor life insurance coverage calculator provides an instant coverage recommendation based on your personal financial situation.
Based on your input, we also provide custom quotes from some of Canada's most reliable life insurance providers.
We also assist you in the application process, sending your file directly to the insurer of your choice, making your life insurance application as seamless as possible.