Legal marijuana and life insurance: How cannabis use affects your application
SUMMARY
Following the legalization of marijuana in Canada in 2018, the life insurance industry has had to contend with new questions and adapt to a new reality. Today, there is a consensus amongst most Canadian life insurance providers that consuming marijuana recreationally but infrequently will not automatically qualify an applicant as a smoker and thus not drive up premiums.
On October 17, 2018, the Canadian government legalized the use of recreational marijuana. While this changed things in a big way for people who smoked weed, it's also had an effect on non-consumers and adjacent industries.
So far, legalization has contributed to the changing street presence of several Canadian brands, adjusted liquor store hours, and made some surprising changes to the insurance industry.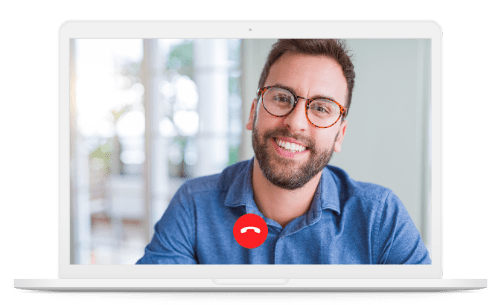 Need insurance answers now?
Call 1-888-601-9980 to speak to our licensed advisors right away, or book some time with them below.
How do insurance companies treat legal cannabis use?
Medicinal marijuana use has been legal in Canada since 2001 but Canadian insurance companies have only recently started covering its use in their health benefits plans. This is likely in response to the huge increase in medical marijuana prescriptions in recent years. The number of registered clients for medical marijuana has just about doubled from April 2017 to June 2018. Sun Life added it to their group benefits plans in early 2018, approving its use for pain associated with cancer, multiple sclerosis, rheumatoid arthritis, HIV and a variety of other conditions.
In turn, Manulife announced a partnership with Shoppers Drug Mart in July, in order to educate consumers about medical marijuana. They also cover the use of the drug sparingly in some benefit plans. Great West Life has announced their intentions to include it in their group benefits plans and the Co-Operators followed suit at the end of October.
With the biggest insurers in the country announcing plans to or offering benefits coverage for marijuana just before or after legalization, it's clear that the industry has already responded by shifting their perception of the drug, even if it's happened begrudgingly.
How do life insurance companies classify recreational marijuana use?
But what about recreational use? That's what's really changed. How are insurers approaching cannabis use when it's not medically prescribed?
While there have been some changes in the industry, it's not widespread. The CLHIA, for instance, is quick to point out that recreational use is still not covered by any benefit plans.
However, one big change has been the classification of marijuana users as non-smokers. Traditionally, those who actually admitted to its once illegal use were classified as smokers. Now, cannabis consumers are considered non-smokers by most insurers with some limits (they vary by company) to the amount of bud they can enjoy.
How much marijuana can you consume to not be considered a smoker?
Smoking or consuming marijuana (including edibles) up to 3 times in one week still lets you get rated as a non-smoker in the eyes of an insurance provider.
Once you hit the number 4 in a week, most life insurance companies will charge a rating (a classification that leads to a substantial price increase in your insurance premium). If you are a daily marijuana smoker you'll have a tough time getting approved for traditionally underwritten life insurance.  In such cases, non-medical life insurance providers can be a coverage option, albeit at an even higher premium than fully underwritten policies.
This is still a huge change; it will lead to substantially lower premiums for casual smokers who had been previously classified as a smoker. Monthly life insurance premiums can sometimes double for smokers vs. non-smokers.
Learn more about life insurance for cigarette smokers.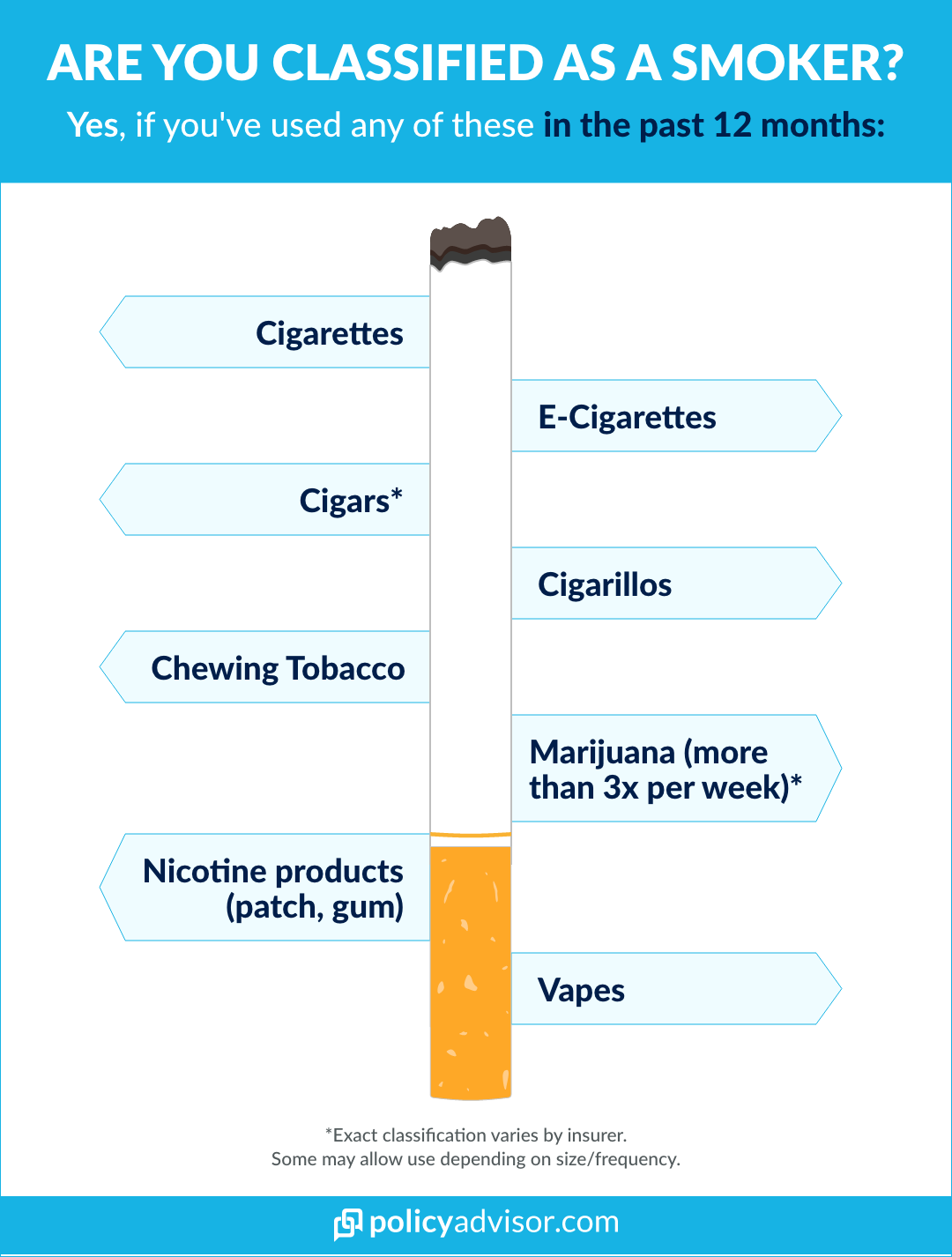 How other types of insurance are affected by marijuana use.
Many observers expected there to be changes to the auto and home insurance industries when marijuana was legalized; while there are signs of cannabis-related home insurance claims, it does not seem to have affected auto insurance drastically. As more data emerges, changes will undoubtedly come based on cannabis consumption.
High times
It remains to be seen if any other changes are in store for life insurance rates for 420 advocates, but the industry is closely observing statistics on marijuana use. As more and more medical patients use the drug, it will become a more prominent option in drug plans and as more recreational users come out of the shadows, life insurance plans will openly and accurately assess its health benefits and risks.
If you still have questions about how your cannabis usage may affect your life insurance premiums, talk to our licensed advisors. They always have the most up-to-date information and news from Canadian insurance providers to help you make the right choice when applying for a policy.
Need help?
Call us at 1-888-601-9980 or book time with our licensed experts.
SCHEDULE A CALL
The information above is intended for informational purposes only and is based on PolicyAdvisor's own views, which are subject to change without notice. This content is not intended and should not be construed to constitute financial or legal advice. PolicyAdvisor accepts no responsibility for the outcome of people choosing to act on the information contained on this website. PolicyAdvisor makes every effort to include updated, accurate information. The above content may not include all terms, conditions, limitations, exclusions, termination, and other provisions of the policies described, some of which may be material to the policy selection. Please refer to the actual policy documents for complete details. In case of any discrepancy, the language in the actual policy documents will prevail.  All rights reserved.
If something in this article needs to be corrected, updated, or removed, let us know. Email editorial@policyadvisor.com.
KEY TAKEAWAYS
Life insurance as well as other forms of insurance are adapting to the recent legalization of marijuana.
Smoking marijuana recreationally (up to three times in a week) will not necessarily qualify you as a smoker.
Consuming marijuana more regularly can lead to higher life insurance premiums or exclude you from fully underwritten policies.