What Happened to Great-West Life Insurance? – Updated 2023
SUMMARY
Great-West Life was one of Canada's oldest and largest life insurance companies. Through a series of mergers, Great-West Life, London Life, and Canada Life became one company in 2020. The name of this newly formed company is Canada Life Assurance Company; they now service any policies once owned through Great-West Life. To contact Canada Life (formerly Great-West Life), please call 1-888-252-1847.
Great-West Life went through major changes in the company's structure in 2020. The following is a brief history of Great-West Life Insurance, the current status of the company, and how to reach them regarding your policies.
History and Ownership: Great-West Life Assurance Company
Great-West Life Assurance Company was founded and incorporated in the year 1891 in Winnipeg, Manitoba. It wasn't until 1942 that Great-West Life became the first Canadian company to enter into the accident and health insurance business.
Jeffrey Hall Brock started the company due to a lack of insurance options offered to Western Canadians at the time. The head office was developed within the "Exchange District" of Winnipeg, which is located on the corner of Rorie Street and Lombard Avenue.
Interestingly, in 1912, two Great-West Life policyholders were passengers on the Titanic, and the company covered their policies with no questions asked (Great-West Life was also responsible for the first death payout of a policyholder in 1893). The word assurance was used instead of "insurance" during these early days, as that was the term more commonly used throughout the British Commonwealth.
Merger and consolidation as Canada Life
Over the years they would become colloquially known as Great-West Life above anything else, although the beginning of 2020 brought a big change for the company. In 2019, the company announced it would be merging its brand with other companies under the same ownership, London Life and Canada Life.
The company is now known as Canada Life, although there are times where you will see references to Great-West Life through the transition period over the next few months and years. Rest assured, all of the policies you had before this merger will continue with the newly combined companies. These companies have a deep history in the Canadian insurance landscape.
London Life Insurance Company
London Life Insurance Company is almost 140-years old and was responsible for serving well over 2 million Canadians. They previously merged with Great-West Life in 1997 when they completed their first merger until the company merged again with Canada Life in 2003 while retaining its branding and still operating as a separate entity.
London Life is known for its "Freedom 55" motto, which refers to its financial services which aim to help their customers save enough money to where they can retire at the age of 55.
Canada Life Financial Corporation
Hugh Cossart Baker Sr. founded the Canada Life Assurance Company on August 21st, 1847. The firm was officially incorporated in 1849, and had to fight off a takeover bid by Manulife in 2003; this led to their eventual acquisition by the Great-West Life Assurance Company (through owner Power Financial Corporation) in that year.
The very first head office of Canada Life Assurance Company was located in Hamilton, Ontario, eventually moving to what is now known as the "Birks Building" (on King Street East and Hughson Street South in Hamilton). They moved several other times, once to the Canada Life Building that was finished development in 1895, and once more to their eventual Toronto headquarters in 1900.
Cawthra House was the company headquarters from 1926 to 1929 at King and Bay Streets in Toronto. They acquired and founded additional sister companies like Canada Life (UK) and Crown Life Insurance Company of Canada (CLICC).
What is Great-West Life Called now?
Canada's Minister of Finance provided the final approval of amalgamation (the process of a company and their holding companies combining to become one large entity) of the Canadian insurers on November 25, 2019. The corporations and subsidiaries that were merged to create what we now know as The Canada Life Assurance Company are:
Great-West Life Assurance Company
London Life Insurance Company
Canada Life Assurance Company (and their holdings)
Canada Life Financial Corporation
London Insurance Group Inc.
All of these companies operated as separate entities until January 1st, 2020 when the merger became official and The Canada Life Assurance Company began operation. Canada Life is now considered one of the country's biggest life insurance companies and administers any insurance plan once owned by Great-West Lifeco.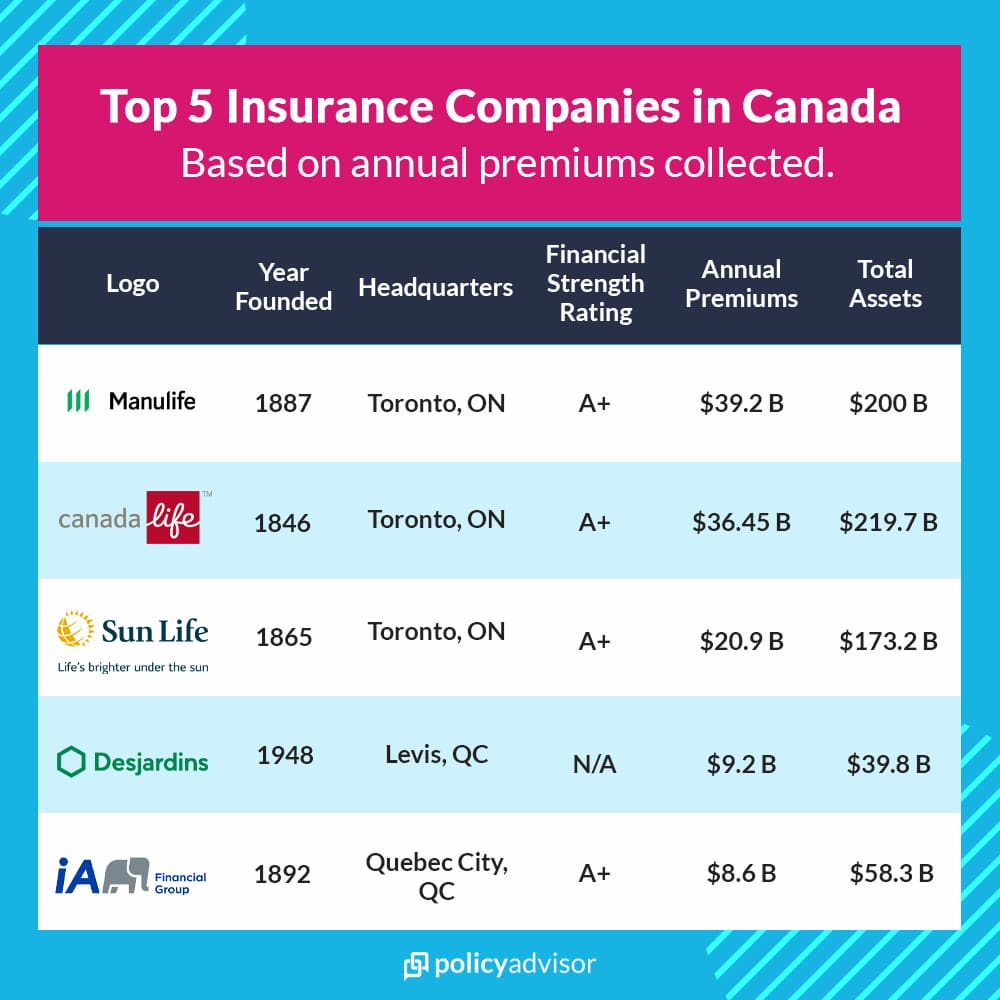 Great-West Life Insurance products
Great-West Life offered many different types of insurance before the merger took place. Below you'll find a list of the many products and investment management services that Great-West Life Insurance offered to their customers:
Disability, Critical Illness and Health Insurance Benefits
Dental Insurance and other workplace benefits
Financial Plan Services and Financial Security Advisors
Wealth Management Products and Investments

More choice. Lower price.
PolicyAdvisor saves you time and money when comparing Canada's top life insurance companies. Check it out!
GET STARTED
What happened to my Great-West Life insurance policy?
Any insurance policies previously held with Great-West Life will now be serviced by Canada Life; you can find all of the information surrounding your coverage on the Canada Life website. As of January 1st, 2020, all of the contracts and policies associated with any of the merged companies transferred over to The Canada Life Assurance Company.
Amalgamation allows all of your policies and contracts to remain unchanged, so you will continue to benefit from their services as you would in the past. The Canada Life Assurance Company is dedicated to providing clients with the best coverage possible as they complete all aspects of this merger. The companies merged to provide improved customer service, more reliable coverage, and an overall better experience for all clients. Thus everything, like your contact details, benefits information, direct deposit and Groupnet details, your plan number, and more remains unchanged as your policy is served by the new Canada Life.
If you're wondering how you can file a claim with Great-West Life Insurance, all you have to do is contact Canada Life for more information.
How do I submit a claim to Great-West Life?
You likely have questions surrounding your Great-West Life insurance policy and whether you're still covered (the short answer is yes), and in turn, you might wonder who you're supposed to contact. The goal of Great-West Life's merger is to provide customers with a superior experience, as there are more assets to work with that will help improve their service and offer more flexibility in how they service their customers.
You don't have to sign any paperwork or fill out any forms to ensure that your policies are carried over during the merger; this is an automatic process. That said, if you have any questions about submitting a claim, your policy, or your coverage details, you can always contact Canada Life for more information or access their support page.
Websites and almost anything associated with Great-West Life is still being updated, which is why you may still see references to the recently merged company.
Need help?
Call us at 1-888-601-9980 or book time with our licensed experts.
SCHEDULE A CALL
The information above is intended for informational purposes only and is based on PolicyAdvisor's own views, which are subject to change without notice. This content is not intended and should not be construed to constitute financial or legal advice. PolicyAdvisor accepts no responsibility for the outcome of people choosing to act on the information contained on this website. PolicyAdvisor makes every effort to include updated, accurate information. The above content may not include all terms, conditions, limitations, exclusions, termination, and other provisions of the policies described, some of which may be material to the policy selection. Please refer to the actual policy documents for complete details. In case of any discrepancy, the language in the actual policy documents will prevail. All rights reserved.
If something in this article needs to be corrected, updated, or removed, let us know. Email editorial@policyadvisor.com.
KEY TAKEAWAYS
Great-West Life was established in 1891 in Winnipeg, Manitoba
Through a series of mergers, Great-West Life, London Life, and Canada Life became one company in 2021
The newly formed Canada Life Assurance Company now services any policies you had once owned through Great-West Life