Co-Operators Life Insurance Review – Updated 2023
SUMMARY
The Co-Operators is a full-service insurance co-operative that offers home, auto, travel, and life insurance. Founded in 1945, it differentiates itself from corporate insurance companies by focusing efforts on member feedback and needs. Co-Operators offers a unique one-year renewable term insurance product with lower coverage amounts as well as traditional term life insurance. However, its products can be pricy.

Product
Versatile™ Term Insurance
Not Recommended For Canadian Life Insurance Buyers Due to Price
Our Co-Operators life insurance plan rating and review
Co-Operators is a full-service insurance co-operative, owned by 44 members including co-ops, credit unions, and representative farm organizations. They offer home, auto, travel, life insurance, investment products, as well as group health and dental benefits.
This insurance company has a strong AM Best rating and is financially stable with over $20.6 billion in assets. While they are a major player in the insurance industry, their term life insurance products are not competitively priced compared to offerings from our insurance partners at PolicyAdvisor. 
We would recommend choosing one of the many other insurers in the market at this point in time, given the potential to obtain lower prices and access a wider spectrum of features and optional benefits. Use PolicyAdvisor's quoting tool to find the right coverage through several competitive quotes from Canada's best life insurance companies.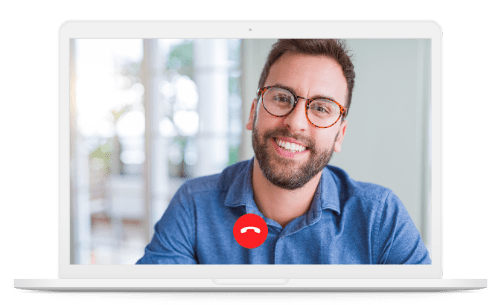 Need insurance answers now?
Call 1-888-601-9980 to speak to our licensed advisors right away, or book some time with them below.
Co-Operators life insurance pros and cons
Pros
Option for one-year term life policy for short term coverage

Offers a full suite of insurance products 

Financially stable organization
Cons
One-year term life insurance only offers low coverage amounts 

High premiums for other term insurance products 

No online application process through the website 

Lack of transparency: can't get an online quote or coverage amount details for permanent policies
Who is Co-Operators Insurance?
The Co-Operative Life Insurance Company was founded in 1945 by a group of farmers in Saskatchewan who lost most of their belongings, savings, and life insurance during the Great Depression. They found that traditional insurers did not meet their unique needs as farmers, so in 1945 with the financial support of the Saskatchewan Wheat Pool, they founded their own insurance co-operative. 
A similar story was unfolding for farmers in Ontario, and by 1959, the Co-Operators Life Insurance Association was incorporated for business. In 1978 the Saskatchewan and Ontario branches amalgamated to form under The Co-Operator's name.  
Since then, the Co-Operators have expanded their operations Canada-wide. Co-operator's product offerings now include home, auto, and travel insurance, but they still offer life insurance products as well.
Co-Operators: Quick Facts
Founded

: 1945

Headquarters

: Guelph, ON

AM Best Rating

: A (excellent)

Better Business Bureau Accreditation and Rating

: A+

Assets

: $20.6 billion

Annual Premiums

: $5.05 billion
What type of life insurance does Co-Operators offer?
Co-Operators offers a full suite of term, whole, universal, and no-medical life insurance products. 
Co-Operators Term Life Insurance
The Co-Operators provide a one-year, renewable policy as well as longer term life insurance options with terms of 10, 15, 20, 25, or 30 years. Their one-year term coverage has a max coverage amount of $475,000 whereas their other terms more competitively offer up to $5 million.

Co-Operators Whole Life Insurance
The Co-Operators have two participating whole life insurance products—Protector™ and Ascend™. The two products both offer guaranteed cash value after three years, dividends, and coverage for children. However, Ascend offers more choices for limited payment plans and the option to purchase paid-up additions with your dividends. Available coverage amounts for their whole life policies are not listed online. 

Co-Operators Universal Life
Co-Operator's universal life insurance policies have similar benefits to their participating whole life series, with the added bonus of flexibility in choosing your coverage options and investment accounts.

Co-Operators Infinity Term Insurance
This policy is the Co-Operators' answer to a term to 100 life insurance policy. It is a permanent policy without the cash value savings component. It's for those who like the stability of coverage for a lifetime, but want to pay less in monthly premium than they would for a regular whole or universal life policy.
Co-Operators Responsibility Series
The Co-Operators Responsibility series are no-medical life insurance policies that do not require a medical exam during the application process. However, skipping the medical means lower coverage amounts (only up to $25,000) and sometimes higher premium costs than traditionally underwritten policies.
What term life insurance amounts and coverage do The Co-Operators offer?
The Co-Operators have both a yearly renewable term insurance product as well as a separate product for longer terms. 
Term Life 1
Available Term Lengths: 1 year
Maximum Amount of Coverage: $475,000
Renewability: Yes
Convertibility: Yes, before your 70th birthday. 
Versatile Term™
Available Term Lengths: 10, 15, 20, 25, or 30 years
Maximum Amount of Coverage: $5 million
Renewability: Yes
Convertibility: Yes, before your 70th birthday.
Cost of term life insurance with Co-Operators
As mentioned, the Co-Operators is a singular insurance provider who do not have the most competitive prices for their term insurance products. PolicyAdvisor allows you to instantly shop for insurance with over 30 insurance providers to ensure you get the best coverage for the best price. 
Here's how Co-Operators stacks up to one of our insurance partners, Desjardins, for a 30-year-old, non-smoking female looking for $1 million in coverage for a 20-year term.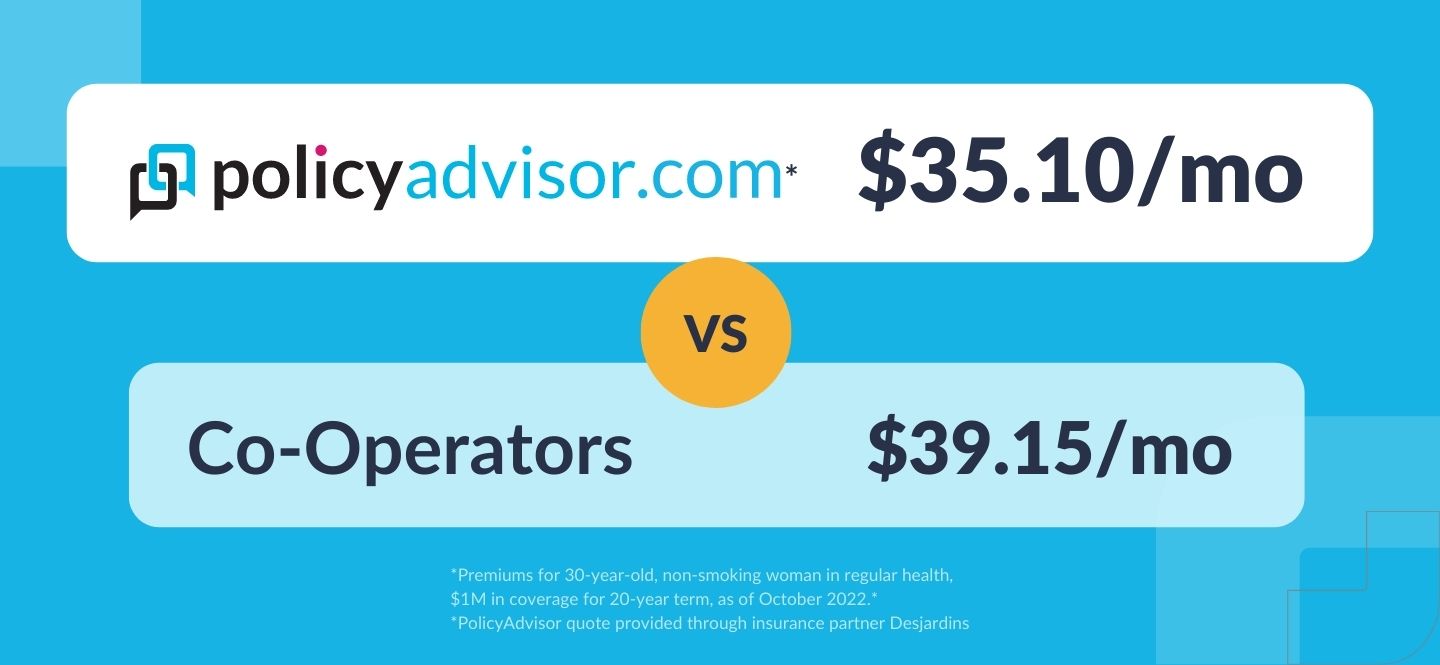 What other insurance products do the Co-Operators offer?
While Co-Operators got their start in life insurance back in 1945, they have since expanded to offer a full line of insurance products. 
Critical Illness
Critical Illness insurance offers a lump-sum payment in the event you are diagnosed with a critical illness or injury such as heart attack, cancer, or stroke. Co-Operators offers four critical illness products—term 10, term 20, up to age 75, and up to age 75 with a 20 pay plan—that cover up to 25 conditions.  
Mortgage Insurance
If you've recently purchased a home, mortgage insurance will pay off your mortgage in the event you pass away. Usually, this coverage is offered by the mortgage lender itself and will only cover the mortgage, and no other outstanding debts.  However, Co-Operators offers a separate, portable mortgage protection plan that mirrors the benefits of term life insurance. 
Home Insurance
As a property and casualty company, Co-Operator's home insurance products are a big part of their business. Home insurance covers your property in the event your property is damaged or destroyed in an event such as a fire, flood, or windstorm. 
Farm Insurance
Going back to their roots, Co-Operators offers farm-specific property insurance that is tailored to the unique needs of farmers, from hobby farms to large production. Their insurance products include coverage for livestock, machinery, poultry, farm structures, and pollution. 
Business Life 
Similar to their farm insurance product, Co-Operators has standard business property insurance that covers business stock, liability, equipment breakdown, and loss of income coverage. 
Auto Insurance
Co-Operators offers competitive auto insurance for your car, motorcycle, and other recreational vehicles in provinces that do not already have public auto insurance programs. 
Travel Insurance
Co-Operators offers different options for traveling Canadians, visitors to Canada, international students, and expatriates administered by Allianz Global Assistance. You can choose from single and multi-trip coverage, trip cancellation and interruption, and also emergency medical top-up.
How can I find the best term life insurance?
As Canada's best online life insurance advisor, we will assist you in comparing and choosing products across all our partner companies. Speak to our licensed advisors and we will be able to assist you in finding you the best coverage for your needs.
Need help?
Call us at 1-888-601-9980 or book time with our licensed experts.
SCHEDULE A CALL