Should I buy travel insurance for my parents?
SUMMARY
You can buy insurance for parents visiting Canada or for anyone else coming to see you, and doing so will help put everyone's minds at ease. You will just need some of their personal details like name and age, length of stay, and whether they have any medical conditions.
Having family come to see you in Canada from abroad can be exciting, especially if you haven't seen them in a long time. But the last thing you'd want is for your family members to incur costly and unexpected medical fees during their visit. It's important that your guests have adequate insurance coverage for their trip before they hop on a plane.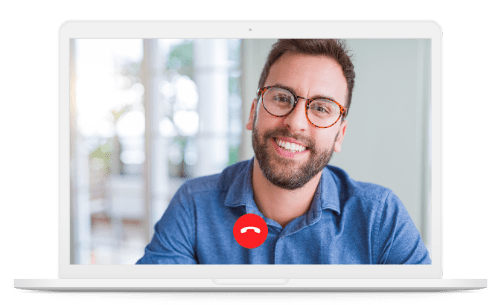 Need insurance answers now?
Call 1-888-601-9980 to speak to our licensed advisors right away, or book some time with them below.
Why buy travel insurance?
While it's often touted that Canada has "free healthcare", it's important to note that that is not actually the case. Not just anyone can turn up at a Canadian hospital and walk away sans bill. In general, only permanent residents, Canadian citizens, and those on specific work or student visas can receive universal healthcare. So, family coming to visit for a few weeks or months would not be covered and would have to pay out of pocket for any medical care.
Travel insurance offers peace of mind to those travelling. Knowing your loved ones won't be left with a hefty bill in the event of an emergency leaves you and your family with one less thing to worry about.
Not only can travel insurance plans cover medical expenses while abroad, but there are also policies that provide coverage for cancelled flights, lost baggage, and more.
Can I buy insurance for my visiting parents?
You can buy insurance for parents visiting Canada or for anyone else coming to see you. In order to purchase a policy on behalf of someone else, you'll need to know a few things such as their name, age, gender, address, destination, the duration of their travels, and in some cases their medical history.
Types of travel insurance
There are many different types of insurance policies that can cover different aspects of a trip. Here are some of the most common ones.
Emergency medical insurance provides coverage for unexpected medical expenses incurred while travelling.
Accidental death and dismemberment insurance acts similarly to a life insurance policy while travelling. It provides financial protection in case of dismemberment or death while on a trip. Learn more about AD&D insurance. 
Trip cancellation insurance covers the costs associated with cancelling a trip such as cancellation fees from airlines and accommodations. It ensures that you don't pay for a trip you don't go on.
Trip interruption insurance offers coverage for disruptions while you're travelling. It can be helpful if you find yourself in situations such as needing accommodations because of a delayed flight or having to rebook an earlier flight home. Learn more about trip interruption vs. travel medical insurance. 
Baggage insurance protects what you bring with you on your travels. If a suitcase is lost in transit, this type of insurance will pay for replacements.
Multi-trip travel insurance can provide comprehensive travel insurance for more than one trip. When purchasing, you can decide how many trips you'd like to cover, to where, and for how long.
Annual travel insurance is a great option for those who travel frequently or for a good portion of the year, like snowbirds. Annual travel insurance provides coverage for any trip made throughout the year without the need to purchase a policy for each specific trip.
But keep in mind that some visitors to Canada may require special forms of travel insurance, like foreign students insurance, foreign worker insurance, or super visa insurance. The question of whether your parents would be better covered by a standard travel insurance policy or a super visa insurance policy will depend primarily on how long they plan to stay, among other factors.
What is a super visa?
A super visa is a unique visitor's visa available for parents and grandparents of Canadian citizens and permanent residents of Canada.
A regular visitor's visa in Canada only allows someone to visit the country for six months, but a super visa is different. It's a multi-entry visa that permits a stay as long as five years, with the ability to apply for a two-year extension. Once someone is approved for a super visa, it is valid for 10 years.
Learn more about super visa insurance and super visa insurance payments. 
What's the difference between super visa insurance and visitors insurance? 
The main difference between travel insurance for visitors to Canada and super visa insurance is the length of stay. If your parents are only coming to visit for a short period, like a week or a few months, a super visa and its corresponding insurance are likely not necessary.
Super visa insurance also has more requirements than standard travel coverage. For instance, one of its legal requirements is that it must cover healthcare, hospitalization, and repatriation costs for at least $100,000 CAD. It also has to be purchased before your relatives' arrival in Canada. But it provides a much longer period of coverage in turn.
What do I need to buy travel insurance for my parents? 
To purchase a policy for your parents, you will have to disclose any pre-existing medical conditions they may have to the insurance provider, like a heart condition or a lung condition for instance. If you don't know, it's best to ask your parents.
A pre-existing condition is a medical condition that has been diagnosed by a doctor prior to the purchase of an insurance policy. A few common pre-existing conditions are:
Diabetes
Heart disease
Cancer
Obesity
High blood pressure
Asthma
Stroke
Arthritis
When it comes to pre-existing conditions, it's important to be honest when applying for a policy. Remember that if you provide false information on an insurance policy application, the policy will be void, leaving you or your family without coverage.
If you still aren't certain or don't want to ask, you may be able to add a pre-existing condition waiver to their travel insurance policy. This can ensure that they will be covered even if they already have health issues. Be sure to confirm the specifics with your insurance provider.
Also, after purchasing a policy for a friend or family member, be sure to provide them with a copy of the policy and proof of purchase. They will need both if they have to make a claim. Be clear with your loved ones as to what is covered by their policy and how long they're covered for. If you're purchasing online, you will likely receive an email confirmation containing all of this information and a copy of the policy. Be sure to save the email just in case.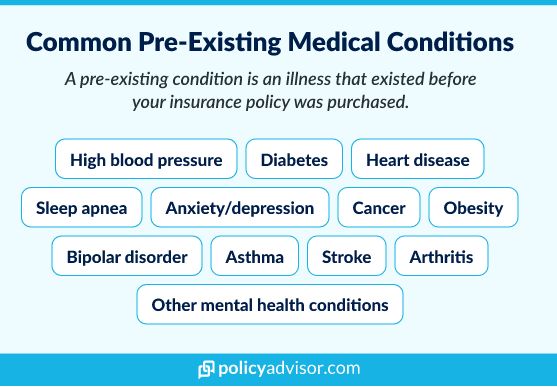 Does travel insurance cover pre-existing conditions?
On the subject of pre-existing health conditions, most travel insurance policies actually don't cover them by default. They may only agree to provide a limited level of coverage, if they agree at all.
Some major pre-existing medical condition exclusions, meaning they are not covered, are:
Diabetes
Heart disease
Cancer
High blood pressure
But they could also include illnesses we consider "mild" like:
Additionally, if the insurer does extend travel insurance coverage to someone with pre-existing conditions, they may increase the cost.
But it's not all bad news when it comes to having a health condition. If someone has not had any new symptoms or a change in diagnosis for around 90 to 180 days before travel, the insurance company will consider it a stable pre-existing medical condition. In this case, they will likely still provide coverage.
The issue is there's no one-size-fits-all approach to how an insurance company will handle a pre-existing condition. It really depends on several varying factors, like what the health condition is and how long the individual will be travelling for, among others.
Each person's circumstance will necessarily be unique. So, insurance providers will consider applications on a case-by-case basis to evaluate the risk of providing travel insurance coverage to that individual. Only afterwards will they determine whether to offer coverage, how much coverage to extend, and what it will cost.
It's critical to check the policy wording and make sure a pre-existing condition, stable or otherwise, will be covered before going ahead with travel plans. Also keep in mind that some health conditions might get excluded from coverage during underwriting. We can't stress enough how important it is to really go over your policy with a fine-tooth comb on this point. Or you can always speak with one of our advisors for expert guidance.
Find the perfect plan
Make sure your parents have the best travel insurance coverage with PolicyAdvisor.
GET QUOTES
What does travel insurance for parents cover?
Coverage will depend on a few factors such as age, gender, and pre-existing medical conditions. Those who are younger and have been determined to be in better health may receive lower insurance premiums and more comprehensive travel health coverage than those who are older and in poorer health.
Travel medical coverage
A standard travel insurance policy for those visiting Canada can offer coverage of up to $250,000 in emergency medical coverage. There are also options for lesser coverage such as $20,000, $50,000, or $100,000.
Emergency medical treatment covered by travel insurance will usually include:
Emergency hospitalization and medical attention
Ground and air ambulance services
Prescription drugs
Emergency dental treatment
Some policies will also include more, such as medical evacuation, repatriation of remains, or emergency accommodations, while others may include less. The extent of your travel insurance coverage will depend on the policy you choose.
Non-medical travel coverage
Often policies will have additional non-medical travel add-ons that can cover any additional expenses incurred by the following:
Trip cancellation or delay due to:

Medical emergency or death
Travel visa complications
Change in work schedule
Missed connections
Jury duty
Delayed or cancelled flights
COVID-19-related illness or quarantine

Baggage loss or delay
Trip interruption due to:

Family emergency
Medical emergency
COVID-19-related medical emergency or quarantine
Travel host's hospitalization or death
If in doubt about what exactly is covered under your policy, it can never hurt to double-check the policy to find out its complete coverage details, refer to your insurer, or simply speak with one of our insurance advisors.
Learn more about travel insurance and COVID-19.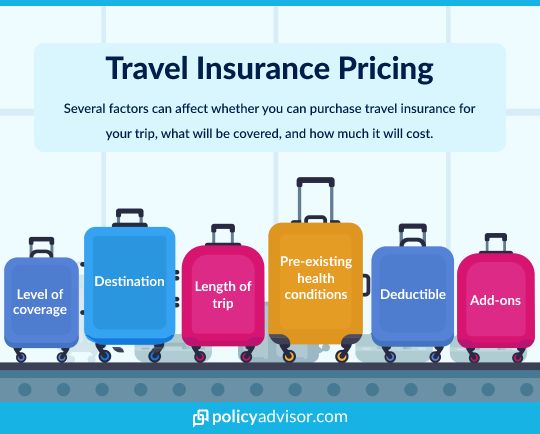 Frequently Asked Questions 
Does travel insurance cover my entire family?
When buying a travel insurance policy, you can purchase a policy for one person or you can also add family members to the policy. It will depend on the insurance provider as to who is considered family, but they will generally fall under two categories:
Canadian insurance companies most often consider family to be dependants. This usually means a spouse and/or underage children as well as anyone who is legally and financially dependent on someone. If you are uncertain as to if someone is considered family for insurance purposes, be sure to ask your advisor before purchasing a policy.
If you're looking to insure a family member who is not a dependant, you will have to buy them a policy that is separate from yours. This means you would need a separate plan for your visiting parents.
Family plans
If a family travels frequently, it can be beneficial to purchase a family policy. Often, a family policy that covers everyone will be cheaper than insuring everyone individually. You can also purchase a multi-trip family plan that will cover multiple trips per year. These options will differ from company to company, so it's always good to ask about family pricing and coverage for travel insurance.
How much does travel insurance cost?
Travel insurance rates depend on several factors like the type of insurance you buy, your age, how long the trip is for, how much coverage you get, and what the deductible options are. A rule of thumb is the average cost of travel insurance should be 5% of your trip, but keep in mind this price can change.
Is there a cut-off age for travel insurance? 
One of the factors taken into consideration when determining a policy's premiums and coverage is age. Insurance coverage is based on risk. The riskier someone is to insure, the more costly or difficult it will be to find good coverage.
There comes a point when someone is too old and the risk becomes too high for them to be insurable. The cut-off age for travel insurance changes depending on the provider. Some providers stop offering certain policies to those in their 80s. Other insurers will continue to insure people into their 90s but the insurance premiums will be higher. Double-check the cut-off age before purchasing any policy.
Is travel insurance per person or per trip?
There isn't just one type of travel insurance. This is great because it allows you to choose a policy that works best for you or for whomever you're buying a policy for. You can get travel insurance per person or per trip, or even per person per trip. Some insurance companies offer multi-trip or annual travel insurance policies that provide coverage for multiple trips throughout the year.
Learn more about annual multi-trip travel insurance. 
To find a policy that fits your needs and budget, speak with a PolicyAdvisor expert who can give you the best quote for travel insurance for your parents or other visitors to Canada.
The information above is intended for informational purposes only and is based on PolicyAdvisor's own views, which are subject to change without notice. This content is not intended and should not be construed to constitute financial or legal advice. PolicyAdvisor accepts no responsibility for the outcome of people choosing to act on the information contained on this website. PolicyAdvisor makes every effort to include updated, accurate information. The above content may not include all terms, conditions, limitations, exclusions, termination, and other provisions of the policies described, some of which may be material to the policy selection. Please refer to the actual policy documents for complete details. In case of any discrepancy, the language in the actual policy documents will prevail. All rights reserved.
If something in this article needs to be corrected, updated, or removed, let us know. Email editorial@policyadvisor.com.
KEY TAKEAWAYS
You can buy insurance for parents visiting Canada or for anyone else coming to see you
The main difference between travel insurance for visitors to Canada and super visa insurance is the length of stay
Pre-existing medical conditions can impact travel insurance coverage and cost