Do foreign workers in Canada need travel insurance?
SUMMARY
Foreign workers, work permit holders, and other newcomers to Canada typically have to wait months before they can access "free" health care. Travel medical insurance can help cover emergency health costs in the meantime.
Canada has long been immigration-friendly. It's no surprise that we welcome tens of thousands of foreign workers and work permit holders to our shores every year. It's exciting to have landed a great new job in Canada and left your home country to start a new life up north!
But did you know that Canada's famed "free" public health care doesn't actually apply to newcomers right away? The onus falls on you to pay for any medical care you need for the first few months after arriving in Canada. Private health insurance options (like visitors insurance) help cover emergencies that come up during that time frame.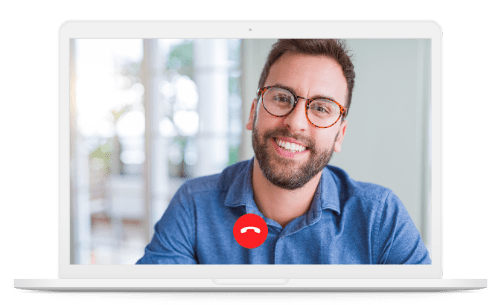 Need insurance answers now?
Call 1-888-601-9980 to speak to our licensed advisors right away, or book some time with them below.
Visitors insurance
Travel insurance can help give visitors to Canada peace of mind during their travels. For newcomers, in particular, you will already have a lot on your plate to deal with when moving to an entirely new country and culture. Having travel insurance will mean one less thing you have to worry about while settling in.
Depending on their status, visitors to Canada have several different options for travel insurance. The main options are:
Travel medical insurance
Insurance that covers the medical costs incurred from any medical emergencies you experience on your trips, including hospital stays, ER visits, cost of prescription drugs, medical transportation, and more.
Travel insurance for trip-related incidents
Insurance that covers things like flight delays, trip interruption, trip cancellation, hotel stays, lost baggage, etc.
Learn more about travel medical insurance vs trip interruption insurance. 
Visitors travelling to Canada on an eTA (Electronic Travel Authorization) issued by the government can legally stay in the country for as long as six months. During this time, they are not covered under Canada's universal health care plan, so they must rely on private visitors insurance for any medical costs that may arise during their trip.
But there are three additional types of foreign nationals who travel to Canada and have particular needs: study permit holders/international students, super visa holders, and work permit holders/temporary workers.
These categories are distinct in that their stays in Canada are usually for a much longer period of time than most visitors.
Learn more about super visa insurance for parents/grandparents of Canadian citizens and permanent residents and super visa insurance payments. 
Read our review of the Best Visitors Insurance in Canada
What is a Canadian work permit?
There are two general types of work permits offered in Canada:
Open work permit
This type of permit allows a foreign national to live and work in Canada with no restrictions on who they can work for. But in some cases, they are only allowed to work in a specific job category. Open work permits are valid for up to two years, with the option to be renewed or extended.
Closed work permit
Under this type of work permit, foreign nationals can live and work in Canada but only for one specific employer and in the specific role outlined in the conditions of their work permit. This means that if they want to seek a new job in Canada, they would have to submit an entirely new work permit application. This type of work permit is also usually valid for up to two years but can be extended.
Do work permit holders have insurance?
Foreign workers in Canada will often be covered under the government health plan of the province they are working and living in, like OHIP in Ontario. Their family members who moved to Canada with them are usually also granted provincial or territorial health coverage.
But work permit holders have to meet specific eligibility requirements to be covered, including:
Be employed full-time in the province
Maintain that province as their primary place of residence
Physically be in that province for a specific number of days
How long a temporary resident has to be in their province of residence varies throughout Canada. In Ontario, for instance, they have to physically be in the province for at least 153 days within a 12-month period to be eligible for OHIP.
On top of public universal health care, foreign workers may also get additional health insurance coverage with employee benefits provided through their employer (or as part of a group package through their job). This coverage varies based on different employers and different jobs, but will typically include benefits like vision and dental insurance on top of emergency medical coverage.
In most cases, once a foreign worker retains their employment, they are able to use the benefits provided to them through that job.
Why do foreign workers need travel insurance?
To start, newcomers to Canada, for the most part, do not have immediate access to health care through their provincial public health insurance.
In most provinces, newcomers have to wait three months before they can get public health coverage. In some cases, open work permit holders may have to be employed full-time for at least six consecutive months before they are eligible for public health coverage.
During that three-month waiting period (or longer), a foreign worker would be responsible for any medical attention they receive. This is where a private health insurance plan comes in handy.
A travel medical insurance plan in particular would help cover any unexpected emergencies that crop up during the time they wait for a provincial health plan to kick in.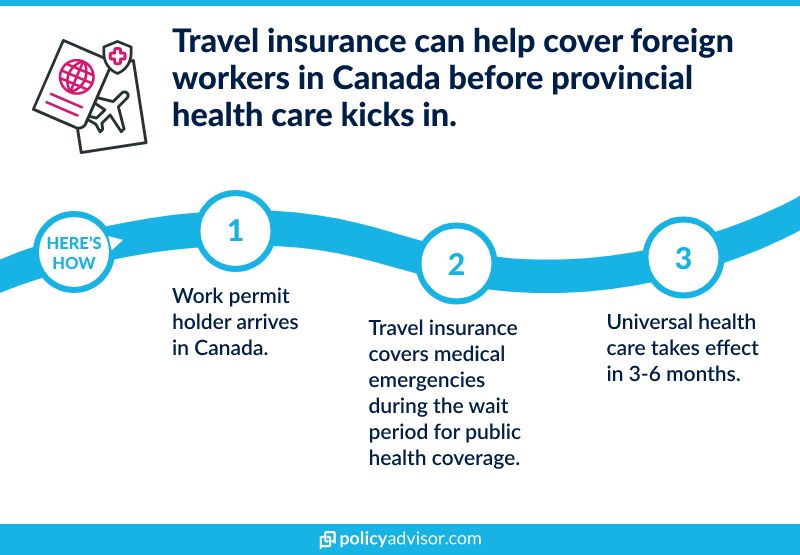 What happens after I get universal public health care?
Once your government health plan takes effect, you would not need travel insurance for health care coverage anymore. Instead, you would be covered under your provincial health plan. The same goes for your spouse, children, or any family members/dependents who moved to Canada with you, as they are also covered under Canada's public health care.
Although, you may want to consider ensuring that you have private health insurance for medical attention costs that may not be covered under your provincial health plan.
You may also still need to purchase another travel insurance policy if you take a trip outside of your province or go on vacation outside of the country.
And yes, even as a foreign national in Canada under a work permit, you are still absolutely eligible to purchase travel insurance.
Does Canadian health insurance work outside of Canada?
Even after your universal public health insurance comes into effect, it offers very little health care coverage outside of Canada. So, if you take a visit to your home country and end up needing emergency medical care, your Canadian health care plan will not cover you.
This is where having private travel insurance can make all the difference between you having to pay out of pocket for unexpected emergencies that happen once you venture away from your new Canadian home. In your time away, your coverage at home may have lapsed.
Do foreign workers need travel insurance for trips within Canada?
Universal public health care has some limitations within Canada too. Provincial health plans are generally limited to a specific province. As such, they have very limited coverage once you leave your province of residence.
This is another reason why temporary workers — and anyone living in Canada, really — should seriously consider travel insurance when planning to take a trip.
If you decide to explore your new home and take even a short trip to a neighbouring province, your provincial health plan may not cover everything if you run into a medical emergency.
Your provincial health plan may not cover these emergency services outside of your province:
Ambulance transportation
Cost of prescription drugs
Private hospital fees
Private facility diagnostic fees
Of course, no one ever wants to have to deal with or think about these kinds of emergencies happening to them. This is especially true while on a trip or as a newcomer to an entirely different country. But emergencies do happen and it's better to know exactly what you would end up having to pay.
Emergency care costs can certainly add up. OHIP even recommends that you purchase private insurance coverage before leaving the province to cover any uninsured medical costs.
Plus, your provincial health plan will not apply to unexpected travel challenges that are not medical. If you have to pay for an extra hotel stay because of delayed or cancelled flights, if your bag gets lost, if you are placed under emergency quarantine due to COVID-19, or if any other countless number of mishaps happen, you'd be on your own as far as a public health care plan goes. But travel insurance plans could give you some relief.
What does travel insurance for foreign workers cover?
The exact coverage your plan provides varies based on what kind of policy you buy and what provider you choose, among other factors. But most travel insurance policies cover:
Emergency medical treatment
Emergency dental treatment
Travel accidents
Ground and air ambulance transportation
Medical evacuation
Repatriation of remains
COVID-19-related medical care

Travel insurance exclusions
However, it's important to note that travel insurance does not cover any and everything, although it does provide a wide range of coverage. There are a few factors that insurance companies consider to determine whether to extend coverage to you:
Destination
For instance, government travel advisories play a major factor in determining your coverage. While getting travel insurance to come to Canada will be fine, the destination matters a lot if you want travel insurance to leave Canada on a short trip.
If the Canadian government has issued an order to avoid travel, or if a travel advisory has been issued for the destination you want to travel to, Canadian insurance companies will likely not provide coverage for travels.
Activities (i.e. extreme sports)
Further, certain activities are not covered under standard travel insurance plans. A major example of this is in the case of "extreme sports", where insurance companies deem there to be an extra-high risk of injury. There's nothing wrong with being a foreign worker who loves to go snowboarding, but keep in mind that your travel insurance may not cover you if you plan on taking part.
Learn more about travel insurance for athletes and others taking part in sports.
Age
The question of age will likely not apply to you, as a foreign worker. Travel insurance policies can cover individuals well into their 80s and even 90s. And we'd be impressed if you were still working at that age. But if you're travelling to Canada with an elderly dependent or family member, it may be worth it to just keep this factor in mind.
Pre-existing conditions
Pre-existing conditions, however, are a factor that may impact you. A pre-existing condition refers to a medical condition you had been diagnosed with before your insurance policy starts and can be an illness as common as diabetes.
Some travel insurance plans may not provide coverage for certain pre-existing conditions or may charge you a higher premium as a result of it. Companies also typically require that a pre-existing condition be stable for at least 90 to 180 days before your departure date.
Learn more about pre-existing medical conditions. 
Of course, you are always welcome to speak with one of our expert advisors if you're unsure what kind of plan you need. Or if you have a plan but you're not sure it's the best plan for your needs. We're happy to help you find out exactly what's covered and what isn't, and make sure you're getting the best plan for your budget.

Compare and save
Save money and time when you compare multiple travel medical insurance policies, only with PolicyAdvisor
GET QUOTES
How much does travel insurance cost?
On average, you can normally expect a standard travel insurance plan to cost 5% of your trip. But this depends heavily on what kind of insurance you buy, how much coverage you get, how long your trip is for, your age, and your health, among others.
As a newcomer to Canada, you'll likely need a longer plan than the standard travel insurance package, so you should expect your plan to cost more than the typical 5% figure.
To give you an idea, Manulife, one of Canada's largest insurance companies, offers a travel medical plan for newcomers that can cost around $500 to cover two young, healthy travellers for three months.
Also, if you're travelling with your family, you may be able to get a better deal. Some providers offer discounts on policies bought together and some also have family plans for a discounted group rate.
The cheapest travel insurance for visitors to Canada
What insurance do I need to travel to Canada?
In general, foreign nationals do not need to purchase private insurance before coming to Canada, although it is strongly recommended.
Some visitors, like super visa holders, and some foreign workers are required to have a private health insurance policy or travel insurance policy before they arrive in Canada and for the duration of their stay.
The International Experience Canada (IEC) Working Holiday Visa is one such example. This is an open work permit that allows individuals from over 30 countries to live and work in Canada for up to two years. Like with the Super Visa, foreign nationals who hold this visa are legally required to purchase private insurance that covers:
Medical care
Hospitalization
Repatriation
The Canadian government also requires that these work permit holders purchase private insurance before they leave their home country to move to Canada. Otherwise, they can be denied entry into the country.
But the Canadian government advises that you only purchase this insurance once you receive a letter of acceptance into the program.
I'm new to Canada. How do I apply for coverage?
You can access insurance coverage by speaking with a Canadian travel insurance broker like the experts at PolicyAdvisor. We can help you assess your unique circumstances and find the best plan that fits your needs.
As a note, you may want to avoid relying solely on travel insurance coverage offered through your credit card provider during this time. While many premium credit cards include benefits like travel insurance and other perks, these are likely insufficient for the level of coverage you need.
With credit card travel insurance, In most cases, you would only be covered for less than a month. This means you would still be left hanging while waiting three months or more for your Canadian health insurance card. Plus, the travel plan may not recognize certain medical issues as emergencies they would cover.
Learn more about credit card versus owned travel insurance.
Once your Canadian health insurance comes into effect, and you need travel insurance to cover other travel, you can also check your employee benefits. Many employers or group benefits packages include some measure of travel coverage that may be adequate for your needs.
If in doubt, it can't hurt to speak with us to find out exactly what you're covered for, if anything, and whether you need additional coverage to make sure your policy hits all the important notes.
Need help?
Call us at 1-888-601-9980 or book time with our licensed experts.
SCHEDULE A CALL
KEY TAKEAWAYS
Newcomers usually have to wait 3-6 months to become eligible for Canadian universal health care
Private insurance options for visitors can help cover medical emergencies during the months-long wait period
Canadian health coverage is limited in between provinces and outside of Canada