The cheapest travel insurance for visitors to Canada – December 2023
SUMMARY
Anyone coming to Canada should get travel insurance to protect their trip. It helps you avoid paying out of pocket for emergencies and lets you travel with peace of mind. The cost of this insurance varies based on unique factors like age, trip length, and more. Even if they're travelling on a budget, there are many ways for visitors to Canada to get the lowest possible rates.
Travelling is a great way to make memories, but it can be expensive. It's no surprise that most travellers look for any way they can keep costs down without losing out on value or safety. Travel insurance is a must if you're planning a trip to Canada, and you don't necessarily need an expensive plan with a lot of bells and whistles.
If you're looking for the most affordable way you can get travel insurance to protect your trip to the Great White North, look no further than this article!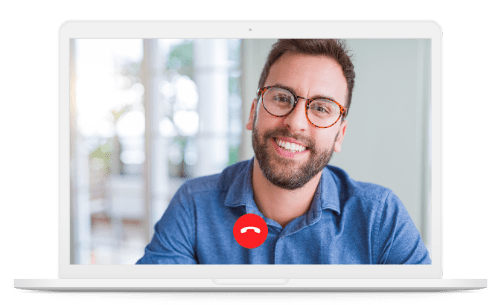 Need insurance answers now?
Call 1-888-601-9980 to speak to our licensed advisors right away, or book some time with them below.
What is the cheapest visitor insurance in Canada?
The cheapest visitors insurance for a trip to Canada really depends on you! The cost of travel insurance depends on factors like:
What kind of travel insurance you buy
How long your trip is
How much coverage you need
And more
What's cheapest for you may not be the cheapest for the person next to you, or vice versa.
Having said that, we want you to know that travel insurance is extremely affordable for visitors to Canada. Coverage for a week-long trip can easily cost less than $20 for emergency health coverage!
To get a better idea of how little travel insurance will cost for your next trip to Canada, check out our chart showing some sample prices later on in this article.
Or click the button below to start checking out quotes right now so you can see for yourself how affordable it is. Browsing quotes is quick and simple on our website, and there's no obligation to buy so you're free to try out different options to get the best plan for your travels.
What is visitors insurance?
Visitors insurance is a catch-all phrase that can mean many different types of travel insurance for visitors to Canada. It helps pay for unexpected expenses that may happen before or during your trip.
Visitors insurance usually has these types of coverage:
Most people get travel medical insurance, which is also called "travel health insurance" or visitors health insurance. It's the type of plan that will help a visitor pay for emergency medical costs in the event of injury or illness while they are away from home.
Reviews: The 10 Best Travel Insurance Companies For Visitors To Canada
What does visitors insurance cover?
Travel insurance for visitors to Canada can cover both medical and non-medical events related to your trip.
Canadian visitors insurance can cover… 
| | |
| --- | --- |
| Emergency medical care | Trip cancellation |
| Emergency dental care | Trip interruption (ending a trip early) |
| Prescription drugs | Flight delays |
| Travel accident | Commercial accommodation (ex: if you need to stay extra nights in a hotel) |
| Ground or air ambulance rides | Extra meal expenses |
| Repatriation | Adventure sports (high-risk activities like rock climbing, bungee jumping, etc.) |
| Pre-existing medical conditions (like heart conditions, high blood pressure, etc.) | Super visa insurance |
| Other medical expenses | Multiple trips |
| Lost/stolen baggage | And more |

Affordable Insurance; Priceless Memories
Discover Canada with unbeatable travel coverage from PolicyAdvisor!
Get your FREE quote
Can visitors to Canada get insurance?
Yes, visitors to Canada absolutely can — and should! — get travel insurance. It helps to make sure you don't have to pay out of pocket for emergency medical expenses if you get hurt while in Canada, or if anything else goes wrong before or during your trip.
Many foreign countries have their own travel insurance providers, but visitors should get travel insurance from a Canadian company. Canadian companies are allowed to insure visitors this way, and they can usually give you better prices and better coverage options too!
Guide to getting travel insurance for Canada from India
How does visitors to Canada travel insurance work?
Canadian travel insurance for visitors is simple! It works like this:
1. You have an issue related to your trip to Canada
This could be before, during, or at the end of your trip, depending on what kind of plan you get.
For example:
💡 You might have a family emergency that makes you cancel your trip to Toronto.
💡 You might get a sudden illness while in Halifax and need medical assistance.
💡 Your flight home from Montreal to India might be delayed for 2 days, leaving you with additional expenses for hotel and meals.
2. You pay a portion upfront
A deductible is the amount of money you agree to pay first before your insurance plan will jump in to cover the rest. It can be anywhere from $0, so you pay nothing at all upfront. Or it can be something like up to $10,000 if you want it to.
Deductible options matter a lot because it affects how much your visitors insurance will cost. The higher deductible you choose, the cheaper your Canadian visitors insurance will be! (More on that below)
3. Your insurance coverage kicks in
Once you've paid the deductible, if you had one, your insurance company will take care of the rest. They usually have limits on how much they'll pay for different things. But they will cover it so you don't have to!
Depending on your travel insurance provider, you may have to pay the doctor, hopsptial, or pharmacy, and then get paid back once you give your receipts to the travel insurance company later on. Some companies have direct billing, which means the insurance company pays for the bill directly without you having to take out your wallet. But you can rest assured either way that the emergency won't affect your bottom line.
Do I need travel insurance to visit Canada?
No, most people don't really need travel insurance to come to Canada. You won't be denied a plane ticket or turned away at the border if you don't have a travel insurance policy (except for people coming on a super visa). But you should get Canadian travel insurance before you arrive.
Why? Because Canada's "free" medical care does not cover visitors. If a tourist needs to see a doctor or go to the hospital, they will have to pay for it.
According to the Canadian Institute for Health Information, the average cost of a Canadian hospital stay is upwards of $6,000. An out-of-pocket expense that high could severely cut into your personal savings. Even just going to a Canadian walk-in clinic could cost you a lot. Paying a mere $20 or $30 for travel insurance coverage is definitely worth the peace of mind of knowing that you won't have to pay such high costs.
Visitors to Canada should at least get travel medical insurance, and they can also look at non-medical coverage options if needed.
- Harshmeet Kaur, Insurance Advisor, PolicyAdvisor.com
How much does Canadian visitors insurance cost?
The cost of visitors insurance depends on a number of factors. For example, a basic travel insurance plan with emergency travel medical coverage only, will be cheaper than a plan that also includes trip cancellation, trip interuptions, etc.
What are the cheapest rates for visitors to Canada insurance?
| Age | $1K deductible | $500 deductible | $0 deductible |
| --- | --- | --- | --- |
| 25 | $14 | $15 | $17 |
| 35 | $17 | $18 | $21 |
| 45 | $19 | $20 | $24 |
| 55 | $21 | $22 | $26 |
| 65 | $25 | $27 | $31 |
| 75 | $45 | $48 | $56 |
*Quotes for $100K in emergency medical coverage for someone with no pre-existing conditions.
How can I make my visitors to Canada travel insurance even cheaper?
You can lower the cost of visitors insurance by adjusting your quote factors. Emergency travel medical is already very affordable, but here are five ways you can get even lower quotes:
Choose a higher deductible
Get basic coverage
Bundle or combine coverage
Get a family plan or companion discounts
Talk to a travel insurance expert
1. Choose a higher deductible ✅
A higher deductible means a lower price. This is because the deductible is how much you have to front before the insurance kicks in. Insurance companies want to avoid risk. If you get a $0 deductible, that means they'd be the ones paying 100% if anything happens, and that's pretty risky for them. So, the price is higher as a result.
This option comes with a warning, though. Higher deductible options make for a GREAT travel insurance rate. But make sure you only pick a deductible amount that is affordable for you, because you will have to pay that amount if something happens. Moderation is better here, but if you feel comfortable pushing the limit a bit, then you can lower your rates this way.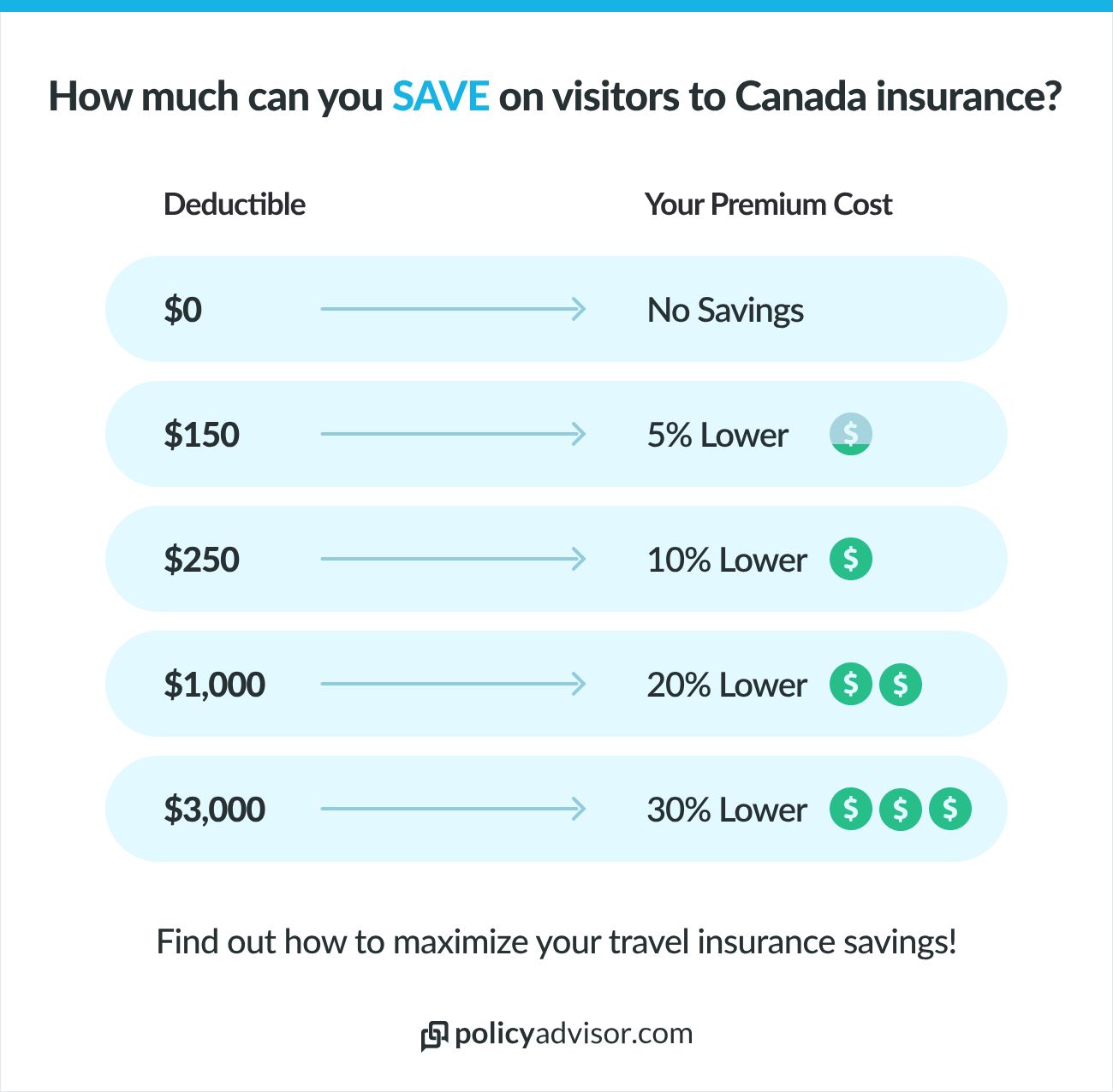 2. Get basic coverage ✅
When you visit Canada, you can choose from different kinds of insurance plans. A comprehensive plan can include just about everything. But it costs a lot more to get that kind of extensive coverage. Getting just one type of travel insurance by itself is a much cheaper option.
If you're mostly concerned about not paying for doctor visits and hospital bills, then you only need emergency medical insurance. It's great to have a plan that also covers non-medical things. But if you're trying to save money, then you can consider just getting a bare-bones plan without any extra coverage.
3. Bundle coverage ✅
Check whether you already have travel insurance coverage — it may surprise you, but people often already have some kind of travel insurance and they don't realize it. For example, you might have coverage through a group insurance plan through your employer or your school. Or, if you have a credit card, you might have some kind of credit card insurance coverage if you use that card to pay for your trip.
Group travel insurance and credit card travel insurance usually only offer limited coverage. But they can help you cut costs if you use them to cover one thing (like the emergency medical part) and then get your own coverage for everything else. This way, you don't have to buy that extra travel insurance plan that has all the bells and whistles. You can let the travel insurance you have overlap and only pay for just a bare-bones plan that you actually need.
4. Get a family plan ✅
If you're travelling with members of your family, you might be able to get a discounted rate. Some Canadian companies have family plans where everyone in your family gets covered by one policy, and it costs less. Some companies even have a Friends & Family plan that includes travel companions who aren't related to you. This is a great way to keep travel expenses down if you plan to come to Canada with your immediate family or with a few friends. It's especially economical if you're travelling with a lot of children.
Note that not every Canadian insurance company offers this discount. You should check coverage details before you buy to make sure you can get a family rate if that's what you're looking for.
5. Talk to a travel insurance expert ✅
You don't have to sort things out on your own — there are friendly, reliable insurance brokers and travel experts like the ones at PolicyAdvisor who can help! Sometimes you may overlook something that can help you save money. Or there may be policies and deals available that only a travel insurance specialist can easily find.
You can rely on a professional's expertise to help you find the cheapest travel insurance, such as the experts on our team. ! Especially when the guidance is free of charge and no-obligation like ours!
Which type of travel insurance is best for visitors to Canada?
As a default, we strongly recommend travel medical insurance as the best kind of coverage for visitors to Canada. But there are other types of coverage that may be best, depending on your needs. This can vary from person to person.
For example, adventurous travelers who want to go mountain biking or international students studying in Canada might each need a special kind of travel insurance plan.
Who needs visitors to Canada health insurance?
Generally speaking, if you're coming from another country to stay in Canada, you should get visitors health insurance. This includes people who may be staying for just one week, for a few months, or for years.
It can also include people who are coming to Canada to work, study, or immigrate. Even Canadian residents who have been outside of the country for an extended period of time might need visitors insurance if their provincial health care card expired while they were away. They would need visitors insurance coverage until they get a new, valid card again.
✅ Foreign travellers
✅ People who have a Canadian super visa
✅ Foreign workers
✅ International students
✅ Athletes
✅ Newcomers to Canada
✅ Canadians returning after spending years abroad
How to get the cheapest travel insurance for visitors to Canada?
You can find cheap travel insurance quotes for your trip to Canada by shopping around for the best deals online. And you can do that easily in less than a minute on PolicyAdvisor.com. The days of spending hours calling insurance providers are over! We work with more than 30 of the best Canadian insurance companies to bring you the best rates all in one place. You can also customize your options to try out different factors and compare costs of travel insurance plans. Plus, you can apply online and get approved instantly on our website.
Visitors to Canada can and should get travel insurance from a Canadian provider. We can offer more choice, better coverage, and better pricing.
- Harshmeet Kaur, Insurance Advisor, PolicyAdvisor.com
Connect with a travel insurance specialist 
If you need help with finding the Canadian visitors health insurance that gives you the most bang for your buck, don't hesitate to contact us! Our travel insurance specialists would be happy to help you assess your needs so you can get the best deals that work for your trip.
Happy travels!
Need help?
Call us at 1-888-601-9980 or book time with our licensed experts.
SCHEDULE A CALL
KEY TAKEAWAYS
The cost of Visitors to Canada insurance depends on factors like trip length, coverage amount, and deductibles
Deductibles are important in determining how much your travel insurance will cost
You can get even cheaper rates by choosing a higher deductible, bundling coverage, and other strategies