Cover Direct Life Insurance Review – Updated 2023
SUMMARY
Cover Direct offers repackaged, basic term life insurance underwritten by Canadian Premier. These policies are advertised as low-cost life insurance alternatives but lack important features available with typical life insurance plans, including renewability, convertibility, and the ability to add riders.

Not Recommended For Canadian Life Insurance Buyers
Cover Direct Life Insurance Review
Cover Direct also sells term life insurance that is underwritten by Canadian Premier. They offer these products through a telephone consultation or via filling out a quote form. They offer term life insurance policies with up to $1.5 million in coverage. These term policies are neither convertible nor renewable. Cover Direct offers additional critical illness insurance but no disability insurance products.
Renewability lets a term life insurance policyholder re-up their current coverage without having to re-qualify. Convertibility lets a policyholder exchange their term life coverage for a whole life policy when their term runs out. Neither of these options are possible with Canadian Premier's policies sold through Cover Direct.
Besides a lack of options for these two very-basic aspects of a life insurance policy, Cover Direct does not offer any life insurance riders – optional add-ons one can choose when applying for a traditional term life insurance policy.
Cover Direct's main life insurance offering is referred to as their "Age-Based policy". Essentially, it is an annual renewable term life insurance policy: instead of traditional terms, this type of insurance is offered year by year, and each year the premium increases for the same amount of coverage.
Cover Direct is a relatively new entrant to the Canadian life insurance landscape, and mainly offer their services via phone line without an avenue to apply online. At this time we cannot recommend Cover Direct for those looking for well-rounded life insurance coverage.
Pros:
No medicals or bloods tests required

Terminal illness benefit – receive your death benefit early if you are diagnosed with a terminal illness

Lower initial price in early years of coverage (though rates rise exponentially as one ages)
Cons:
No renewability options (cannot renew for another term once coverage expires)


No options for life insurance riders to augment coverage (common riders like term riders, children's term rider, critical illness rider, etc, not available)

Relatively inexperienced in life insurance compared to established Canadian providers




No convertibility options for permanent life insurance

Rising rates as one ages because of annual renewable term structure of coverage
Administered only via telephone
No options to purchase policies past age 65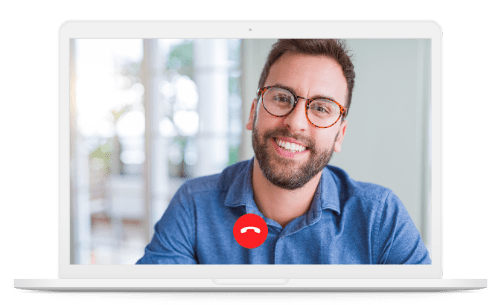 Need insurance answers now?
Call 1-888-601-9980 to speak to our licensed advisors right away, or book some time with them below.
Who is Cover Direct?
Cover Direct is very new entrant in Canada's life insurance ecosystem, having only launched operations in the country in 2021. They are a division of Neilson Financial Services, a British insurance brand conglomerate which specializes in 'hybrid' distribution. Neilson creates direct to consumer brands, such as Cover Direct in Canada, and matches them to underwriters (the creditor insurance company Canadian Premiuer in Cover Direct's case). Neilson has been in operation since 2012 and are relatively new to life insurance compared to more established Canadian companies.
Cover Direct: Quick Facts
Founded: 2021 (Neilson Financial Services – 2012)

Headquarters

: Toronto, ON

AM Best Rating: N/A (Canadian Premier A [Excellent])
Better Business Bureau Accreditation and Rating: No accredited

Assets: N/A (Canadian Premier $0.2 Billion)
Annual Premiums: N/A (Canadian Premier

$27.3 Million)
Check out more facts about Canada's biggest life insurance companies.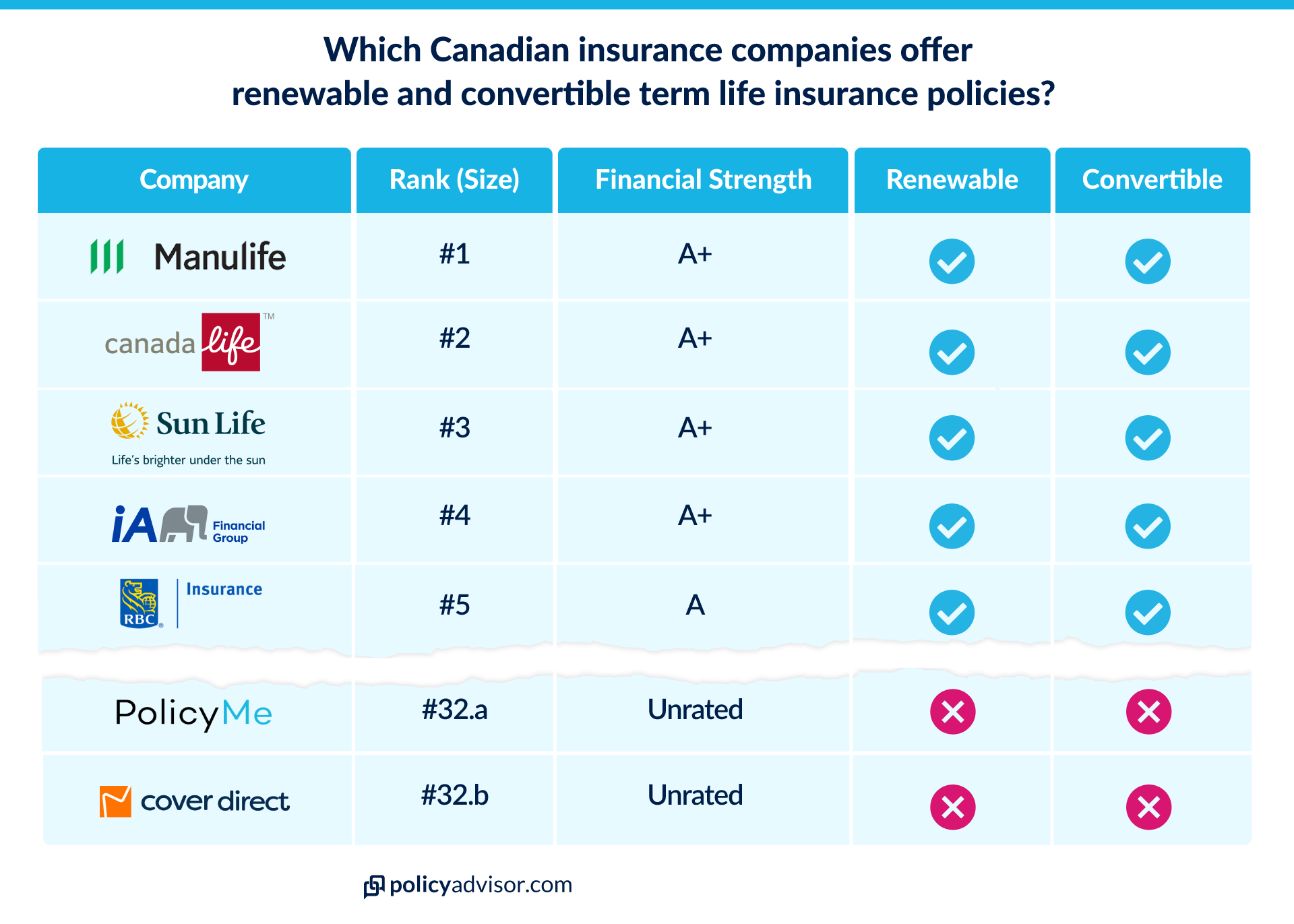 What types of life insurance does Cover Direct offer?
Cover Direct offers "age-based" annual renewable term life policies to customers between the ages of 18-65.

What term life insurance amounts and coverage does Cover Direct offer?
Available Term Lengths: 10 – 30 years, depending on your age
Application process: Over the phone only
Claims contact: Cover Direct
Amount of Coverage: Up to $1.5 million
Renewable: No
Convertible: No
Other coverage available: Critical illness and children's coverage
What other insurance coverage does Cover Direct offer?
Cover Direct currently only offers life insurance and critical illness insurance.
Cover Direct Children's Coverage
Cover Direct also offers children's insurance.
Limited to a $30,000 benefit.
Must be purchased before child turns 17
Benefit paid at death or if the following illness or injuries are contracted:

Bacterial meningitis
Blindness
Deafness
Encephalitis
Loss of hands or feet
Paralysis
Traumatic head injury

More choice. Lower price.
PolicyAdvisor saves you time and money when comparing Canada's top life insurance companies. Check it out!
GET STARTED
Who sells Cover Direct life insurance policies?
Only Cover Direct sells its policies which are underwritten by Canadian Premier. These policies are only available via phone call with a Cover Direct agent. While you can submit some information on Cover Direct's web portal, the end result is an agent calling you via telephone to complete the application process.

Learn more about Canadian Premier Life Insurance.
How much does Cover Direct life insurance cost?
As mentioned above, Cover Direct mainly sells their Age-Based Policy, an annual renewable term life insurance policy that renews yearly at an elevated price. While premiums can be quite low in one's first year of coverage, the table below shows how premiums can rise exponentially. Compared to traditional term life insurance, a policy from Cover Direct could cost you in the long run.
For example, a 35-year-old non-smoking male would pay $45.30 per month for $1 million in coverage with Cover Direct's age-based policy. While this may seem like a great price at first, by the time that policyholder turns 55, the premium would be $192.70 per month. Again, while this may seem like a couple of hundred dollars worth of difference, over the course of 20 or 30 years, this could end up costing tens of thousands of dollars for coverage.
Monthly premium cost for Cover Direct vs traditional term life insurance

Based on 20-year term life insurance policy, non-smoker, regular health, $1 million coverage

| Age | Term Life Insurance | Cover Direct |
| --- | --- | --- |
| 35 | $52.20 | $45.30 |
| 36 | $52.20 | $48.60 |
| 37 | $52.20 | $52.10 |
| 38 | $52.20 | $55.70 |
| 39 | $52.20 | $58.10 |
| 40 | $52.20 | $60.70 |
| 41 | $52.20 | $64.80 |
| 42 | $52.20 | $69.20 |
| 43 | $52.20 | $73.90 |
| 44 | $52.20 | $78.90 |
| 45 | $52.20 | $84.40 |
| 46 | $52.20 | $91.10 |
| 47 | $52.20 | $98.30 |
| 48 | $52.20 | $106.10 |
| 49 | $52.20 | $114.60 |
| 50 | $52.20 | $123.70 |
| 51 | $52.20 | $135.10 |
| 52 | $52.20 | $147.60 |
| 53 | $52.20 | $161.30 |
| 54 | $52.20 | $176.30 |
| 55 | $52.20 | $192.70 |
| TOTAL | $12,528.00 | $22,149.60 |
At the end of that 20 years, the term policyholder would have paid $12,528.00 for coverage, whereas the Cover Direct policyholder would have paid $22,149.60 for the same coverage. That's $9,621.60 overpaid for an age-based policy. For a female policyholder, the overpayment would be even larger for the same coverage: $10,818.00.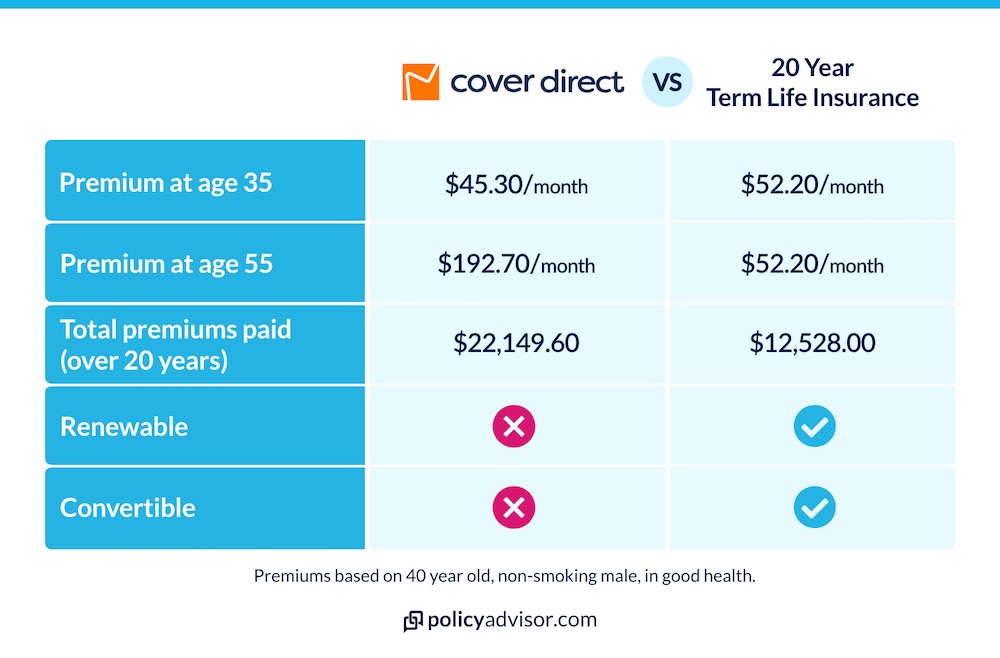 Is Cover Direct life insurance right for you?
Cover Direct may offer low-cost life insurance, but this is due to the lack of flexibility and convertibility, as well as rising premium rates as you age with your policy. There may be better options for you than Cover Direct life insurance. As insurance advisors for multiple life insurance companies and products, we can help you decide if Cover Direct is the best fit for you or if another Canadian insurer is a match.
As Canada's best online life insurance advisor, we will assist you in comparing and choosing products across all our partner companies. Speak to our licensed advisors and we will be able to assist you in finding you the best coverage for your needs.
Need help?
Call us at 1-888-601-9980 or book time with our licensed experts.
SCHEDULE A CALL
The information above is intended for informational purposes only and is based on PolicyAdvisor's own views, which are subject to change without notice. This content is not intended and should not be construed to constitute financial or legal advice. PolicyAdvisor accepts no responsibility for the outcome of people choosing to act on the information contained on this website. PolicyAdvisor makes every effort to include updated, accurate information. The above content may not include all terms, conditions, limitations, exclusions, termination, and other provisions of the policies described, some of which may be material to the policy selection. Please refer to the actual policy documents for complete details. In case of any discrepancy, the language in the actual policy documents will prevail. A.M. Best financial strength ratings displayed above are not a warranty of a company's financial strength and ability to meet its obligations to policyholders. All rights reserved.
If something in this article needs to be corrected, updated, or removed, let us know. Email editorial@policyadvisor.com.