RBC Life Insurance Review
SUMMARY
Backed by their large bank stature, RBC offers affordable, flexible term life insurance products. Their flagship product is a you-pick customized term (from 10-40 years) with coverage up to $25,000,000 to fit your exact financial needs. RBC's term policies are convertible and are best combined with critical illness and/or disability insurance to ensure full coverage.

Best Value For Money Term Life Insurance
RBC Insurance rating and review
RBC Insurance offers a best-in-class term life insurance with highly affordable premiums – often times beating the competition on price alone. Applicants have the flexibility to choose different term lengths and coverage amounts, allowing them to personalize their coverage to their needs. While personalization can be a feature of many term life insurance providers, RBC Insurance's unique YourTerm offering let's applicants choose a term between 10 and 40 years (if they are eligible) which gives much more choice than the industry's standard increments. Because of the customization available, RBC Insurance is also a great choice for those looking to implement a ladder strategy for their coverage.
This, plus RBC Insurance's extensive choice of available riders make them a great value in Canada's term life insurance landscape.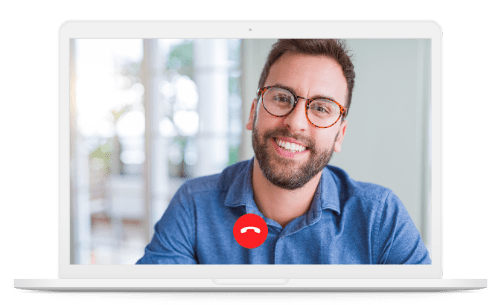 Need insurance answers now?
Call 1-888-601-9980 to speak to our licensed advisors right away, or book some time with them below.
Pros
Affordable term life insurance premiums, that rank among the most competitive in the industry

Maximum coverage of $25 Million

Flexibility with a wide range of term lengths and coverage amounts

A unique pick-a-term feature which allows applicants to define their length (or years) of coverage

Coverage flexibility allows one to structure a ladder strategy (only pay for life insurance coverage you truly need and manage down your average premium cost)

Riders: Customize the policy with multiple riders, both for yourself and for other family members

Term life policy is renewable through lifetime, albeit at higher renewal prices after the initial term

Answer just 10 questions to apply for coverage under $1,000,000
Cons
Though RBC Insurance is one of the best options for most applicants in Canada, it is available to citizens and permanent residents only. For those in Canada with temporary residency status such as with a student or work permit, these products are not available.

No digital policy option: you still receive a paper policy
Who is RBC Insurance?
RBC Insurance is the insurance arm of the Royal Bank of Canada, the largest bank in Canada by market capitalization. RBC Insurance was created in the 1960s and built up through a series of acquisitions: Ontario Loan and Debenture Company (formerly Ontario Savings and Investment Society) in 1968, Voyageur Insurance Company in 1993, Westbury Canadian Life Insurance Company in 1996, the Mutual of Omaha Life Insurance's Canadian operations in 1998, and Prudential Canada in 2000. It is now the largest Canadian bank-owned insurance company, with over 2,500 employees.
Key facts about RBC Insurance
When was RBC founded?

1864

Where is RBC Insurance headquarters?

Toronto, Ontario

AM Best Rating

: A (Excellent)

Better Business Bureau Accreditation and Rating

: N/A

Assets:

$15.1-billion

Annual Premiums:

$4.2-billion

Website: rbcinsurance.com
How much does life insurance from RBC Insurance cost?
Representative values, based on non-smokers in good health. $500,000 coverage, 20-year term.
| Age | Male | Female |
| --- | --- | --- |
| 20 | $32.18 | $22.86 |
| 25 | $32.18 | $23.27 |
| 30 | $32.63 | $23.31 |
| 35 | $32.63 | $24.26 |
| 40 | $47.61 | $34.83 |
| 45 | $75.42 | $53.37 |
| 50 | $127.44 | $85.55 |
| 55 | $237.69 | $166.14 |
| 60 | $428.63 | $308.70 |
| 65 | $703.85 | $479.79 |
Types of term life insurance policies RBC Insurance offers
RBC Insurance's flagship term life product is YourTerm. It offers substantial coverage with the flexibility to choose any term you want, between 10-40 years. This is amongst a select few products in the Canadian term life insurance market which allows the flexibility to choose a coverage length based on needs, instead of predefined terms. 
For instance, one can choose a base policy of 23 years to align with their outstanding mortgage term. It is exchangeable (a YourTerm policy can be exchanged for another with a higher term without providing medical evidence), renewable, and convertible to a permanent policy.
This product can be purchased on a single life or as a joint first-to-die policy.
There are a number of optional riders:
Term Rider

: One can purchase additional term coverage for themselves or a family member over and above the base policy.

Children's Term Rider

: Provides coverage for natural or legally adopted children. Each insured child may convert this to a new permanent policy upon reaching adulthood, without evidence of insurability, for a sum up to 10 times the rider amount (with a maximum coverage of $150K).

Accidental Death Benefit Rider

: Pays an additional death benefit if one dies as a direct result of an accident.

Total Disability Waiver of Premium Benefit Rider

: After being totally disabled for six consecutive months, RBC Insurance will waive premium payments and policy fees for the remaining term of the policy.

Payor Death and Disability Waiver of Premium Benefit Rider

: If someone other than the policyholder pays the premiums and they pass away, RBC Insurance will waive monthly premiums with some exclusions.
RBC Insurance also offers Simplified Term Life Insurance. This product provides affordable coverage with no medical exam, for up to $1-million. This policy can be converted to RBC Universal Life without providing additional medical evidence.
For both products, premiums are level for the entire term and end at age 100. You can pay premiums annually or through monthly pre-authorized debit.
Also keep in mind, because RBC Insurance offers best-in-class disability insurance and critical illness coverage (more on that below), you can apply simultaneously for multiple products and get a comprehensive financial protection plan through a single insurance provider.
Coverage and policy details
Available Term Lengths

: Any term from 10-40 years

Available Term Types:

Regular and Simplified (non-medical)

Maximum Amount of Coverage

: $25,000,000 

Renewability

: Yes, term life policies are renewable once the term ends. Premiums will change at renewal, but are guaranteed to be level for the entire renewed term.

More choice. Lower price.
PolicyAdvisor saves you time and money when comparing Canada's top life insurance companies. Check it out!
GET STARTED
What other insurance policies does RBC Insurance offer?
RBC Insurance also offers Permanent Life (with two different products: Guaranteed Acceptance Life & Term 100 Life), Universal Life and Personal Accident products.
In Living Benefits, RBC has both critical illness and disability insurance products:
Critical Illness: RBC has the Critical Illness Recovery Plan, a Lifestyle Protection plan that offers a lump sum benefit if one contracts any of 30 different illnesses and conditions. This plan also comes with a Long-term Care Conversion Benefit without providing any further proof of insurability. Read our review of RBC Critical Illness Insurance 
Disability: RBC is one of the leading providers of Disability insurance coverage in Canada. Disability Income Protection is a product which helps individuals protect their income in the event of disability. 
RBC also offers a number of personal insurance products, apart from Life and Living Benefits:
Home (including homeowners, tenant, condo and seasonal insurance)

Car (both mandatory and optional categories including liability and collision)

Leisure, including insurance for boats, ATVs, snowmobiles, motor-homes and trailers

Hospital insurance

Travel insurance with add-ons for trip cancellation and interruption
RBC Insurance also offers credit protection and a range of retirement and wealth management solutions, including annuities and segregated funds. RBC Private Insurance is a comprehensive risk protection package designed on an individual basis, underwritten by Aviva General Insurance and distributed by RBC Insurance.
Is RBC Insurance right for you?
RBC Insurance offers unique life insurance coverage products that are a great fit for many Canadian consumers. As insurance advisors for RBC Insurance's life insurance products, we can help you decide if RBC Insurance products are the best fit for you.
As Canada's best online life insurance advisor, we will assist you in comparing and choosing products across all our partner companies. Speak to our licensed advisors and we will be able to assist you in finding you the best coverage for your needs, including RBC Insurance quotes.
Need help?
Call us at 1-888-601-9980 or book time with our licensed experts.
SCHEDULE A CALL
The information above is a brief representative summary for indicative purposes only. It does not include all terms, conditions, limitations, exclusions, termination and other provisions of the policies described, some of which may be material to the policy selection. Please refer to the actual policy documents for complete details. In case of any discrepancy, the language in the actual policy documents will prevail. A.M. Best financial strength ratings displayed above are not a warranty of a company's financial strength and ability to meet its obligations to policyholders.