What is guaranteed issue life insurance?
SUMMARY
Guaranteed issue life insurance is a type of no-medical insurance policy that guarantees you will be covered. It does not ask a lot of health questions or ask you to take a medical exam, so it can be an option for people with severe health issues. But while your coverage is guaranteed with this kind of policy, it is usually the most expensive type of coverage and has some downsides you should be aware of.
Most people can easily qualify for traditional life insurance and get the coverage they need. But what about those who have serious health issues or live a risky lifestyle? They may have trouble getting approved for regular life insurance. But they can apply for Guaranteed Issue life insurance. It's a special type of policy that accepts everyone, even if they couldn't get other types of coverage.
In this article, we'll go over what Guaranteed Issue life insurance is and provide details to help you know whether it's the right policy for you — and what to look out for if you choose to apply.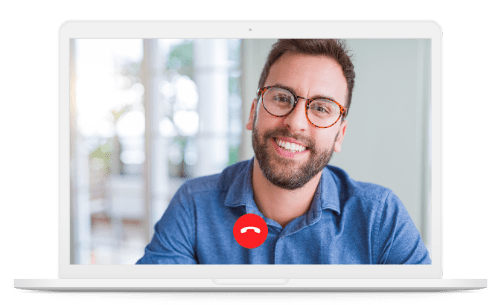 Need insurance answers now?
Call 1-888-601-9980 to speak to our licensed advisors right away, or book some time with them below.
What is guaranteed issue life insurance?
Guaranteed issue life insurance is a special kind of no-medical insurance that doesn't ask you to take a medical exam or answer a lot of health questions. Like all life insurance policies, it's an agreement between you and your insurance company. You pay money, called premiums, to the company. Then, if something happens to you and you pass away, the company gives money to the person you chose to receive it, known as your beneficiary. This money, called a death benefit, is tax-free and can be used in any way your beneficiary wants.
Anyone who applies for guaranteed issue life insurance can get coverage. The insurance company will not say no to you. This is why it's also called guaranteed acceptance life insurance. People with serious health issues often choose this type of policy because they know they'll be accepted no matter what.
Learn more about no-medical life insurance.
How does guaranteed issue life insurance work?
With guaranteed life insurance, insurance providers cannot tell you no. You are guaranteed to get a policy as long as you make your premium payments.
It sounds convenient, but there are some drawbacks you need to know about. It's much more expensive than other types of life insurance, has more limitations, and has a 2-year waiting period before it will pay out for death due to natural causes. Although, many Canadian providers will refund any premiums you paid up until that point if they do not pay the death benefit in this case. 
Because of the disadvantages, we usually don't suggest getting Guaranteed life insurance unless it's your last choice. There's another kind of policy called Simplified Issue life insurance that might be better if you have pre-existing health conditions. It only asks a few health questions and does not need a medical exam, so it's a better option if you qualify. Guaranteed coverage might only be the final option if you can't get any other kind of policy.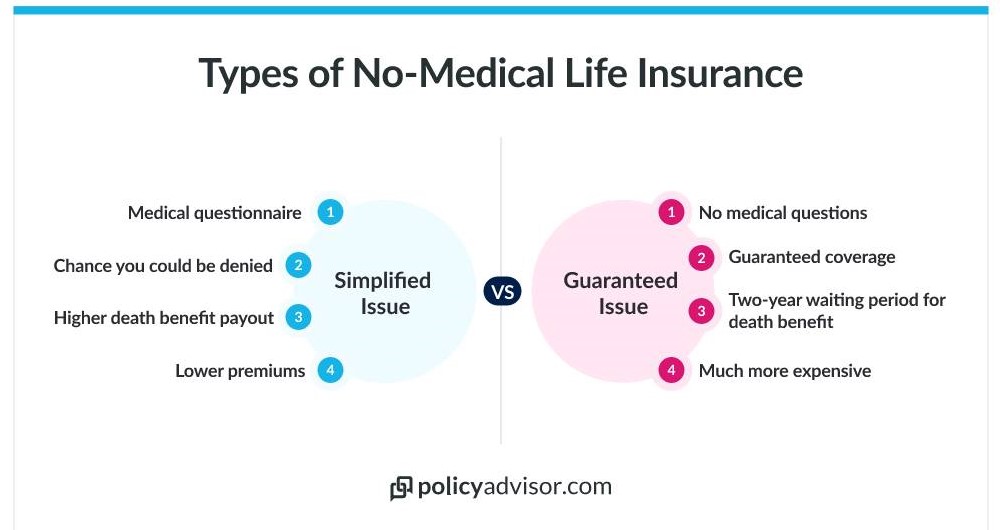 What are the pros and cons of guaranteed issue life insurance?
The main pros and cons of guaranteed issue life insurance are:
⬆️

Pros
Guaranteed coverage no matter what

No medical test or health questionnaires

Quick and simple application process

Guaranteed coverage for your entire life

Level premiums: cost will not change as long as the policy is active 

Additional benefits: accidental death benefit, terminal illness benefit, return of premiums on death (varies by provider)
⬇️

Cons
Premiums are very expensive

No

limited pay

options to finish paying premiums before the policy ends

Only issued up until age 75-80 (varies by provider)

Limited coverage amount: $5k – $50k

Only permanent coverage, no term options

No

life insurance riders

for extra coverage options

Two-year waiting period: only accidental death will be covered for the first 2 years
``We do not recommend getting Guaranteed Life Insurance unless it's your last choice. Simplified Issue life insurance is usually a better option for people who don't want to take a medical exam.``
- Carly Griffin, Senior Insurance Advisor, PolicyAdvisor.com
How much does guaranteed acceptance life insurance cost?
Guaranteed issue or guaranteed acceptance insurance is by far the most expensive type of life insurance coverage. We'll explain why that is a bit later on. 
In the meantime, take a look at the chart below. It shows some quotes from Edge Benefits, one of the most affordable providers of guaranteed issue life insurance policies in Canada.
Guaranteed issue life insurance premiums
| Age | $10K | $25K | $50K |
| --- | --- | --- | --- |
| 20 | $6/month | $15/month | $30/month |
| 30 | $6/month | $15/month | $30/month |
| 40 | $9/month | $22/month | $44/month |
| 50 | $17/month | $43/month | $85/month |
| 60 | $38/month | $95/month | $191/month |
To put this in perspective, someone who qualifies for traditional life insurance could get twice the amount of coverage or more for the same prices, if not cheaper. 
Why is this type of policy so expensive?
Guaranteed acceptance policies cost so much because the insurance company takes on a huge risk by agreeing to provide coverage. Insurance companies want to avoid risk as much as possible. So, when they take on a new client, they look at what the chances are that they will have to pay out a life insurance death benefit sooner rather than later. They determine premium rates based on this risk profile.
With guaranteed acceptance, you will definitely get coverage, and insurance companies don't check how risky it might be to insure you. That's why this type of insurance is mostly used by people who have higher chances of needing it. It's also why insurance companies charge more for this kind of coverage.
Learn more about how the cost for life insurance is calculated.
What's the biggest amount of guaranteed issue life insurance I can buy?
Most Canadian insurers will provide from $25,000 to $50,000 in coverage for guaranteed acceptance policies. This one of the cons of guaranteed coverage — you may not be able to get as much coverage as you want.
Not sure how much coverage you need? Check out our calculator to find out!
What if I need more coverage?
If you find that you need more than $50,000 in coverage to provide for your family, there's no rule against buying more than one policy. The only issue is cost — with this kind of coverage as expensive as it is, not many people would be able to afford multiple policies at once.
Who should get a guaranteed issue life policy?
Guaranteed issue life insurance is generally bought as a last resort by:
People with severe health concerns

People who couldn't qualify for traditional or simplified issue

People who have been diagnosed with a terminal illness
Guaranteed issue has many downsides, so it's usually better to choose a different type of life insurance if you can. Even if you have serious health problems like cancer or a history of heart attack, you can still get simplified issue if you're getting better. But guaranteed acceptance is an option even in the toughest situations, and that can be a relief for some.
Which Canadian providers offer Guaranteed Issue life insurance?
Some of the best life insurance companies in Canada offer guaranteed issue policies, including many of those we work with at PolicyAdvisor.com! You can get this kind of coverage from insurers like: 
Schedule a call with one of our licensed insurance advisors to find out more and see if a guaranteed acceptance policy is right for you. Or, check out our free online tool to compare the best no-medical life insurance quotes in minutes!

More choice. Lower price.
PolicyAdvisor saves you time and money when comparing Canada's top life insurance companies. Check it out!
GET STARTED
Frequently asked questions
Can I get term guaranteed acceptance life insurance?
In Canada, guaranteed acceptance life insurance is only available as a permanent policy that gives you coverage for life. It's for people who have serious health problems and want to make sure their family will be okay if something happens to them. On the other hand, term policies are for people who need insurance for a shorter time, like when they have a mortgage or young kids.
What are the other life insurance options aside from guaranteed acceptance?
Aside from guaranteed life insurance, you may also consider:
But your unique circumstances will determine what kind of policy you can qualify for.
What's the difference between guaranteed issue, simplified, and term life insurance?
Term life insurance policies are a type of traditional policy, whereas simplified issue and guaranteed issue are both different types of no-medical policies.
1. Term Life Insurance
This covers you for a specific period of time that you and your insurance provider agree to. It is fully-underwritten. That means the insurance will ask multiple questions about your health and may ask you to do a medical test to assess your level of risk. Usually, this is the most affordable type of policy.
2. Simplified Issue Life Insurance
A type of no-medical life insurance. It doesn't make you take a medical exam, but will ask you some health questions. It's not as expensive as guaranteed insurance, but it can cost more than regular insurance. However, your application could still be denied if the insurance company thinks it might be too risky to give you a policy.
Read more about the differences between simplified vs guaranteed policies. 
3. Guaranteed Issue Life Insurance
Another type of no-medical life insurance. You don't have to do a medical test or answer more than 1-5 health questions. Your approval is guaranteed, but with several downsides.
Are burial insurance and guaranteed issue life insurance the same thing?
A lot of people who get a guaranteed issue policy use it to pay for their final expenses, like the cost of a funeral. But it's not exactly the same as burial or funeral insurance.
Burial insurance is meant to cover funeral expenses and other end-of-life costs only. It can be no-medical insurance, like a simplified issue policy. Or it can be a traditional permanent life insurance policy with a small amount of coverage.
The difference comes down to what you intend to use your insurance policy for. Term, simplified, or guaranteed can be used for anything — whether final expenses or not. And if used for final expenses, your loved ones can take any amount leftover to use however they like. 
It's always a good idea to discuss your specific needs with an insurance professional to ensure you select the right policy for your desired purpose.
Is there Guaranteed Issue Critical Illness Insurance?
Yes, you can get guaranteed issue critical illness insurance. It can help cover the costs if you get really sick with certain serious illnesses. But it will not ask a lot of health questions or make you take a medical exam.
However, just as with guaranteed acceptance life insurance, this type of coverage will:
Be more expensive than traditional critical illness insurance

Be more limited, such as covering less serious health conditions
To put it in perspective, traditional critical illness insurance can cover 26 illnesses. Guaranteed issue usually only covers 3-4 and it can cost a lot more.
Is there Guaranteed Issue Disability Insurance?
Yes, you can also get guaranteed issue disability insurance. But it has the same downsides as guaranteed life or critical illness.
In general, guaranteed issue policies can be a safety net. They make sure that everyone can get some level of coverage. But they're not the best choice. They're seen as the last option when you can't get any other kind of insurance.
Connect with an agent
If you're not sure whether no-medical life insurance is the best option for you, or if you have questions about the kind of coverage you should apply for, contact us! Our licensed advisors are happy to help you find the policy that would be your perfect fit.
Need help?
Call us at 1-888-601-9980 or book time with our licensed experts.
SCHEDULE A CALL
The information above is intended for informational purposes only and is based on PolicyAdvisor's own views, which are subject to change without notice. This content is not intended and should not be construed to constitute financial or legal advice. PolicyAdvisor accepts no responsibility for the outcome of people choosing to act on the information contained on this website. PolicyAdvisor makes every effort to include updated, accurate information. The above content may not include all terms, conditions, limitations, exclusions, termination, and other provisions of the policies described, some of which may be material to the policy selection. Please refer to the actual policy documents for complete details. In case of any discrepancy, the language in the actual policy documents will prevail. All rights reserved.
If something in this article needs to be corrected, updated, or removed, let us know. Email content@policyadvisor.com.
KEY TAKEAWAYS
Guaranteed issue or guaranteed acceptance is a type of no-medical life insurance
Coverage is guaranteed, so people with severe health conditions often choose this option
It has several major disadvantages that make it a last-resort option for coverage